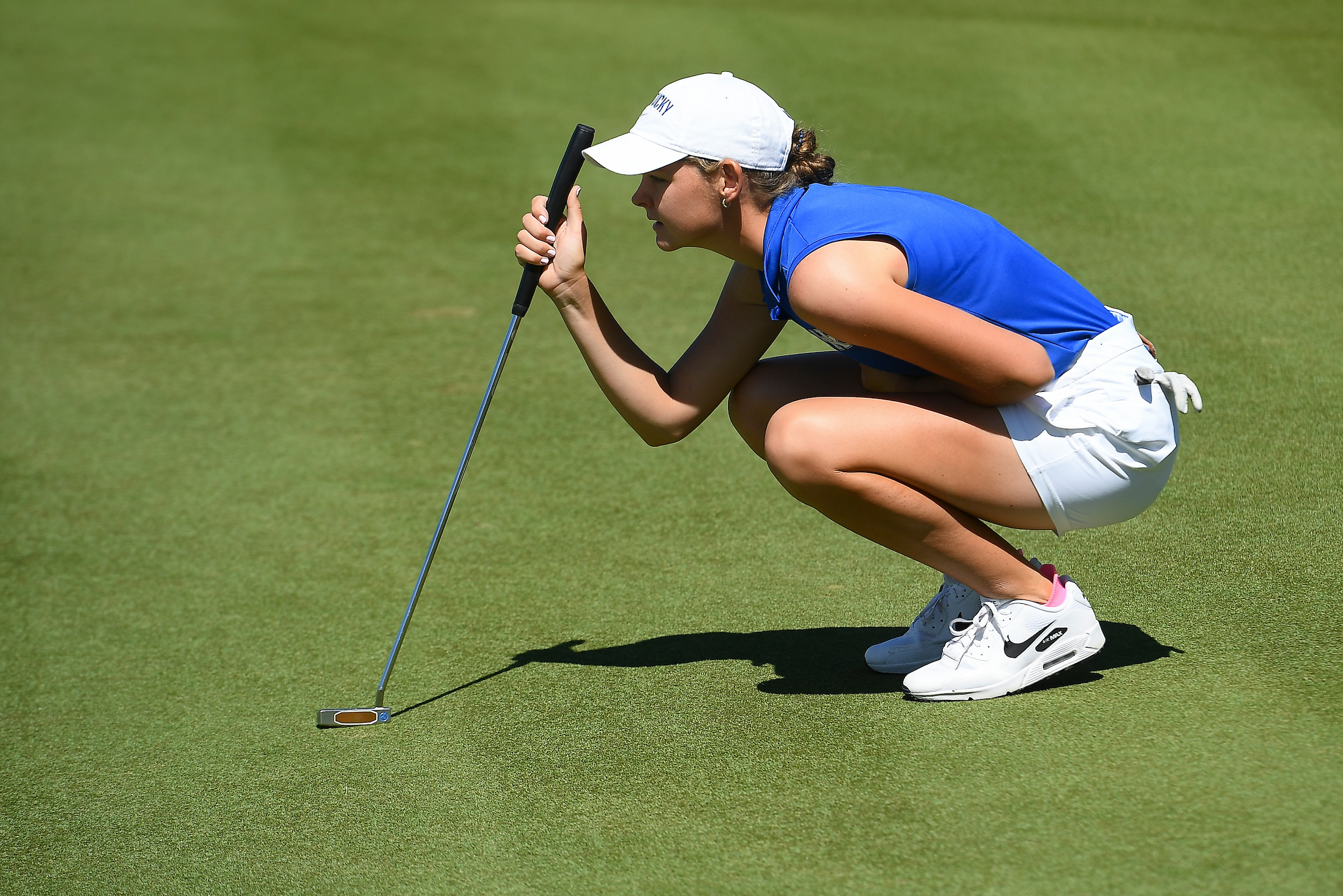 August 8, 2022 - 11:05 PM
Laney Frye Takes a Share of Second Place after U.S. Women's Amateur First Round
UNIVERSITY PLACE, Wash. – Two University of Kentucky women's golfers teed off in the first round of the 2022 U.S. Women's Amateur at Chambers Bay (par 73, 6,541 yards) in University Place, Washington, Monday, including Lexington native Laney Frye who is tied for second place after 18 holes.
The Wildcat turned in a 5-under-par 68 in the first round of stroke play, earning a share of second place with Angela (Yilin) Liu and Casey Weidenfeld. The trio is just one shot off the lead, which is occupied by Alice Ziyi Zhao's 6-under-par 67.
Frye got off to a hot start in her morning tee time, going 3-under through her first four holes after a birdie on the par-4 No. 10 and an eagle on the par-5 No. 13. Despite capping the back nine with a double bogey on Chamber Bay's 18th hole, the longest hole on the course at 538 yards, she still managed to make the turn 1-under-par 35.
The junior bounced back on the very next hole, beginning the front nine with her second eagle of the round on the par-5 No. 1. Over the next eight holes, she marked a pair of bogeys and seized four more birdies, including shedding two strokes on her final two holes Monday.
Frye's performance is far from "out of the blue," as she is just two weeks removed from earning runner-up honors at the 2022 Sea Island Women's Amateur. There, she also got off to a strong start after recording a 4-under-par 66 in the first round, putting together an even-par 210 for a share of second place among the 78-person field.
Jensen Castle, the reigning U.S. Women's Amateur champion, is also competing this week, in hopes of defending her title earned just a year ago. The senior rallied a perfect even-par 73 Monday, to find a share of 29th place in the 156-person field. Starting on hole No. 1, she went 2-under through her first four holes, collecting four birdies, two bogeys and a double throughout her round.
Play will resume at Chambers Bay Tuesday with the second round of stroke play. Castle will tee off on hole No. 10 at 11:06 a.m. ET, and Frye will follow on hole No. 1 at 4:17 p.m. ET.
Schedule of Events
Monday, Aug. 8 (18 holes, stroke play)
Tuesday, Aug. 9 (18 holes, stroke play)
Wednesday, Aug. 10 (Round of 64, match play)
Thursday, Aug. 11 (Rounds of 32 and 16, match play)
Friday, Aug. 12 (Quarterfinals, match play)
Saturday Aug. 13 (Semifinals, match play)
Sunday, Aug. 14 (Championship match, 36 holes)
The low 64 scorers after 36 holes of stroke play will advance to match play. If necessary, a playoff will be conducted to trim the draw to exactly 64 competitors.
For the latest on the Kentucky women's golf team, follow the team on Twitter, Facebook, and Instagram, as well as on the web at UKathletics.com.