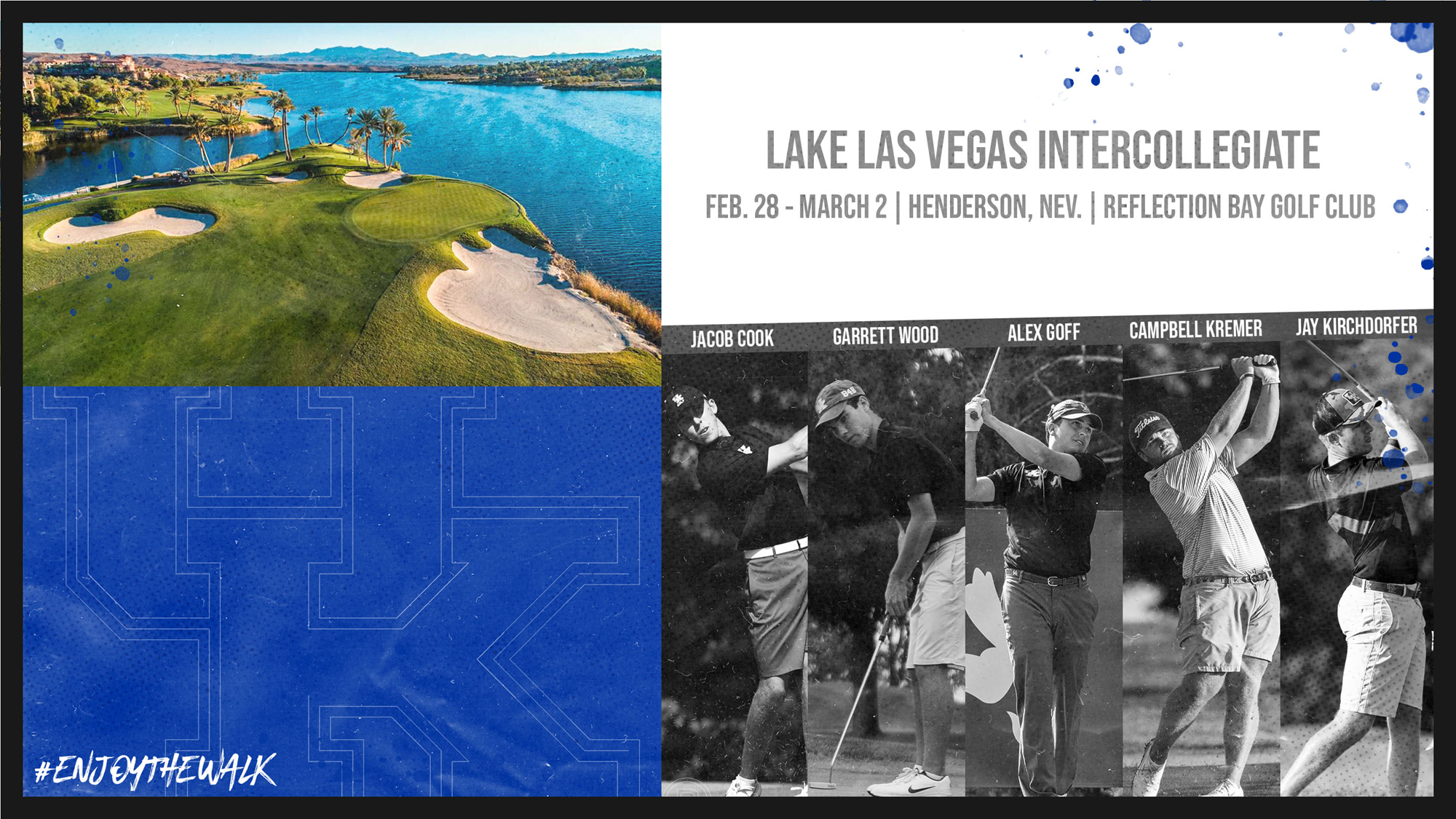 February 27, 2022 - 12:03 PM
Men's Golf Opens Spring Season at Lake Las Vegas Invite
LEXINGTON, Ky. – The University of Kentucky men's golf team will begin its spring schedule at the Lake Las Vegas Invitational in Henderson, Nevada, with a three-day, 54-hole event beginning on Monday.
 
The Wildcats will utilize a starting lineup of Jacob Cook, Garrett Wood, Alex Goff, Campbell Kremer and Jay Kirchdorfer. Zach Norris will compete as an individual.
 
"This is our first event of the spring, and we are ready to play," UK head coach Brian Craig said. "Overall, we have had excellent preparation since school started in January. The guys are excited to play and Ben (Fuqua) and I are as well. Reflection Bay is a very good golf course that will play firm and fast. It should be a fair and challenging test to kick off the spring."
 
This is UK's first-ever appearance in the event that is hosted by Coastal Carolina. The 14-team field will play at Reflection Bay Golf Club. Created in 1998, it was designated as a prestigious Jack Nicklaus Signature design course. It is the only such course located in Nevada.
 
Kentucky gets play underway beginning at 1 p.m. ET. UK will play alongside Arkansas State and Louisiana. The course is scheduled to be set up as a par 72 at 7,204 yards. 
NOTEWORTHY 
The Field: The field will play a 54-hole event over three days. Arkansas State, Coastal Carolina, High Point, Kansas City, Kentucky, Little Rock, Louisiana, Michigan, Oregon State, Rock Mountain College, Saint Mary's, UAB, Utah and West Virginia comprise the field.  
 
The Lineup: Cook is making his fifth start of the season and the 17th of his career. Goff will be among UK's starters for the fourth time in 2021-22 and the 18th of his career. Wood joins Goff with a fourth appearance in the starting lineup but is making his team-leading 26th career start. Kremer is appearing in the lineup for the third time this season and the fifth time in his career. Kirchdorfer will be making his first-career start this week at Lake Las Vegas.  
 
Total career sub-70 Rounds:
Goff – 12
Wood – 9
Cook – 7
Kremer – 1
Playing with the Pros: Cook and Goff have already been in action this spring as the duo played in the Genesis Collegiate Open a few weeks ago. Cook fired a round of 71, while Wood posted a 75.
Law of Averages: Cook leads the team with a 71.00 scoring average over 10 rounds of play this season. Wood is second with a 71.30, while Goff owns a 71.44. As a team, UK is logging an average round of 72.90 over 70 rounds of action this season.  
 
First Time for Everything: Kirchdorfer joins Hugo Archer as the second Wildcat to make his first collegiate start in 2021-22. Kirchdorfer has seen action in six tournaments over his career as an individual, including two this season. His career-best finish was a tie for 19th at the Steelwood Collegiate Invitational in 2019-20. He finished in 21st in the same event earlier this season which saw him post a career-low, 2-under-par, 214 in the event.
 
For the latest on the Kentucky men's golf team, follow us on Twitter, Facebook, Instagram and on the web at UKathletics.com.