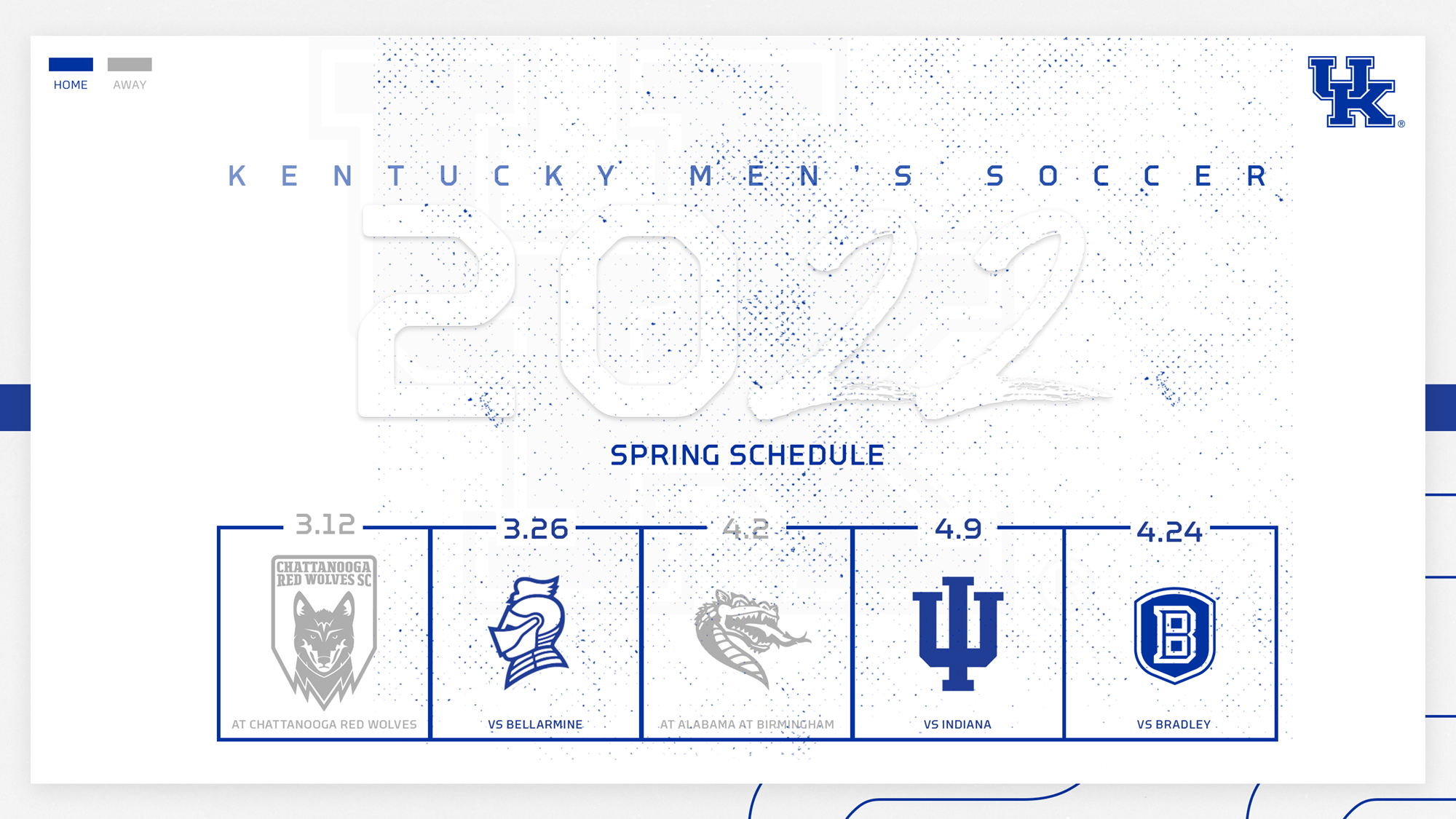 February 25, 2022 - 12:45 PM
Kentucky Men's Soccer Announces 2022 Spring Schedule
LEXINGTON, Ky. – The Kentucky men's soccer team has unveiled its schedule for the 2022 spring season, which features five matches. The Wildcats will host three games at the Wendell and Vickie Bell Soccer Complex while two contests will be on the road. 
The spring season officially begins on Saturday, March 12 against the Chattanooga Red Wolves, a USL League One team. Kickoff is set for 1 p.m. ET at the CHI Memorial Stadium in Chattanooga, Tennessee. 
Following a weekend off, UK is set to welcome in-state foe Bellarmine to the Bell on Saturday, March 26 at 7 p.m. The team then travels to Birmingham, Alabama, to take on UAB on Saturday, April 2 for a 2 p.m. tilt at PNC Field. 
The Wildcats faced both the Knights and the Blazers during the fall campaign, defeating them with respective 2-1 and 3-1 victories.  
Kentucky returns home for the final two games of the spring slate, first hosting Indiana on Saturday, April 9 at 7 p.m. Bradley will then come to Lexington on Sunday, April 24 for a 10 a.m. match to round out the schedule. 
The complete 2022 spring schedule can be found here. 
The Wildcats had a remarkable fall season in 2021, earning their second Conference USA Tournament championship title in school history after defeating Florida Atlantic, 2-1, in an overtime thriller. UK then went on to its fourth-ever and second-straight NCAA Championship Sweet 16 appearance. 
Kentucky's award haul in 2021 was nothing short of impressive. The Wildcats landed three players on the All-C-USA First Team, one on the Second Team, three on the Third Team, two on the All-Freshman Team and four on the All-Tournament Team. Goalkeeper Jan Hoffelner was named the C-USA Goalkeeper of the Year and earned the Golden Boot Award, while he joined Luis Grassow and Marcel Meinzer on the USCA All-Region First Team. 
For the latest on the Kentucky men's soccer team, follow @UKMensSoccer on Twitter, Facebook and Instagram, as well as on the web at UKAthletics.com.