February 8, 2022 - 03:30 PM
Jensen Castle Leads UK Women's Golf to Best Team Score in Program History
ORLANDO, Fla. – With Jensen Castle leading the way, the Kentucky women's golf team had one of its best tournament performances in school history while setting several program records at the UCF Challenge in Orlando, Florida. The Wildcats finished second as a team with three players placing in the top four.
Playing at the Eagle Creek Golf Club (par 72, 6,349 yards), Castle fired yet another 6-under-par 66 in the third round. Her impressive score — which she also posted in the opening round on Sunday — matched the best 18-hole performance of her career, which was first set at the Mason Rudolph Championship in the fall. Her seven birdies in the final round were just one shy of her career high.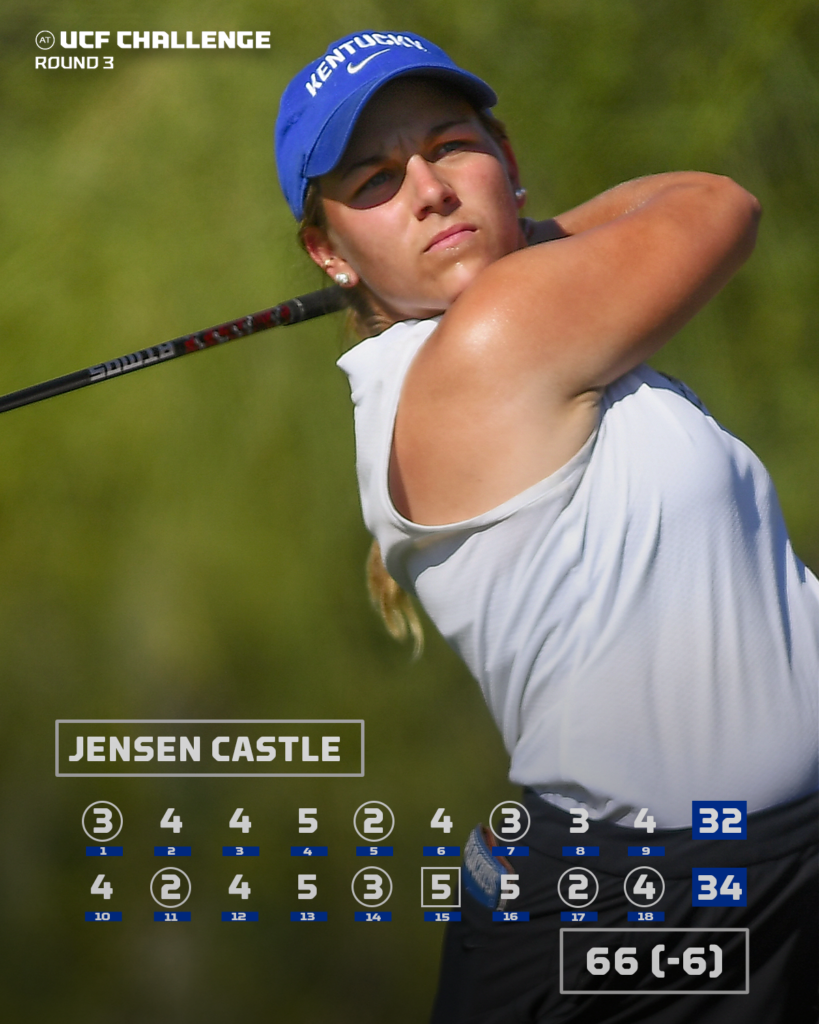 Castle carded an impressive 15-under-par 201 to set a three-round career best, shattering her previous low of 208 from the Mason Rudolph Championship. The 2021 U.S. Women's Amateur champion also broke the 54-hole school record of 205 previously held by Leonie Bettel since 2018. 
The junior's record-setting outing resulted in a runner-up showing, her highest individual finish as a Wildcat. Carolina Lopez-Chacarra of Wake Forest took top honors with a 19-under-par 197.  
 
Led by Castle, Kentucky concluded the third day with a 10-under-par 278 after posting respective rounds of 276 (12-under par) and 279 (9-under par) on the first and second days. The Wildcats shot a collective 31-under-par 833 for the tournament, crushing the previous school record of 858 set on their home course in 2018. 
The record-setting score of 833 was good enough for UK to place second in the team standings behind No. 6 Wake Forest (819). Rounding out the top five teams were No. 7 Virginia (837), College of Charleston (845), and 12th-ranked Southeastern Conference foe Auburn (848).
Their second-place showing was also the Wildcats' highest team finish since winning the Bettie Lou Evans Invitational in 2019. 
"What a tremendous week we have had! I am just amazed and so proud of this team. They kept their poise, stayed calm and kept their foot on the gas for the entire 54 holes," said head coach Golda Borst. "As a group, they got out of their comfort zone, and to see them shatter our previous 54-hole low score like this — it gives me chills. There is no challenge they can't face and it's a beautiful way to kick off the spring season."
Laney Frye (68-70-69) and Rikke Svejgård Nielsen (69-66-72) posted identical total scores of 9-under-par 207 to tie for fourth. The pair are now the co-owners of the third-best 54-hole score in school history, only behind Castle (201) and Bettel (205).
The fourth-place individual finish marked the highest of Frye's career. The sophomore, who made the 2021 SEC All-Freshman Team, crushed her previous 54-hole low of 212 from the Mason Rudolph Championship. Her 4-under-par 68 from the first round also matched her career best.
Svejgård Nielsen also blew past her former three-round record of 214 set at the 2019 Bettie Lou Evans Invitational. After recording her second-lowest score as a Wildcat in the first round, she fired a 6-under-par 66 for a new career best on day two, joining Castle with one of the best rounds in school history. 
"I am beyond excited for Jensen, Laney and Rikke. To have three girls in the top four is very special. They all kept pushing themselves and each other, and it shows their individual growth as players," said Borst. "It was a great week for the Wildcats and is truly something that we will learn a lot from and continue to build on as we get deeper into the spring tournaments."
Saving her best round for last, María Villanueva Aperribay carded a 1-under-par 71 on Tuesday. She bounced back from two straight rounds of 74 (2-over-par) for a final score of 3-over-par 219 to tie for 57th.
Marissa Wenzler concluded the tournament tied for 69th behind a pair of 2-over-par 73 rounds and one round of 3-over-par 75. Playing as an individual, Ryan Bender (71-78-74) wound up tied for 82nd. Her 1-under-par 71 in the opening round was the second-best of her career.
Kentucky foreshadowed its' record-setting tournament right from the start. The opening-round total of 276 was the lowest in program history, eclipsing the previous school mark of 277 set in the third round of the Ron Moore Women's Intercollegiate in 2016.
The Wildcats' 2022 showing marked their eighth appearance — and their best team finish — in the UCF Challenge. Kentucky has now placed in the top 10 on six occasions since 2011, including four times placing in the top five.
Following a three week break from competition, the Wildcats return to action at the Darius Rucker Intercollegiate beginning Feb. 28. The three-day tournament will take place at the Long Cove Club in Hilton Head, South Carolina.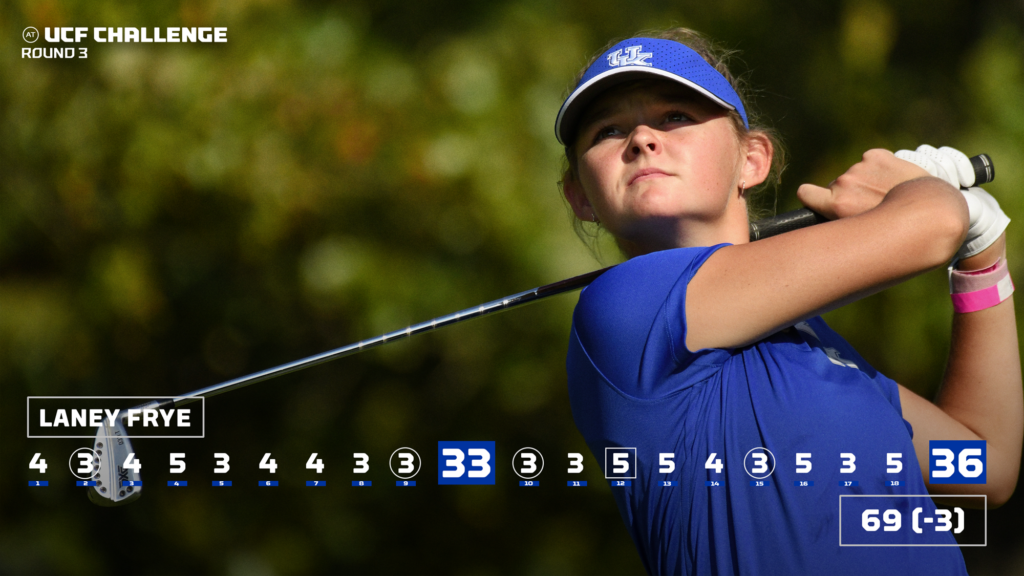 For the latest on the Kentucky women's golf team, follow the team on Twitter, Facebook and Instagram, as well as on the web at UKathletics.com.