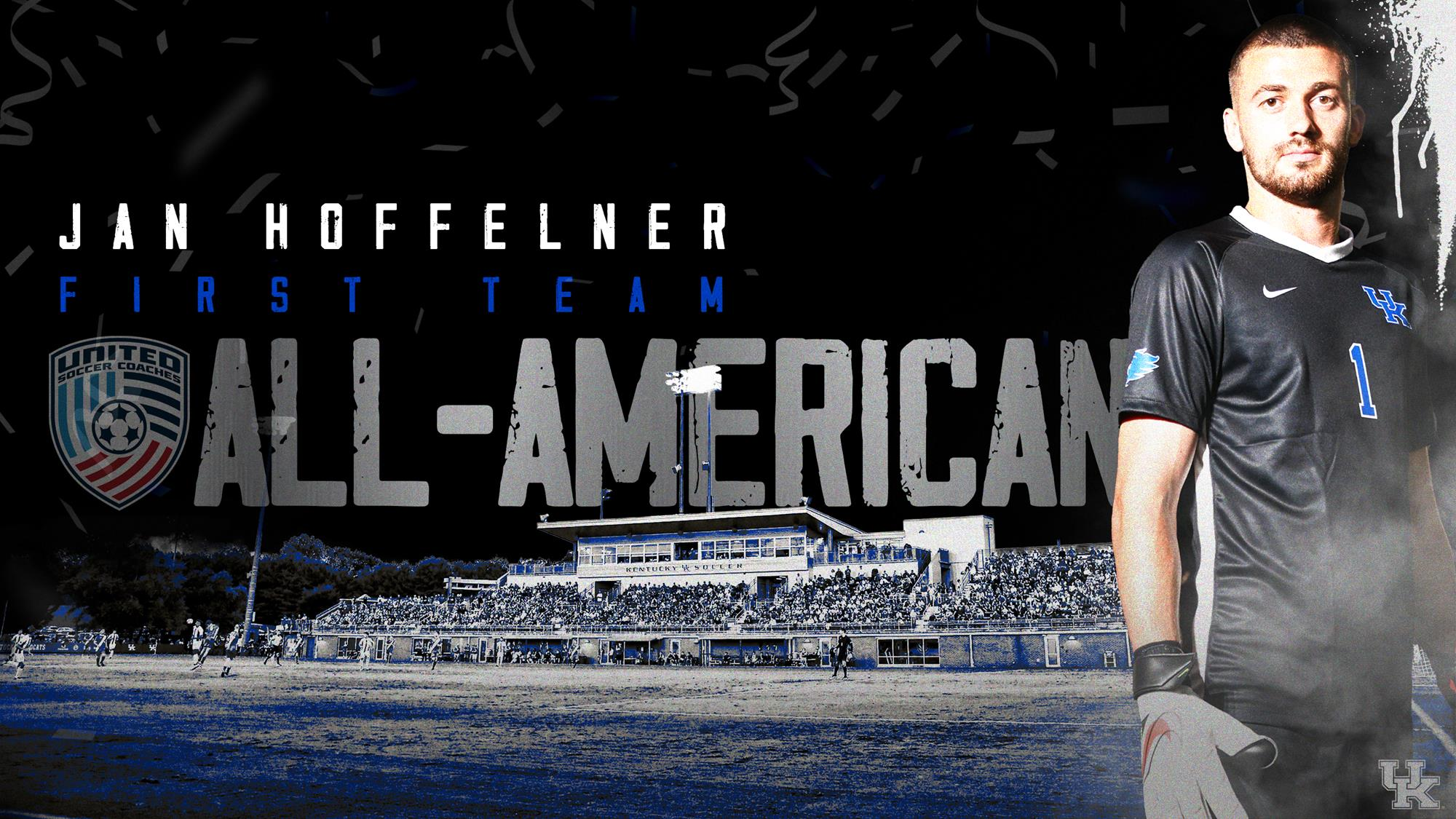 December 10, 2021 - 12:37 PM
Jan Hoffelner Named United Soccer Coaches First-Team All-American
LEXINGTON, Ky. – If there were ever any doubt, now it is official: Jan Hoffelner is the best college goalkeeper in the United States of America.
 
Hoffelner was named a first-team All-American by United Soccer Coaches on Thursday, becoming the third Wildcat to earn the honor in the history of University of Kentucky men's soccer.
 
The native of Langen, Germany, joins Callum Irving (2015) and JJ Williams (2018) on Kentucky's all-time list of first-team representatives, marking the program's ninth different United Soccer Coaches All-American and 10th selection overall. Ilkka Jantti (2001), Barry Rice (2009), Napo Matsoso (2016) and Enrique Facusse (2018) were each named to the second team during their playing days, while Jamal Shteiwi (2004), Irving (2014) and Aimé Mabika (2018) earned third-team recognition.
 
Hoffelner capped off his collegiate career in Lexington after stops at Iowa Western Community College (2017), Presbyterian College (2018) and St. John's University (2019-2020). The 6-foot-3 graduate transfer leads NCAA Division I outright in goals-against average (0.417) and is tied with third-team All-American Luka Gavran, his former teammate at St. John's, for the lead in shutouts (12).
 
Hoffelner's latest United Soccer Coaches honor comes on the same week he was named one of 15 semifinalists for the 2021 Missouri Athletic Club Hermann Trophy, the most coveted individual honor in NCAA Division I soccer, as well as an All-Southeast Region first-team member alongside fellow German Wildcats Luis Grassow and Marcel Meinzer.
 
Hoffelner earned Conference USA Goalkeeper of the Year, first-team All-C-USA and C-USA All-Tournament Team accolades, in addition to the C-USA Golden Glove Award, earlier this season.
 
Kentucky ended its 2021 campaign with a 15-2-4 record, its second C-USA Championship crown and third appearance in the NCAA Championship round of 16 in the last four years. The Wildcats opened the season with a program-best 14-game unbeaten streak and won each of its regular-season non-conference matches for the first time ever before finishing undefeated at home and tying the school record for the fewest losses in a single season.
 
For the latest on the Kentucky men's soccer team, follow @UKMensSoccer on Twitter, Facebook and Instagram, as well as on the web at UKAthletics.com.