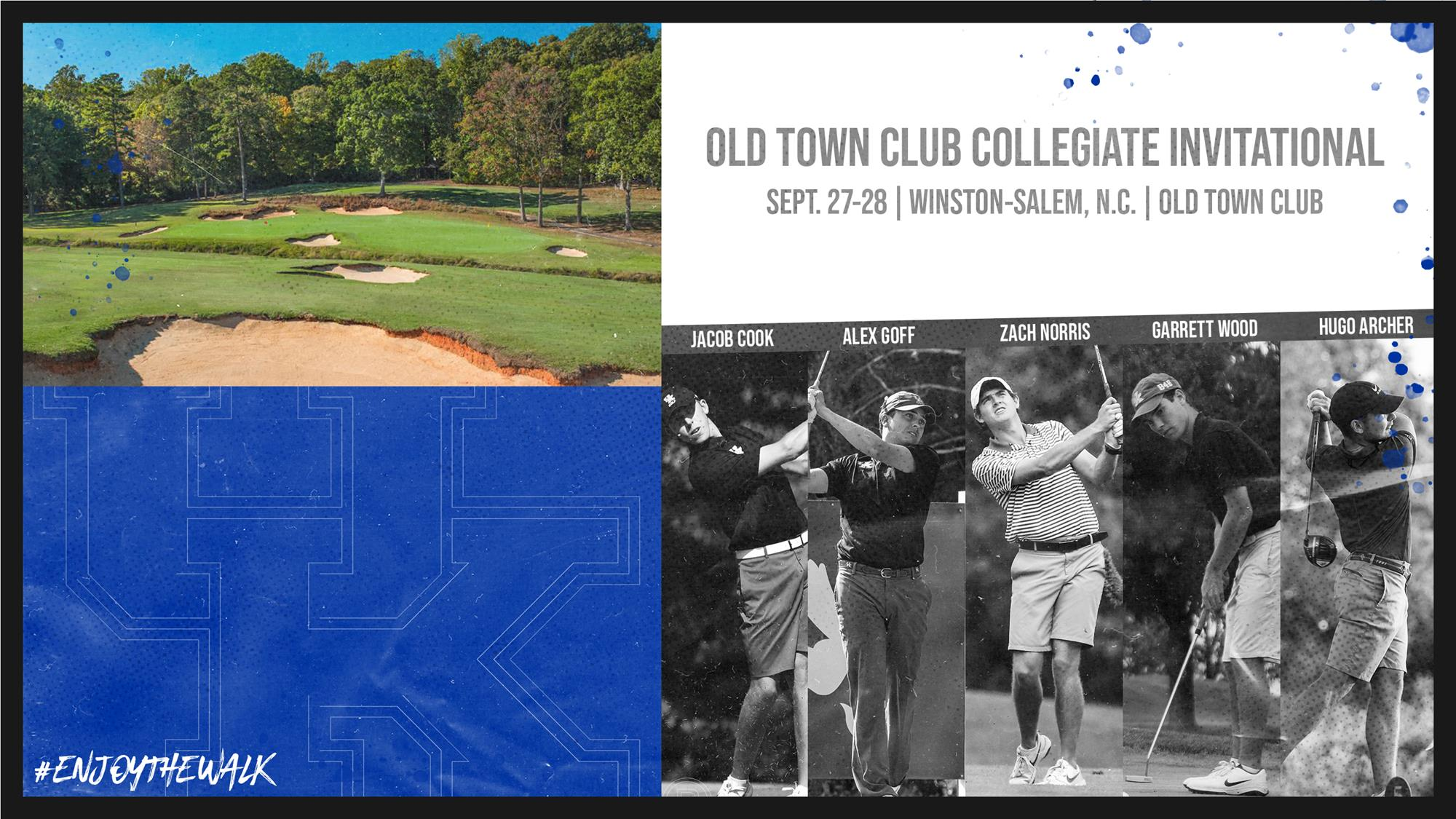 September 26, 2021 - 09:09 AM
Wildcats Set for Old Town Collegiate Invitational
LEXINGTON, Ky. – The University of Kentucky men's golf team is set to take on the Old Town Collegiate Invitational at the Old Town Club in Winston-Salem, North Carolina, beginning on Monday. The 54-hole event will be played over two days with two rounds on Monday and a final 18 holes on Tuesday.
 
The Wildcats will utilize a starting lineup of Jacob Cook, Alex Goff, Zach Norris, Garrett Wood and Hugo Archer. Cooper Parks will compete as an individual.
 
"The Old Town Collegiate is a new event for us hosted by Wake Forest," UK head coach Brian Craig said. "The golf course has a reputation for being fabulous and we cannot wait to see it. We have had a nice break and our training has been solid. At this point, it all comes down to learning a new course during the practice round and then staying in the present moment during the actual competition."
UK gets play underway beginning at 7:35 a.m. ET off the No. 1 tee. UK will play with Wake Forest and Davidson throughout Monday's opening two rounds. 
 
Kentucky tied for fourth at the Island Resort Intercollegiate to begin the 2020-21 season. Archer earned a tie for third and Cook placed in a tie for seventh to lead the way individually. It marked the first top-10 individual finishes for both players in their careers. Goff captured his ninth career top-20 finish with a tie for 14th.
 
NOTEWORTHY
 
Tournament History: Kentucky is making its first appearance in the Old Town event during Craig's tenure.
 
The Course: Old Town Club was designed in 1939. It features 6,966 yards from the longest tees and a par of 70. The course rating is 72.0 and has a slope rating of 123 on Bermuda grass. It was designed by Perry Maxwell.
 
The Field: The field will play a 54-hole event over two days. The squads will play two rounds on Monday before finishing with a final 18 on Tuesday. College of Charleston, Davidson, Duke, East Carolina, Kansas State, Kentucky, Loyola (Md.), Penn State, Rutgers, SMU, Southern Miss, UNC Greensboro, Virginia Tech and host Wake Forest, with two teams, comprise the 15-team field.
 
The Lineup: Kentucky will have four players in Cook, Goff, Norris and Wood back in the starting lineup. All four players were also in the starting lineup in the team's opening event. Archer will make his first career start this week after leading all Wildcats with a tie for third at the Island Resort Intercollegiate.
 
Total career sub-70 Rounds:
Goff – 11
Wood – 7
Cook – 4
Norris – 3
Archer – 1
C. Parks – 1
 
Returning to the Old North State: Goff will play in his home state of North Carolina for the first time in his collegiate career. He hails from Kings Mountain, North Carolina, a little less than a two-hour drive to Old Town Club.
 
Par or Better Rounds: Archer leads the way thus far in the 2021-22 season with a pair of par-or-better rounds through three total rounds on the year. He produced two sub-par scorecards at the Island Resort Intercollegiate en route to his career-best finish and career-low tournament score. Wood owns the most career par-or-better scores with 22.
 
Three for Three: Cook, Goff and Norris had each of their three rounds at the Island Resort account for the team's score. For their careers, Goff has generated 40 round-counting scores, Norris has 33 and Cook has 29.5. Wood leads the team with 58 scores comprising the team's split between his time at Kentucky and at Xavier University.
 
For the latest on the Kentucky men's golf team, follow us on Twitter, Facebook, Instagram and on the web at UKathletics.com.