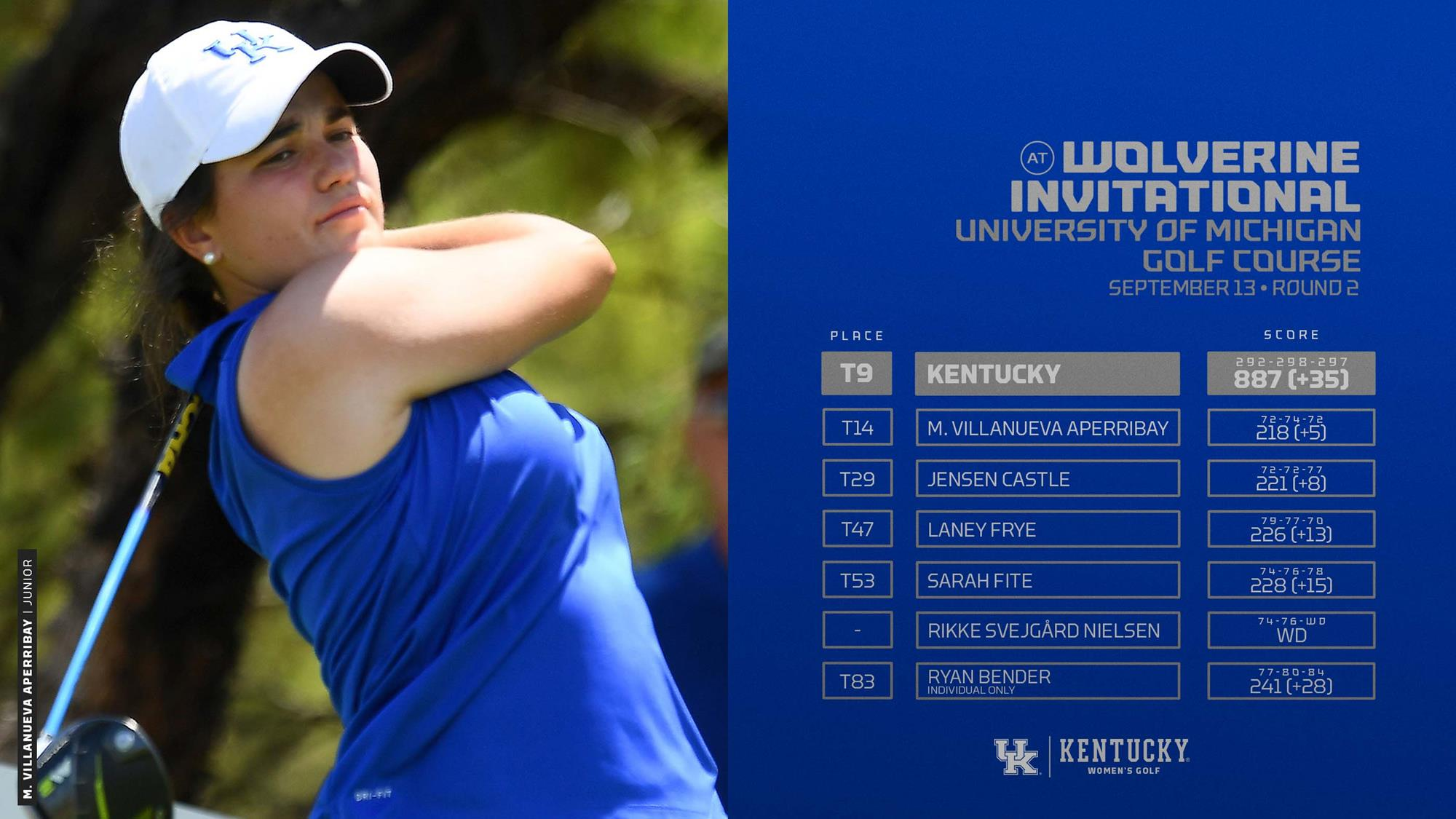 September 14, 2021 - 05:09 PM
Villanueva Aperribay Posts Top-20 Finish at Wolverine Invitational
ANN ARBOR, Mich. – The Kentucky women's golf team opened its 2021-22 season with a ninth-place finish at the Wolverine Invitational on Tuesday.
 
Led by junior María Villanueva Aperribay's top-20 showing, her fourth in a UK uniform, the Wildcats carded a three-round total of 887 (35-over par), capped by a 13-over-par-297 in Tuesday's final round.  
 
Junior Jensen Castle tied for 29th and sophomore Laney Frye carded the first under-par round of the season for Kentucky in the finale at the University of Michigan Golf Course (par 71, 6,232 yards) in Ann Arbor, Michigan.
 
Michigan, the tournament host, ran away with the tournament on its home course with a 12-shot victory at 1-under par. Wolverine Mikaela Schulz and Iowa State's Liyanna Durisic shared medalist honors at 3-under par.
 
"I think it was a little bit of a struggle (this week)," UK head coach Golda Borst said. "There are some positives to take, but overall it wasn't our best week and we've got some work we need to do. We struggled with our performance goals, which I think is why you're seeing the scores that you're seeing. We struggled around the greens. These green complexes are quite different than what we see and we didn't adjust as well as we needed to."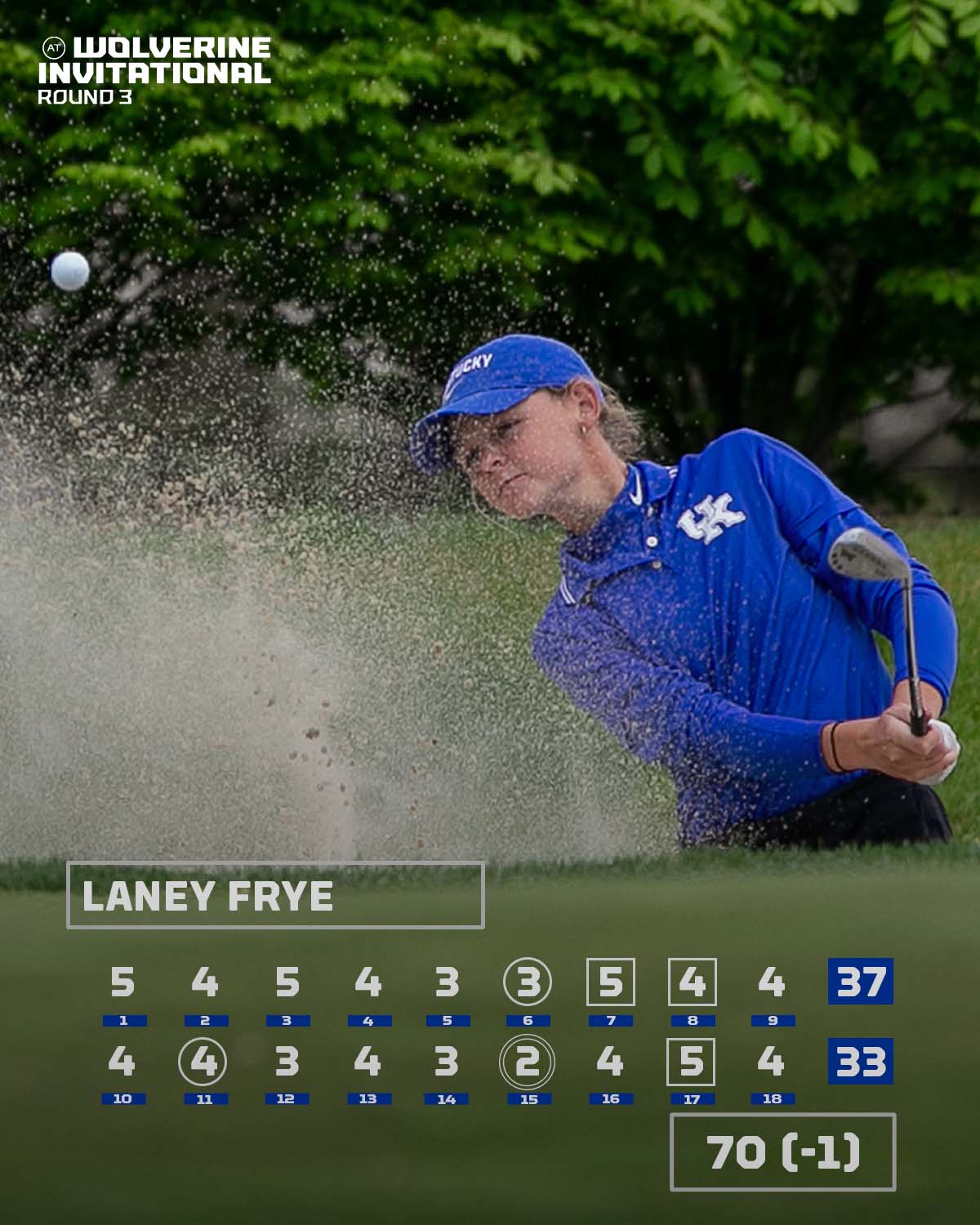 Although the results were disappointing for a team that enters the season with big expectations, it could serve as a good learning opportunity for the Wildcats. UK could return to Ann Arbor in eight months on the very same track with Michigan hosting one of four NCAA Regional sites this season.
 
Villanueva Aperribay managed the course the best with a three-round total of 218, 5-over par. Playing in her second season for Kentucky, the Augusta transfer closed out the tournament with a 1-over-par 72 to tie for 14th. She had an under-par round in her sights early in Tuesday's round as she made the turn at 2-under par, but three bogeys over the first four holes of the front nine (she started on the back) foiled those plans.
 
The top-20 showing continues a positive trajectory for Villanueva Aperribay at Kentucky. Dating back to last season, she has finished in the top 20 in three of her last four collegiate tournaments.
 
"I think she's a little bit disappointed because she definitely could have scored better," Borst said. "She had some putts that probably should have gone in that she missed. But overall, a consistent start. Even though she feels like the score could have been better, lots and lots of positives for her."
 
Castle just missed out on a top-20 finish after a strong start to the tournament. After a pair of 72s in Monday's 36-hole opener, she posted a 77 in the final to finish at 8-over par, tied for 29th. Castle is coming off an incredible summer that included winning the 2021 U.S. Women's Amateur – the first player in school history to win the United States Golf Association's national championship for amateurs – and playing on the winning 2021 USA Curtis Cup squad.
 
Sophomore Laney Frye showed tremendous resiliency Tuesday to card the first under-par round of the season for the Wildcats. The 2021 Southeastern Conference All-Freshman Team pick bounced back from two of the highest scores of her collegiate career with a 1-under-par 70 on Tuesday to climb the leaderboard and tie for 47th at 13-over par overall.
 
Frye's scorecard was highlighted by an eagle on the par-4 15th hole. She holed her second shot from 62 yards. Frye closed with a birdie on her final hole of the tournament to get to red numbers a season after posting the second-most rounds of par or better in school history with 13.
 
Fifth-year senior Sarah Fite closed out her first collegiate tournament since February 2020 with a 78. That put her at 15-over par for the three rounds, tied for 53rd.
 
The Wildcats were without fifth-year senior Rikke Svejgård Nielsen for much of Tuesday's round. The most experienced and decorated player on UK's roster (four career top-10 finishes and 10 career top-20 showings) had to withdraw in the middle of the round due to illness.
 
Redshirt junior Ryan Bender, playing in her first tournament since the fall of 2019, tied for 83rd at 28-over par playing as an individual.
 
Despite the slow start, expectations remain high for Kentucky. Ranked No. 23 in the preseason Women's Golf Coaches Association preseason poll, Kentucky returns all five players who qualified for the NCAA Championship Finals last season, the program's first appearance in the national championship stage in 29 years. On top of last season's success, several individuals had strong summers, headlined by Castle's U.S. Women's Amateur run and Marissa Wenzler's Women's Western Amateur championship.
 
The Wildcats will have a rather quick turnaround for their second of four fall tournaments. They are back in action Sept. 24-26 at the Mason Rudolph Championship in Franklin, Tennessee.
 
For the latest on the Kentucky women's golf team, follow the team on Twitter, Facebook and Instagram, as well as on the web at UKathletics.com.