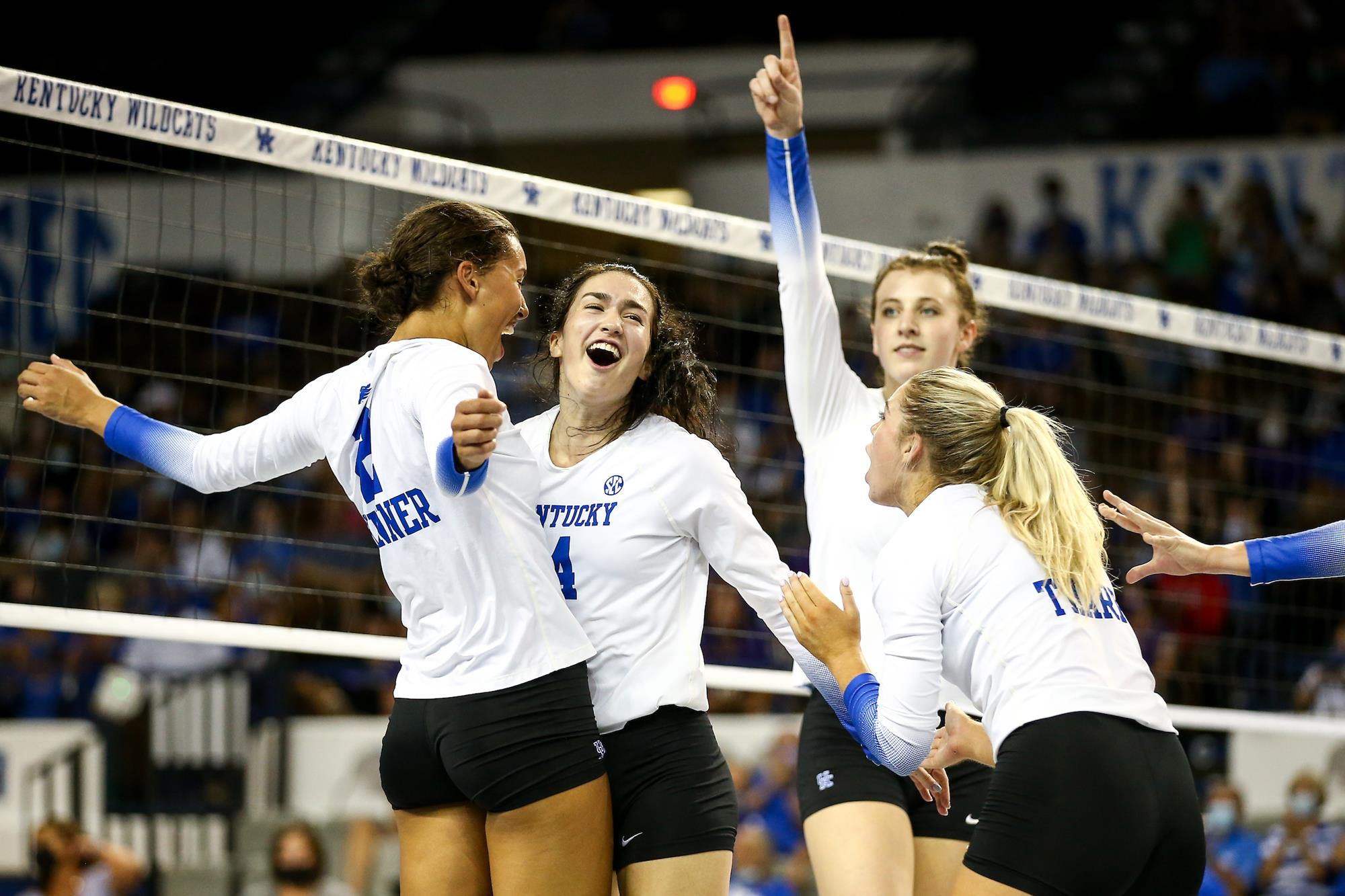 September 14, 2021 - 11:58 AM
No. 8 Kentucky Faces No. 5 Louisville in Battle of the Bluegrass
LEXINGTON, Ky. – The No. 8 Kentucky Volleyball team will play at No. 5 Louisville on Wednesday night at 7 p.m. ET in a top-10 showdown at the Derby City. The match will be televised by ESPNU and streamed on the ESPN app with Eric Frede and Katie George on the call.
 
The match will take place at the L&N Federal Credit Union Arena on UofL's campus in downtown Louisville. Tickets for Wednesday night's match are available at GoCards.com.
 
Kentucky is 6-2 on the season and in the middle of a stretch of three games against top-16 teams within four games. UK fell to No. 2 Wisconsin but rebounded with authority with a 3-0 sweep of Marquette Saturday night. UK will now face No. 5 Louisville and No. 16 Stanford this week before entering Southeastern Conference play Sept. 24.
 
Louisville is undefeated this season, sitting at 8-0 on the year. The Cards have only dropped two sets this season, both to Arizona State in a five-set win over the Sun Devils. UofL is coming off of a 2-0 weekend in Cincinnati with sweeps over No. 6 Purdue and Xavier at Cintas Center.
 
Madi Skinner continues to lead UK offensively with 3.92 kills per set on the season, sitting two kills shy of 100 on the year. The sophomore outside hitter from Katy, Texas is hitting .365 on the season and has already accumulated multiple matches over .400.
 
Defensively, it's been a balanced effort for UK with Riah Walker, Eleanor Beavin, Lauren Tharp, Emma Grome and Skinner all averaging over two digs per set. At the net, it's been Azhani Tealer (1.40) and Elise Goetzinger (0.79) that have led the way blocking as the two middle continue to get better as the season progresses.
 
UK leads the all-time series with Louisville, 31-25 and has won seven in a row. The last meeting between UK and UofL was 2019 in Lexington when UK swept the Cards. Kentucky also swept the Cardinals in the teams' last meeting in Louisville, 2018.
 
Follow along with the Wildcats on Twitter, Facebook and Instagram, and on the web at UKathletics.com.