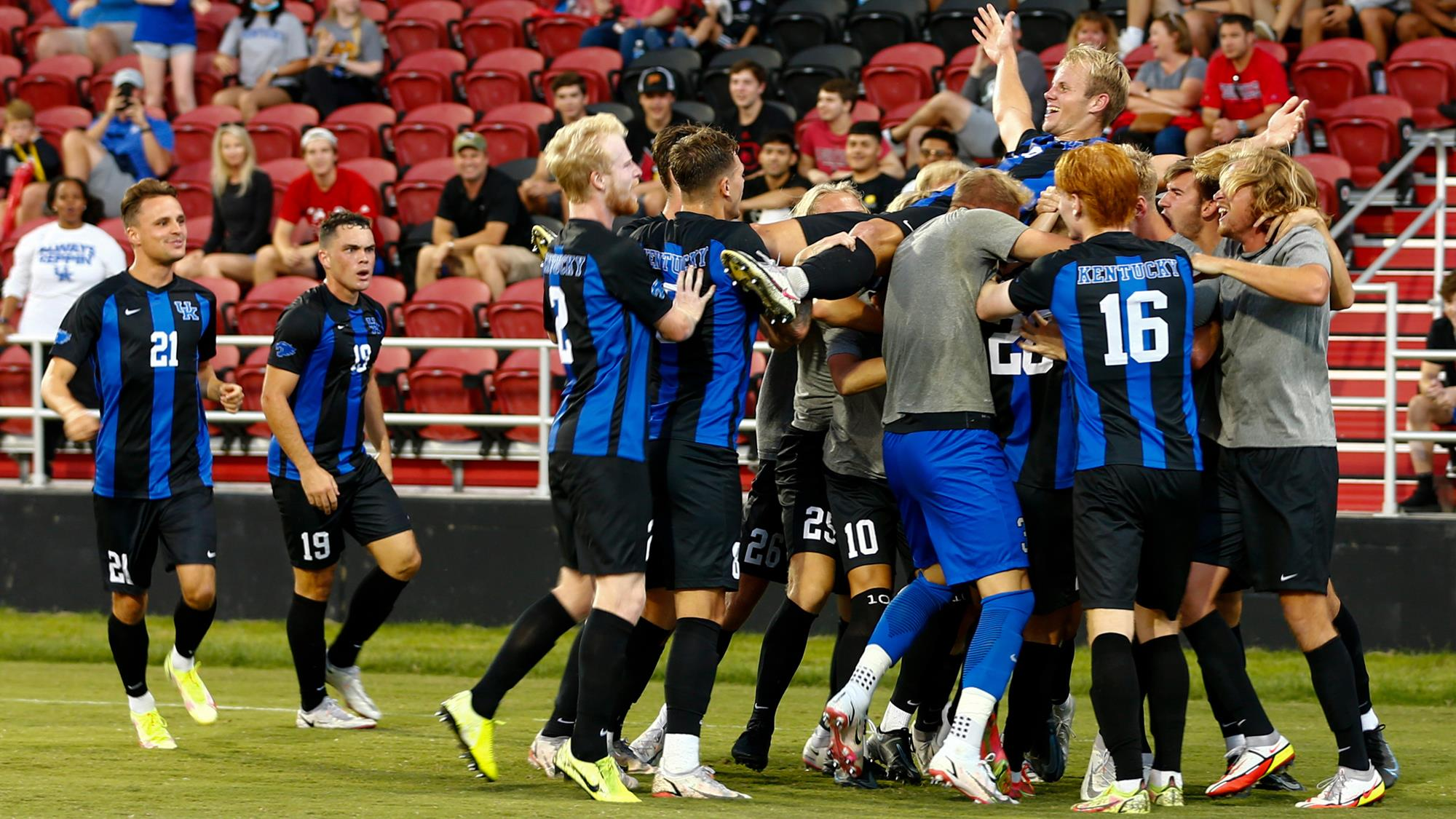 September 10, 2021 - 03:18 PM
UK Men's Soccer Returns Home to Host Duquesne
LEXINGTON, Ky. – Following a midweek in-state road trip, the undefeated No. 17 Kentucky Wildcats (3-0-1) will return home to host Duquesne (3-1) on Sunday at 7:30 p.m. ET, live on ESPN+.
 
In its last outing, Kentucky picked up the season's first road win with a 3-1 victory at Louisville last Tuesday. The triumph was the Wildcats' second consecutive in the annual series, as well as the first on the Cardinals' home pitch since 2012. Graduate midfielder Cameron Wheeler scored his first goal in Kentucky blue against his old team in the 24th minute, while junior forward Eythor Bjorgolfsson netted his team-best third goal in the 81st.
 
In addition to goals, Bjorgolfsson enters Sunday with the team lead in points (seven), shot attempts (10) and shots on target (six). Goalkeeper Jan Hoffelner and the UK backline of Lucca Rodrigues, Luis Grassow, Robert Screen and Oliver Juul have conceded just one goal through the season's first four matches.
 
Duquesne most recently earned its third straight win in its first contest outside the city of Pittsburgh, defeating Howard 2-1 in Washington. The Dukes have won three of their first four to open a season for only the second time since 2015.
 
Sunday will mark the second all-time meeting between Kentucky and Duquesne. The Cats, coincidentally ranked 17th at the time, beat the Dukes 1-0 on Aug. 30, 2016, in Lexington.
 
Admission to all 2021 UK soccer matches at Wendell & Vickie Bell Soccer Complex is free to the public. For the latest on the Kentucky men's soccer team, follow @UKMensSoccer on Twitter, Facebook and Instagram, as well as on the web at UKAthletics.com.