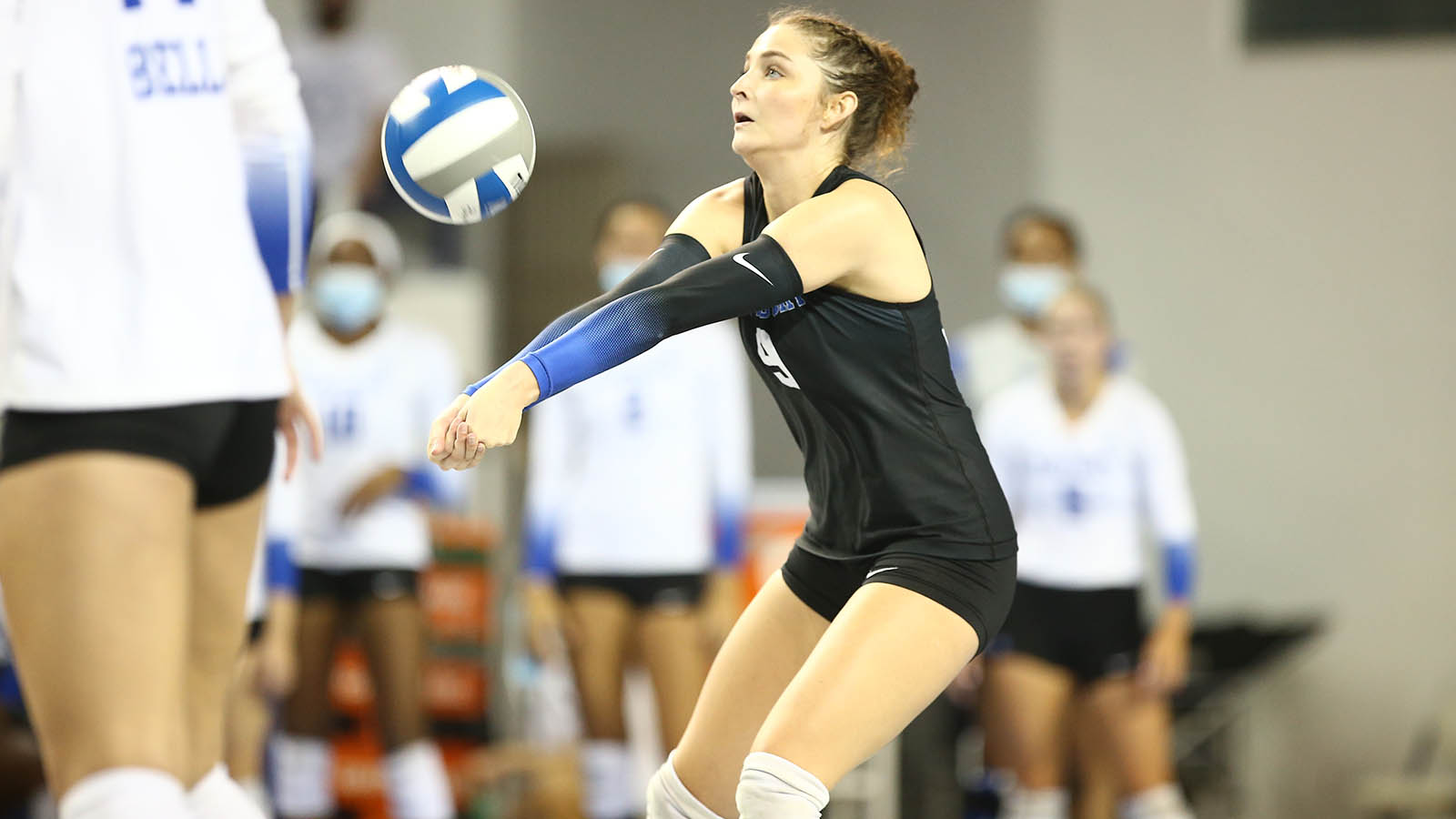 September 9, 2021 - 10:41 AM
Volleyball Cats Face Tall Task in Road Matches at Wisconsin, Marquette
The Kentucky volleyball team hits the road this weekend for what figures to be a tall task. Literally.
The Cats visit second-ranked Wisconsin and their superstar, 6-8 Dana Rettke, on Friday night. Kentucky will face Marquette on Saturday to complete the two-game road swing.
Rettke, a four-time All-American and the 2020 Big Ten Athlete of the Year, is off to another fantastic start this season. She leads the Badgers with 26 kills and 10 blocks through four matches.
UK head coach Craig Skinner knows that his team must adjust to having Rettke on the other side of the net.
"She's a four-time All-American, a four-time first team All-American," Skinner said. "She's going to get kills. If she goes off and has 25 kills and everyone else doesn't have one of their best nights, then we've got a chance to come away with a 'W'. If she has 25 kills and everyone else has 15 to 20 kills, too, then we've got a problem. I think if you go into a match thinking you're going to completely stop Dana Rettke, then you're going to put too many eggs in that basket. At the same time, we have to figure out some serving strategies that can maybe limit the number of chances she has to kill the ball."
Wisconsin is 4-0 on the young season. Their most impressive win to date is a 3-1 win over No. 10 Baylor in Madison. Rettke had 14 kills and six block assists in that match.
As far as a common opponent, both teams have played Dayton already this season. Kentucky swept the Flyers 3-0 in Dayton, while Wisconsin also swept Dayton, twice, on back-to-back days last weekend.
Skinner and UW head coach Kelly Sheffield both grew up in Muncie, Indiana, and the two have known each other for many years. The UK head coach is looking forward to the challenge that both Wisconsin and Marquette will provide.
"Looking forward to another great weekend of volleyball," Skinner said. "Wisconsin, great team. Obviously, been to the Final Four last year and several Big Ten championships. Our team is excited to get going."
As far as how his team will react to the challenge of facing two quality opponents in hostile environments, Skinner is not quite sure at the moment.
"Probably not quite yet. The Dayton environment (that UK faced two weeks ago) is different but just as loud," Skinner said. "It's a smaller venue but it's packed. The volume on Friday night and the quality of opponent will be different. I think typically, in the past, our players have loved and relished the opportunity to play in matches like that. So, I'm expecting the same."
Kentucky is led by sophomore Madi Skinner, who has 66 kills on the season. Senior Alli Stumler has 61 kills for the Cats. Riah Walker leads the team with 73 digs and Emma Grome has 185 assists.
Skinner continues to teach his young teams the things they still don't know at this point.
"We're trying to get our players to learn new things every day," Skinner said. "With this group, because we have so many freshmen and sophomores contributing, there's so many things that we have to learn and get better at, so I can't expect them to be performing like a national champion team yet."
And as for this weekend, it will be a challenge for sure. But Skinner also views it as a great chance for his team.
"It's a hell of an opportunity for us," Skinner said. "This is why we schedule these matches, to give yourself an opportunity to win and beat those teams. If we win, then we know we're on the right path. If we don't win, then we know the things we need to work on to get to the level we need to be on when the tournament starts."