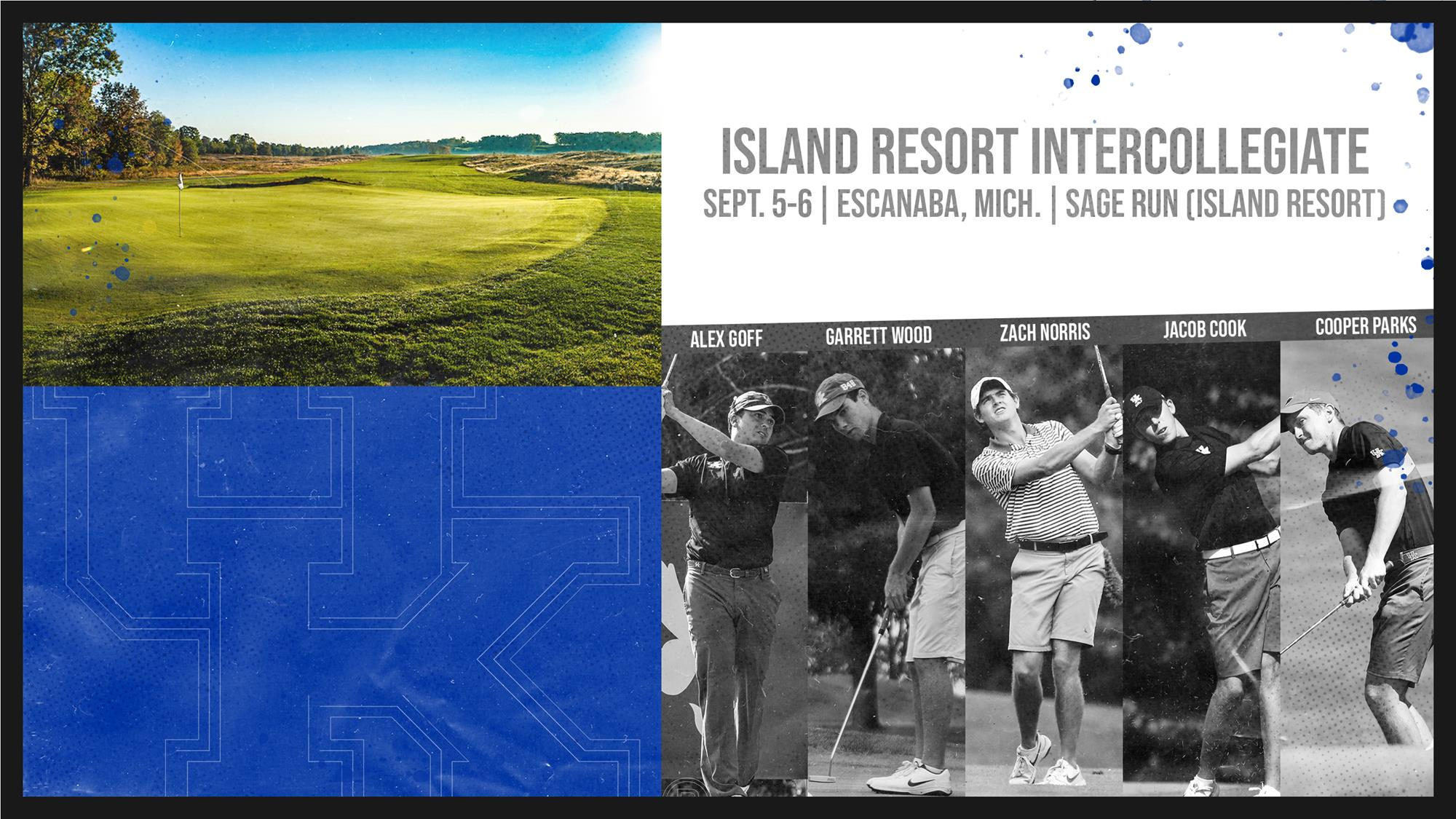 September 3, 2021 - 01:18 PM
Men's Golf Opens 2021-22 Season at Island Resort Intercollegiate
LEXINGTON, Ky. – The University of Kentucky men's golf team will open its 2021-22 season at the Island Resort Intercollegiate at Sage Run Golf Club beginning Sunday. The 54-hole event will be played over two days with 10 of UK's 11 players in the field.
 
The Wildcats will utilize a starting lineup of Alex Goff, Garrett Wood, Zach Norris, Jacob Cook and Cooper Parks. Hugo Archer, Jay Kirchdorfer, Campbell Kremer, Jackson LaLonde and Tanner Parks will compete this week as individuals.
 
"What a fabulous course to start our 2021-22 campaign," UK head coach Brian Craig said. "Sage Run is as fine of a test of golf as we will play all year. We have had a solid start to the school year with our training sessions and playing at home. Now it is time to start competing and we cannot wait."
 
This week's tournament will mark the first of four fall events for the Wildcats. UK is also slated to take part in the Old Town Club Collegiate Invitational Sept 27-28, the Southeastern Conference Match Play Championship Oct. 10-12 and the Steelwood Collegiate Invitational Oct. 30-31.
 
NOTEWORTHY
 
Tournament History: Kentucky appeared in the inaugural Island Resort Intercollegiate in 2019 and placed sixth overall. Alex Goff tied for 10th and finished the tournament at 1-under par. UK was 9-over par as a team.
 
The Course: Sage Run features a large drumlin, which is a long, sloping ridge. It runs throughout the course in different directions, challenging players to interact and move along the course with it. Each hole has a unique character and feel. The course takes golfers through pine scrub, open and partially wooded areas. It plays at a pair of 72 over 7,375 yards.
 
The Field: The field will play a 54-hole event over two days. The squads will play two rounds on Sunday before finishing with a final 18 on Monday. Bowling Green State, Michigan State, Middle Tennessee, Northern Michigan, South Dakota State, Central Florida, Detroit Mercy, Michigan and Green Bay comprise the 10-team field.
 
More Opening Magic?: A season ago, Alex Goff began his sophomore campaign by winning The Blessings Collegiate Invitational during UK's season-opening event. It was the first individual victory of his career and marked the first of back-to-back top-three finishes to start the season.
 
Wood Makes Return: Garrett Wood played in five events in 2019-20 for the Wildcats prior to the cancelation of the spring season due to the COVID-19 pandemic. He averaged 74.00 strokes in 13 rounds before redshirting last season. He began his collegiate career at Xavier University where he captured the Big East individual championship in 2019.
 
The Best is Yet to Come: Zach Norris produced a number of career bests in 2020-21. He logged a career-low round of 68 which sparked his first career top-10 finish at the Kiawah Invitational. Norris finished in a tie for sixth behind a career-best 208 (-8) tournament scorecard.
 
Keep Cookin': Jacob Cook enjoyed a breakthrough season a year ago which was fueled by a tremendous summer. Cook continued that momentum in the summer months of 2021. He won his second straight Lexington City Championship by a five-shot margin and then qualified for the United States Amateur by earning a slot by winning on the opening playoff hole.
 
Back Where it All Began: Cooper Parks will return to the Island Resort Intercollegiate among UK's starting five again this week. It marks the return to Parks' debut as a Wildcat. He placed in a tie for 18th overall for his first-career top-20 finish.
 
Career sub-70 Rounds:
Alex Goff – 11
Garrett Wood – 7
Jacob Cook – 4
Zach Norris – 3
Campbell Kremer – 1
Cooper Parks – 1
 
Five More: In addition to the starting five, Hugo Archer, Jay Kirchdorfer, Campbell Kremer, Jackson LaLonde and Tanner Parks will compete as individuals. Kirchdorfer tied for 49th and LaLonde earned a 62nd place showing at the Island Resort Intercollegiate in 2019. Archer appeared in four events, while Kremer made three appearances during their freshman seasons a year ago. Parks is set to make his collegiate debut this week at Sage Run.
 
For the latest on the Kentucky men's golf team, follow us on Twitter, Facebook, Instagram and on the web at UKathletics.com.