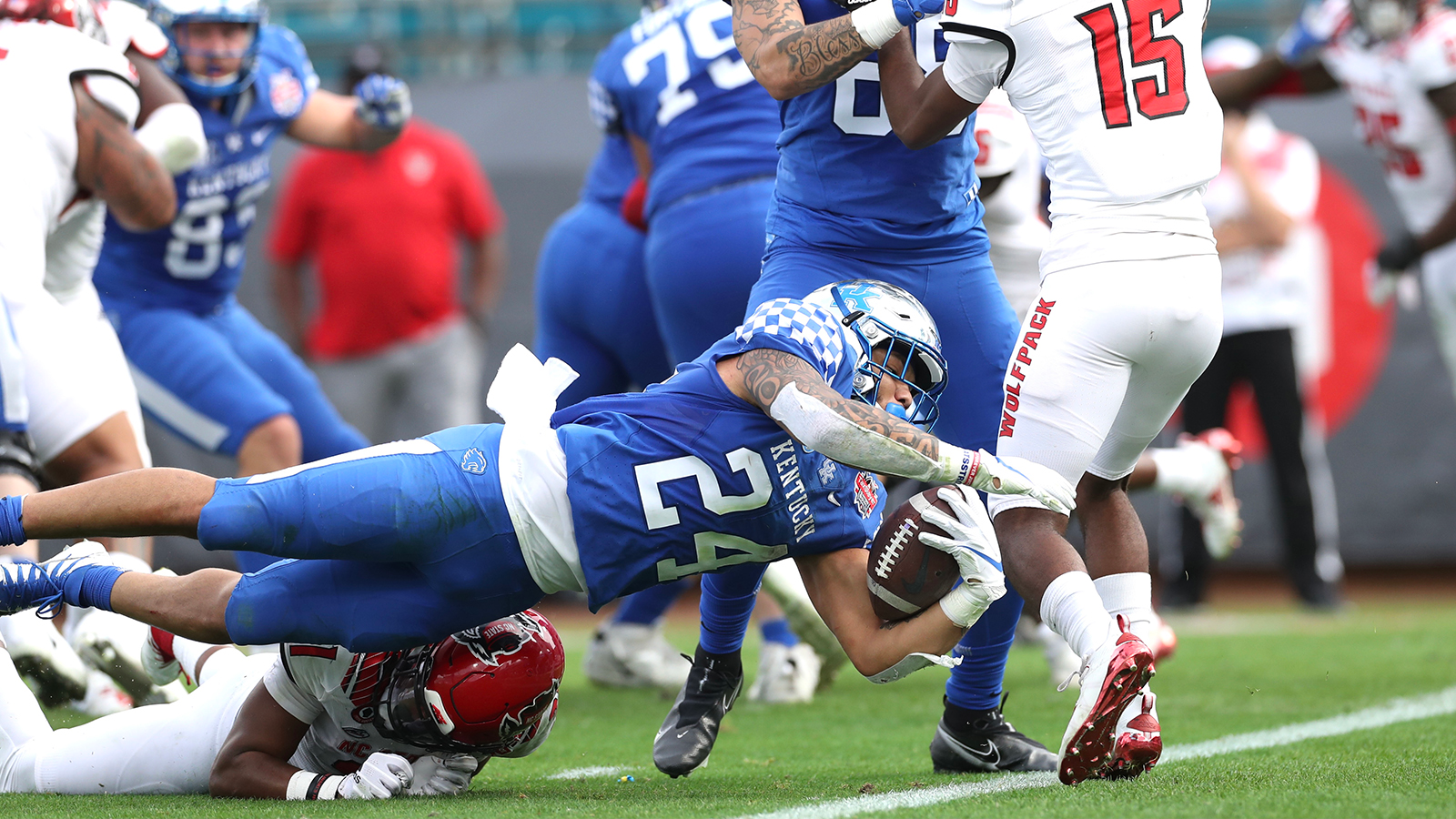 When Kentucky takes the field on Saturday, the Cats' offense will be under the direction of new offensive coordinator Liam Coen. Coming from the Los Angeles Rams, Coen brings with him an offense that can feature the passing game.
Coen knows that throwing the ball makes everyone, even him, happy.
"Obviously, everybody wants to see the forward pass down the field," Coen said. "I totally understand that and I'd like to see that as well."
But he has also been in Lexington long enough to know that running the ball is part of Kentucky's identity.
"Really, we're going into this game with our philosophy of being physical in the run game, trying to work our play action, keepers and our base pass game. I've got to believe that we're going to try to be physical and run the ball and be Kentucky. That's what we need to be in order to win games in the SEC."
The physical run game starts up front with the Big Blue Wall, led by tackles Darian Kinnard and Dare Rosenthal. And, having a bruising back like Chris Rodriguez Jr. also benefits the cause.
"Chris has done such a good job, especially the last week," Coen said. "Chris has really amped up. He's laser-focused, his approach to practice, his finishing of runs. I've got to believe Chris Rodriguez is going to be ready to go and I'm excited to see him go on Saturday."
As for Rodriguez, he has some big goals for this season.
"I want to break records, I want to score touchdowns," Rodriguez said. "I want to be the best back in the SEC and that's what I'm working towards right now."
And while most of the talk this fall has been about the passing game, Rodriguez knows that the offense will be at its best when the run game is effective.
"I was telling (quarterback Will Levis) that it's crazy that, where I live (Atlanta), you have to take the train to get to the airplane," Rodriguez said. "You can't forget about it. We still know (about the run game)."
Coen also knows how important the run game will be to the success of the UK attack.
"That's the biggest thing about trying to win football games at any level but especially at this high of a level, you've got to be able to run the football," Coen said. "I'm a crazy man if I don't hand the ball to those backs."
Overall, Coen has expectations from what he would like to see from his unit in the season opener.
"You're really looking for guys to go out and make plays," Coen said. "But playing within the scheme. You don't need to do anything outside the scheme. Just execute and play fast. And moving the ball and scoring points."
He understands that there will be problems, especially in the first game. But Coen believes that mistakes can turn into lessons.
"There's going to be some issues," Coen said. "Just see how our players respond to a little adversity as well."
But overall, the UK offensive staff feels good heading into game one. Having a back like Rodriguez on their side cannot hurt that feeling.