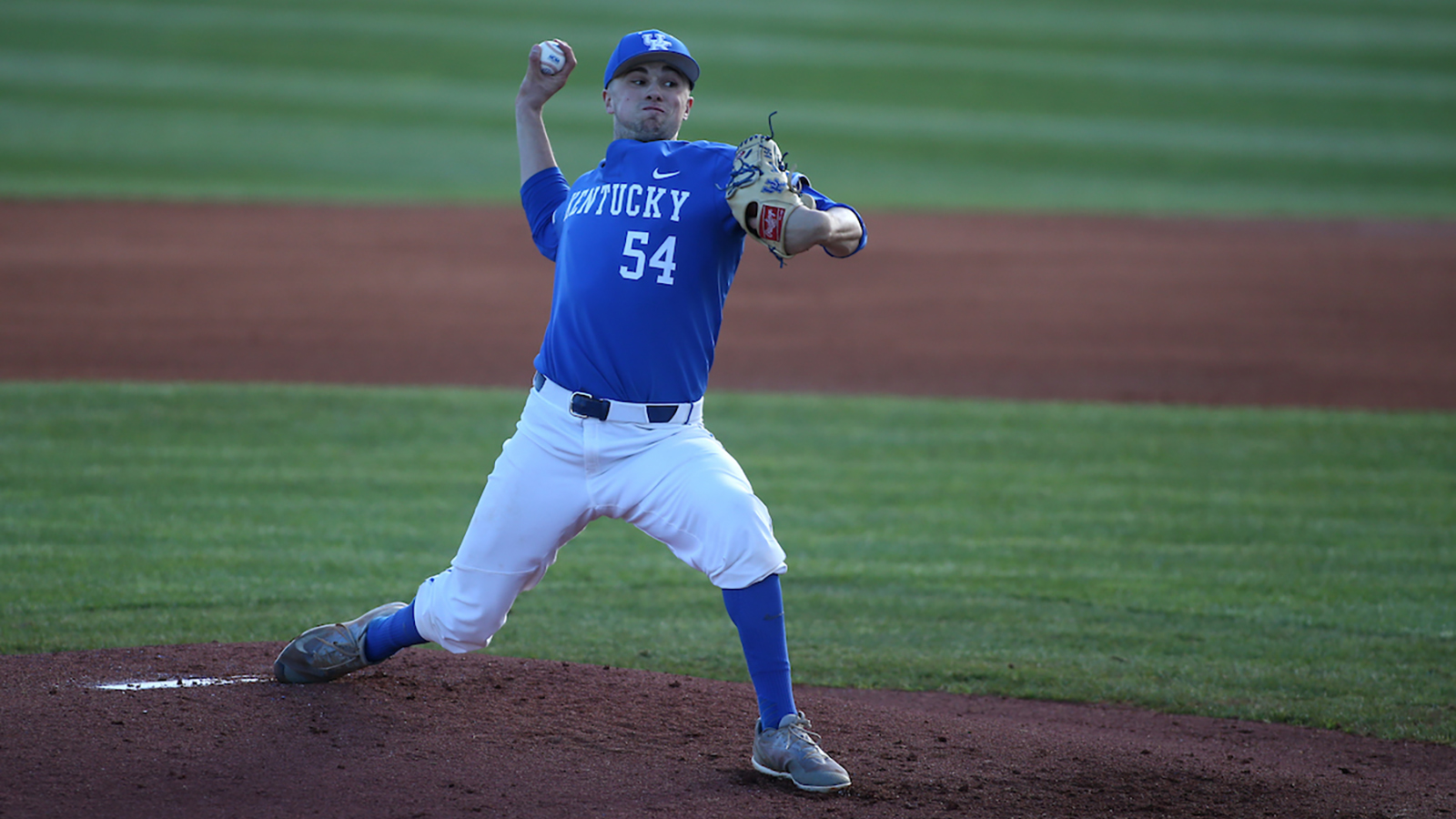 The Kentucky baseball team faced a tough challenge on Thursday night. The Cats welcomed the eighth-ranked Florida Gators to Kentucky Proud Park in the first of a crucial three-game set for UK.
Kentucky is in the hunt for an NCAA Tournament bid but could use some key wins down the stretch to solidify their standing. And the Cats got one of those on Thursday, rallying late for a 7-5 win.
Early on, the game was a duel between UK starting pitcher Cole Stupp and Florida's Franco Aleman. The game was scoreless until Kentucky scored four times in the bottom of the fourth inning to grab the lead.
UK extended the lead to 5-0 in the fifth inning on an RBI single from shortstop Ryan Ritter. The Cats appeared to be on their way to an easy win.
But nothing is easy in the SEC, especially against the No. 8 team in the country. Florida got a run in the sixth inning before scoring four times in the seventh to tie the game at 5-5.
At that point, Kentucky easily could have folded. All of the momentum was in Florida's favor and the Cats seemed to be just trying to hang on.
But with the game still tied in the bottom of the eighth inning, Kentucky showed a lot of grit and toughness, all within the same inning.
With no outs and Cam Hill on second base, Chase Estep singled to left field. Hill was sent home on the play and was thrown out in what could have been a tough blow to the Cats.
Instead, UK continued to fight. Austin Schultz reached on an infield single and Estep advanced to third on an error. Schultz then stole second, but T.J. Collett struck out.
With two outs and runners at second and third, UK right fielder John Rhodes delivered a single to center, scoring Estep and Schultz with what proved to be the winning runs.
UK head coach Nick Mingione was thrilled for Rhodes, who has had a tough year.
"Just to see him smile," Mingione said. "He cares so much. To see him get that hit was awesome. That was big."
Rhodes' hit was key but so was the performance out of the bullpen by Daniel Harper. The senior entered in the eighth inning and shut down the Florida offense, allowing his team to score in the bottom of the frame to take the lead. Harper then pitched a 1-2-3 ninth inning, picking up his third win of the season against no losses.
Harper thought the entire game showed quite about about his team.
"We're super resilient, I think we've shown that all year, especially during mid-weeks where maybe we haven't played our best in the early innings and then we come back," Harper said. "I think that's prepared us for this moment."
Thursday's effort will be one that Harper will always remember. When asked to rank it during his UK career, he didn't hesitate.
"Definitely number one," Harper said. :This is by far the best moment."
Mingione was proud of his team's effort on this night.
"We talk about a desire to win that dominates and I thought you saw that with our entire team," Mingione said. "I was proud of them because we had a five-run lead, then they come back and score five. And I loved the fight that our guys showed."
That fight allowed the Cats to rally from what could have be a pivotal moment not only in Thursday's game but for the entire season.