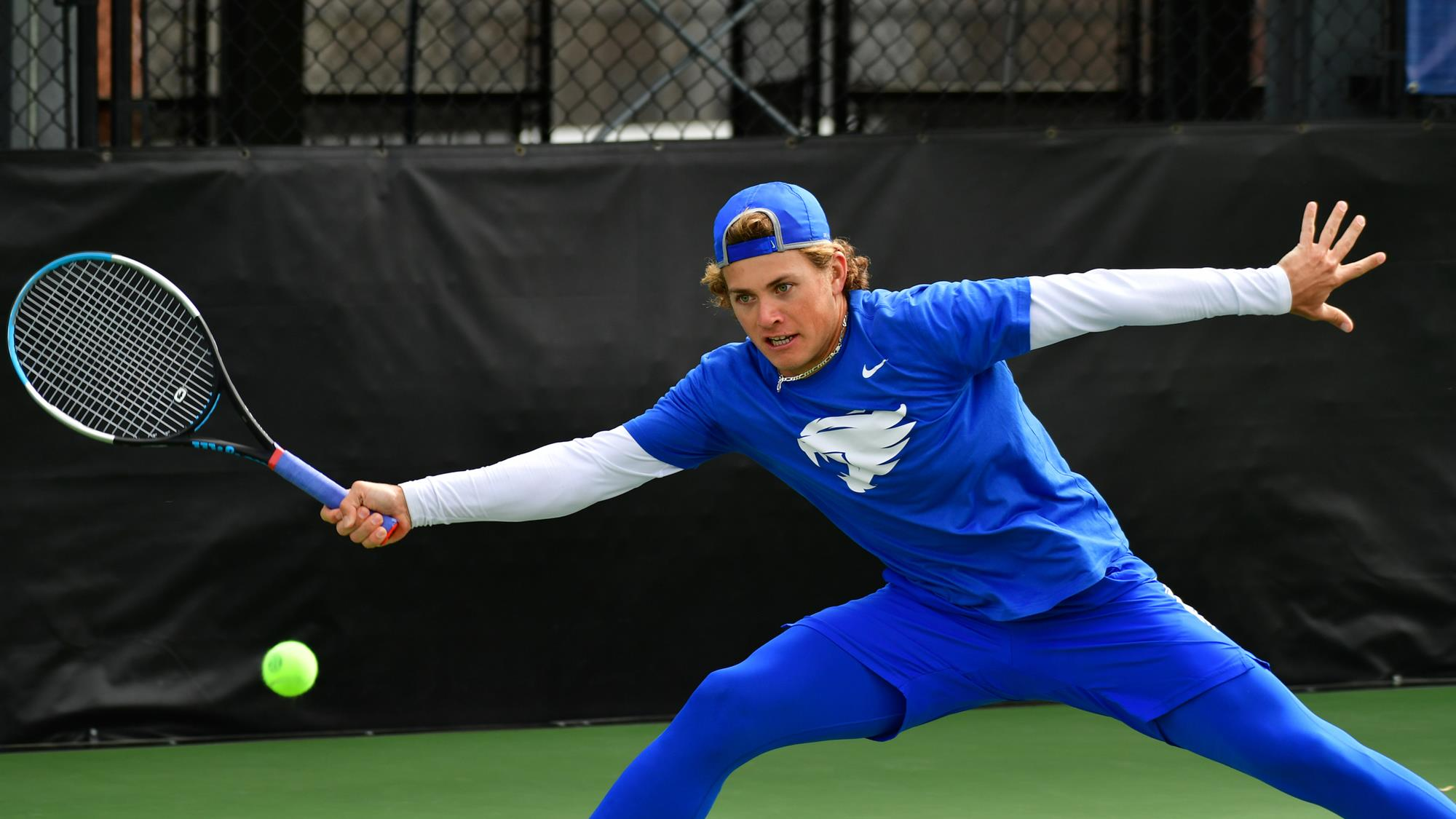 Draxl Earns Top Seed, Cats Collect Four NCAA Championship Bids
LEXINGTON, Ky. – Once the team portion of the 2021 NCAA Men's Tennis Championship is decided, four Wildcats are guaranteed to extend their postseason run a little longer.
 
Liam Draxl earned the No. 1 overall seed in the singles tournament, while Gabriel Diallo and Millen Hurrion netted at-large selections. Diallo also earned an at-large berth in the doubles championship alongside César Bourgois.
 
Singles and doubles competition in the NCAA Championship will be conducted May 23-28 at the USTA National Campus in Orlando, Florida, after the conclusion of the team tournament, which runs May 17-22.
 
Similar to dual match competition, every matchup will play out to the best of three sets. No-ad scoring and a seven-point tiebreaker (first to seven points, must win by two points) at six-games-all will be used for all matches. In doubles, a 10-point match tiebreaker will be played in lieu of a third set.
 
Draxl automatically qualified for the event as the Southeastern Conference representative, having held the No. 1 spot in the ITA Singles Rankings since April 14. The 6-foot-1 Newmarket, Ontario, native produced a 19-2 record in singles play, all coming on the top court. With a 9-2 record against nationally ranked opponents, Draxl went 2-0 versus the nation's No. 1 singles players at the time. He was named SEC Newcomer of the Year and landed a spot on the All-SEC first team.
 
Diallo has been climbing the ITA Singles Rankings all season, as well, currently placing at No. 14. The 6-foot-7 Montreal native owns a 14-6 dual match record with four ranked wins, primarily competing second in the Kentucky lineup. He joined Draxl on the All-SEC first team at the end of the season.
 
As the team's top doubles unit, Diallo and Bourgois currently rank at a peak of No. 6 in the ITA Doubles Rankings. The duo owns a 14-7 record with seven ranked wins, including two in the top six.
 
Hurrion's first full season in Lexington was highlighted by 14-4 record this spring, with one top-10 victory and three ranked wins in total. The Weymouth, England, native and former Gardner-Webb transfer is rated the No. 33 singles player in college tennis, garnering a second-team All-SEC honor.
 
Kentucky earned the NCAA Championship's No. 15 seed as a team, hosting 19th-ranked Arizona, 49th-ranked Michigan and unranked Cleveland State for first- and second-round action at Hilary J. Boone Tennis Complex this weekend.
 
Admission to all three matches will be free. Capacity at Boone Tennis Complex is limited to 1,000 and will be available to fans on a first come, first served basis. Pass lists will be utilized for team guests. For the latest on the Kentucky men's tennis team, follow @UKMensTennis on Twitter and Facebook, @kentuckymenstennis on Instagram, and on the web at UKAthletics.com.