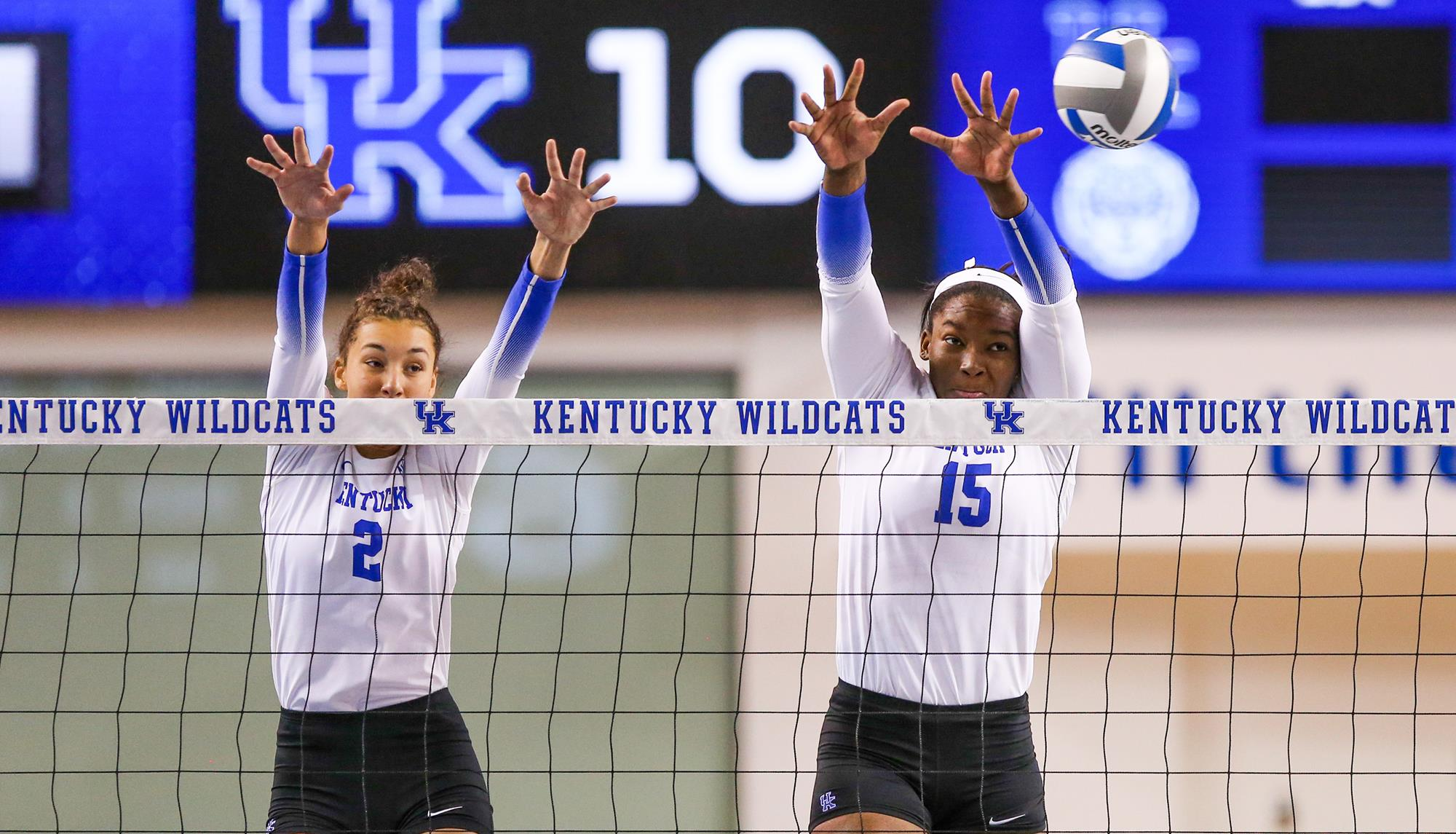 April 22, 2021 - 11:15 PM
Volleyball Cats Handle Adversity, Advance to National Title Match
The Kentucky volleyball team had made the 2021 NCAA Tournament look easy, winning all three of its matches in sweeps. Kentucky downed UNLV, Western Kentucky and Purdue without dropping a single game and, in fact, most of the games weren't close.
But in the national semifinals, Kentucky faced one of its biggest challenges of the season in sixth-seeded Washington. Kentucky appeared to be headed down the same path as the first three matches after winning the first game 25-18. But then, the Cats' first major adversity of the tournament hit.
The Cats led in the second game 22-18 and appeared to be on their way to a two games to none lead. But Washington stormed back, winning the next six points to take a 24-22 lead. After UK got a kill from Avery Skinner to cut the deficit to 24-23 but Washington won the next point to close out the game to even the match.
Washington seemed to carry that momentum into the third game. The Huskies eventually built a 12-7 advantage, forcing a Kentucky timeout. That didn't seem to break the momentum, as Washington would eventually hold a 22-16 lead.
But from there, Kentucky responded in a huge manner. The Cats got a kill by Azhani Tealer, followed by a Washington error. Then it was a pair of kills from Avery Skinner, another kill from Tealer and one more from Avery Skinner to tie the game at 22 apiece. After Washington took a 23-22 lead, Kentucky scored the last three points to win the game 25-23.
Kentucky would win the fourth game 25-17 to claim the match and to advance to the national championship match for the first time in school history. UK head coach Craig Skinner was pleased with how his team responded.
"Wow, what a mentally resilient performance I thought our team put on today," Skinner said. "Really proud of the effort. The toughness to be able to dig out of a hole there in the third set, after we had let a big lead get away in the second set. For us to withstand that and perform even better as the match went on, just proud of our team."
As for the third set, the UK head coach made a couple of minor tweaks, all while encouraging his team to simply play the next play.
"We just had to continue to play the point, rinse, repeat," Skinner said. "I thought that we weren't serving very tough. I thought our serves were too high above the net, they needed to be flatter. We adjusted our serving strategy a little bit and adjusted our defense slightly. But it was the players making plays and executing, bottom line."
The Cats showed a ton of toughness during that third game. They were able to draw on their experience from the season's only loss to help them through.
"We have been in that moment before (in a loss at Florida) and it didn't go the way we had planned, which adds some fire and fuel under us to know that we've felt this feeling before and we know what its like to be on the back end of it," said junior All-American Alli Stumler. "That added some fire and some confidence. Even though we ended up losing to Florida that first night, we fought hard. Even though it didn't end the way we wanted to, I think that moment also built confidence that, if we're in this position again, which we were tonight, we can overcome it. That moment definitely built confidence for us."
Skinner was excited about how his team handled the adversity.
"It's impressive. It's hard. It's really hard because you can feel the momentum shift," Skinner said. "You can feel the difference in their intensity compared to ours when they steal a set from you. I think if we weren't in that (situation) against Florida, on the road, and Florida stole a couple of sets from us. They earned them. But you have to know what that feels like and know you have the ability to respond. Our team showed some serious toughness to get through that."
The team did not back down from the Washington challenge, according to freshman Madi Skinner.
"I think the biggest thing we talked about was embrace the challenge, embrace the battle," she said. "No matter what came at us, we dealt with it the best that we could and people stepped up in crucial moments and that was key for us."
Kentucky has not had to deal with a lot of adversity on the court this season while winning 23 of 24 matches. But with the national championship match on the horizon, it's good to know that he Cats are prepared for any and every challenge they may face.