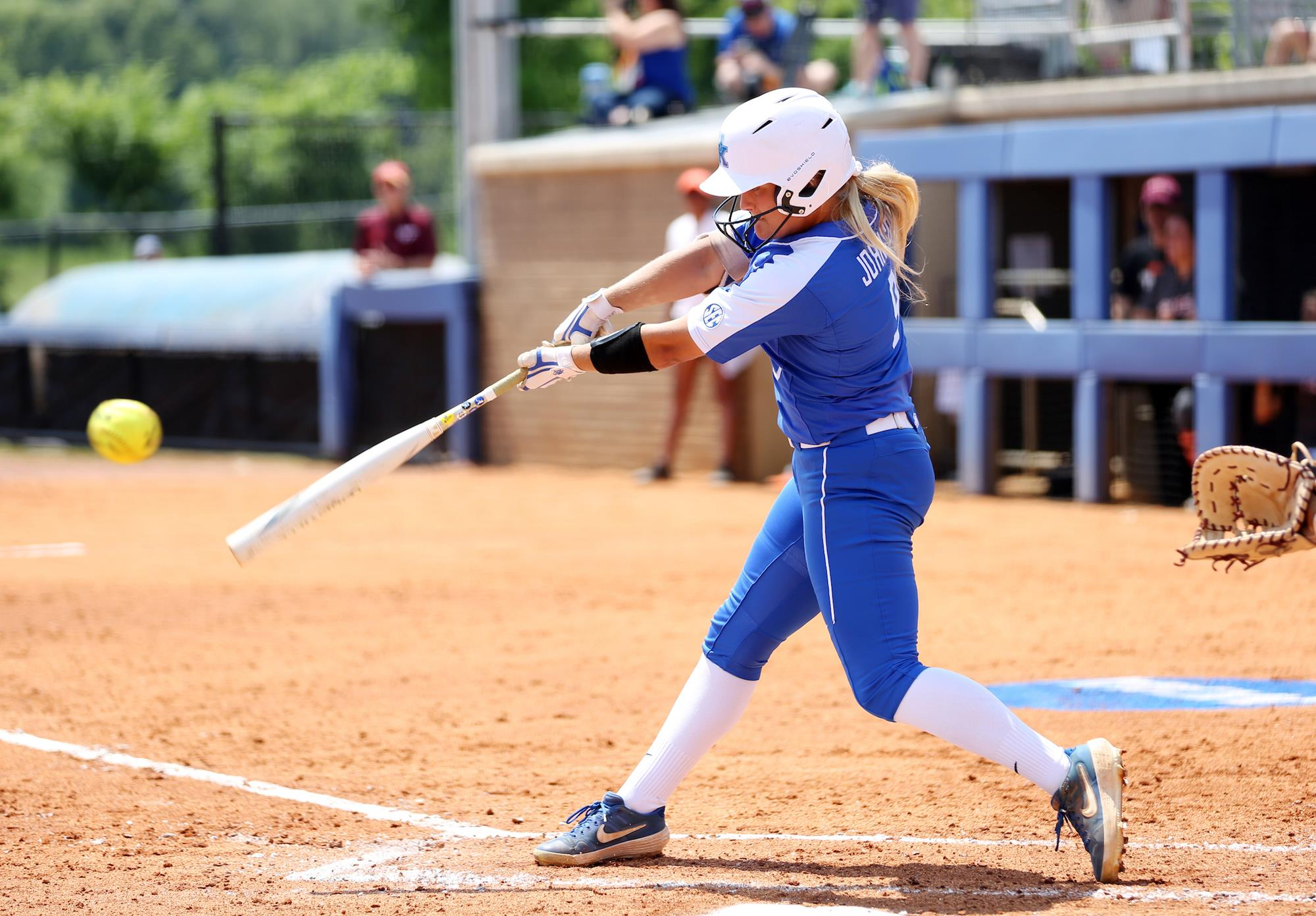 Wednesday was a cool night at John Cropp Stadium, with temperatures hovering in the high 30's once the sun set. But no one was cooler on this night than Kentucky senior Lauren Johnson.
With Kentucky trailing Louisville 5-4 in the bottom of the seventh inning, Johnson came to the plate with one out and with Tatum Spangler on second base. Johnson looped a ball down the left field line which fell in for a double that scored Spangler and tied the game at five apiece.
Then in the ninth inning, Johnson came to bat in a similar situation. This time, with the game still tied 5-5, Johnson batted with runners on second and third and one out. And once again, Johnson delivered. This time, she hit a deep fly ball to right field and while it stayed in play, it was deep enough to score Jaci Babbs and give Kentucky the 6-5 victory.
Johnson credited her teammates with giving her an opportunity to make a big play.
"I was just focused on playing my role and moving runners over and I think that was a big focus on our team," Johnson said. "There were so many people in front of me that moved those runners over, so I was like, I'm just going to follow up with them and get quality at-bats and whatever happens happens."
Johnson had a game plan before her final two at-bats.
"I came in with the approach that the girl was going to throw something high, so I really focused on my vision," Johnson said. "And I knew I could drive something to the green and score the runner."
Johnson is now hitting .368 for the season, having started in all 41 games. She has yet to homer on the season but has now knocked in 36 runs. She's a player that UK head coach Rachel Lawson loves having in the lineup.
"LJ is one of the players on our team who is one of those quiet people that gets a lot done," Lawson said. "In fact, LJ almost didn't play today because her back's a little messed up. She basically begged me to put her in the lineup today and I'm glad she did and that I listened to her."
Johnson's versatility is huge for the Cats as well.
"She just means so much to the team because she do a lot of things. She plays infield, she plays outfield. But from an offensive standpoint, she's one of those people in the box score that you don't notice really but she always does something great. Tonight, that was one of the hardest hit balls I've seen her hit in a long time and to be able to do it in such a clutch situation, I was really happy for her."
As for beating their intrastate rivals, Johnson, a native of Owensboro, admitted it was a good feeling.
"Any time we're playing an in-state team, it's really important just to represent the state of Kentucky," Johnson said. "And for our team, we really needed that win. I think you could tell tonight just how good of a team we are."
Lawson was also pleased with the win over Louisville.
"Obviously a big night for us," Lawson said. "Any time you can end up on the good side of your rival, it's a pretty good day. I was really impressed with our team, we were resilient all the way through. We got production one through nine."
It was a cool night for softball but Johnson and the Cats left with a warm feeling after an extra-innings win over Louisville.