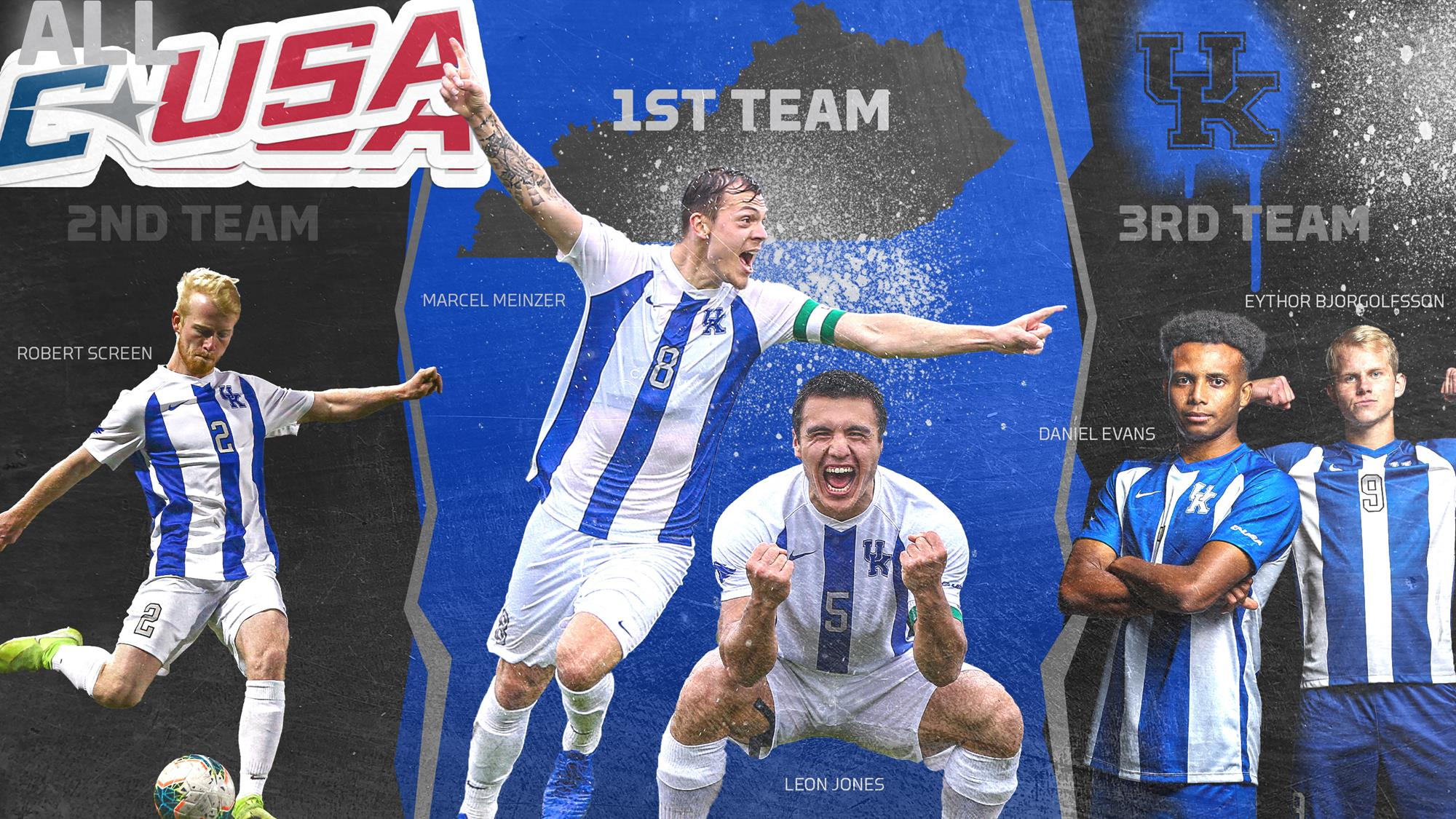 April 20, 2021 - 06:48 PM
Five Wildcats Earn All-C-USA Honors
LEXINGTON, Ky. – A day after capturing an at-large berth in the NCAA Championship, No. 24 Kentucky produced five All-Conference USA performers and a C-USA Midfielder of the Year when the league announced its yearly awards on Tuesday.
 
In addition to joining fellow Kentucky team captain Leon Jones on the All-C-USA first team, junior Marcel Meinzer was named C-USA Co-Midfielder of the Year alongside C-USA Player of the Year Vitor Dias of Marshall.
 
Kentucky defender Robert Screen was named to the All-C-USA second team, while Wildcats Eythor Bjorgolfsson and Daniel Evans earned third-team All-C-USA distinction. Midfielder Enzo Mauriz was one of 12 first-year players from around the conference named to the C-USA All-Freshman Team.
 
Meinzer's breakout spring season was preceded by a C-USA Preseason Team honor that was granted for his All-C-USA second-team appearance in 2019. The native of Herxheim, Germany, scored all three of his goals this spring in Kentucky's final three matches of the regular season, the latter two of which being game winners.
 
Meinzer is the first Wildcat to ever be awarded C-USA Midfielder of the Year, which was inaugurated in 2019.
 
Jones and Screen anchored Kentucky's defense to a league-best three shutouts on the 2020-21 season, though each defender also scored the second goal of their respective careers over the last two matches. Jones was deemed an All-C-USA third-team member in 2017 and 2018 before missing his entire junior season with injury.
 
Forwards Bjorgolfsson (12) and Evans (11) were the only Wildcats to record double-digit points for a team that led the C-USA with 74. Evans was an All-C-USA second-team performer in 2019, while Bjorgolfsson earned C-USA All-Freshman distinction.
 
Mauriz attempted 13 shots on the year, assisting Jones in the 87th minute of Kentucky's 2-1 overtime win over Old Dominion on April 10.
 
Of the eight Wildcats to surpass the 1,000-minute mark this season, Screen led the team with 1,596 minutes played over 17 consecutive starts, while Meinzer ranked third (1,377), Jones ranked fourth (1,352), Bjorgolfsson ranked sixth (1,165), Evans ranked seventh (1,099) and Mauriz placed eighth (1,028).
 
The league's most prestigious on-field honors followed the announcement of its 11-member All-Academic Team the day prior, which included Jones, Brock Lindow and Bailey Rouse.
 
For the latest on the Kentucky men's soccer team, follow @UKMensSoccer on Twitter, Facebook and Instagram, as well as on the web at UKAthletics.com.