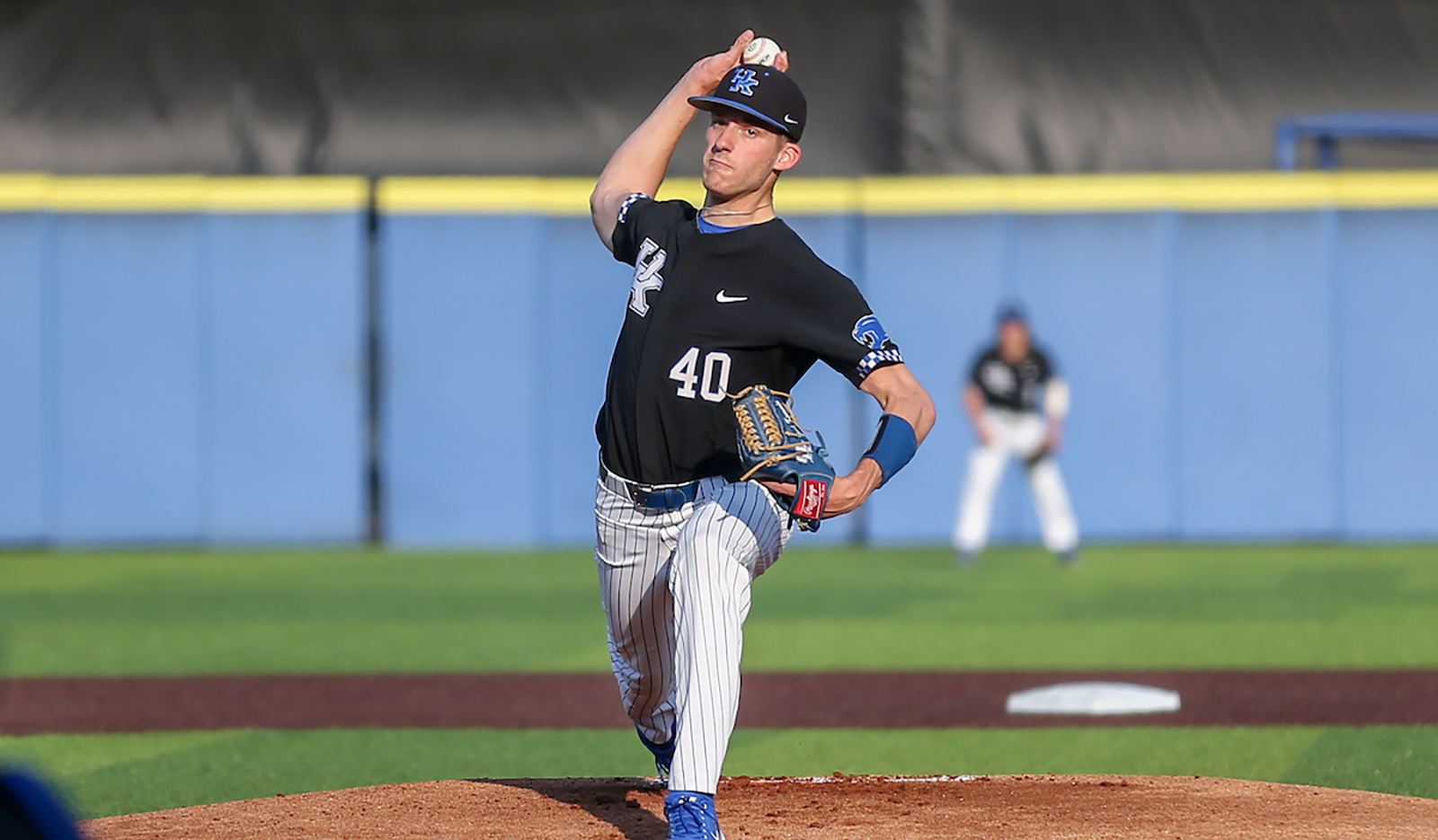 Kentucky baseball head coach Nick Mingione loves when his team executes its pitching and defense. And on Tuesday night against Bellarmine, the Cats were really good in both categories.
UK used five pitchers to blank Bellarmine 12-0, earning a second win over the Knights in the past two weeks. Mingione appreciates what his pitching staff was able to do on this night.
"It's hard to get shutouts in college baseball, it's really hard," Mingione said. "We used five guys to get it, that's even harder. Loved the way we pitched and the way we defended the field."
It began with Zach Kammin, who made his first UK start, going three innings and giving up just two hits and a walk in seven innings of work, while striking out seven.
Wyatt Hudepohl entered the game in the fourth inning and pitched two solid innings. The freshman faced six batters and retired them all, four by way of the strikeout.
Cole Daniels was next for the Cats, and he was solid as well. The lefty pitched two innings, giving up just one walk and striking out a batter.
In the eighth inning, Kentucky went to Alex Degen, who allowed one hit in his inning of work. Degen struck out two batters in the frame.
Freshman Seth Logue pitched the ninth, walking two but striking out three.
For those scoring at home, that's nine innings pitched, just three hits allowed, four walks and a whopping 17 strikeouts on this night for UK pitching. An impressive performance, according to Mingione.
"I thought Zach Kammin had a really good fastball tonight," Mingione said. "I thought Wyatt Hudepohl had the great presence, he was all over the strike zone. Cole Daniels got us ground balls and I thought Alex Degen really competed well, he threw some really good off-speed pitches. Then Seth Logue, maybe not having his best stuff but to get out of that and not give up a run was good too. Shutouts are hard, any time you get them, I'm excited for that."
The Cats got all of the run support they would need in the first inning. Kentucky would dent the plate six times in the bottom of the first inning, with the big blow coming off the bat of Jacob Plastiak, who hit his first home run as a Wildcat. The three-run shot to deep center field scored Chase Estep and Coltyn Kessler and gave UK the 6-0 cushion.
The UK defense made just a single error in the game, supporting the pitching staff in the process with a couple of outstanding defensive plays. One, a diving catch by Austin Schultz in center and another, a gem from shortstop Ryan Ritter who ranged into the hole and threw out Bellarmine's Justin Rouse at first.
The shutout was Kentucky's third of the season and first since blanking Ball State 6-0 on March 3 at Kentucky Proud Park.
The Cats hope to take the momentum from tonight's win, coupled with Sunday's win over LSU, into a weekend series at Georgia that begins on Friday. UK will need the pitching and defense to be good again as they face the nationally-ranked Bulldogs.