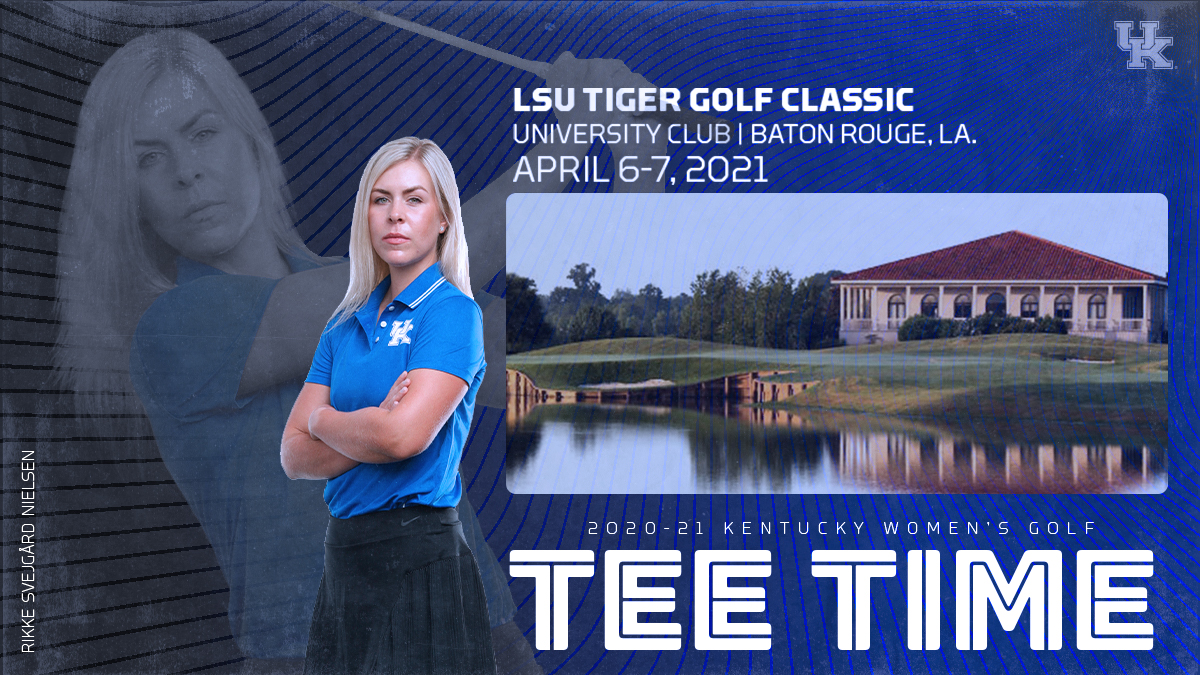 UK Women's Golf Closes Regular Season at LSU Tiger Golf Classic
BATON ROUGE, La. – Coming off its best performance of the season at the Liz Murphey Collegiate Classic, the Kentucky women's golf team will try to keep the positive momentum going this week at the LSU Tiger Golf Classic, its final regular-season tournament of 2020-21.
 
The same five Wildcats – sophomore Jensen Castle, freshman Laney Frye, sophomore María Villanueva Aperribay, sophomore Marissa Wenzler and senior Rikke Svejgård Nielsen – who posted a third-place showing against one of the toughest fields in all of golf will be back in action at LSU's annual tournament at the University Club in Baton Rouge, Louisiana.
 
The 54-hole tournament begins Tuesday with a 36-hole, two-round setup. A champion will be crowned Wednesday following the final 18 holes.
 
Tuesday and Wednesday will each begin with a 9:30 a.m. shotgun start. Live scoring will be available at Golfstat.com. The second round Tuesday will begin immediately following the first round.
 
UK is looking to finish its eight-event regular season strong with the postseason right around the corner. The Southeastern Conference Championship will be later this month, April 14-18, in Hoover, Alabama. NCAA Regionals are next month.
 
"I can't quite believe we have reached this point in the season already," UK head coach Golda Borst said. "These last couple of months have flown by and we are continuing to build on what we have been working on all semester: hitting greens. I think our team gained a great deal of confidence and self-belief from their strong play in Georgia and we will continue to keep our focus on our process this coming week.
 
"LSU's course is a great test of mental toughness. If we can find the greens, then we can score out there."
 
The University Club will play at 6,350 yards. Completely redesigned and renovated in 2010 under the guidance of PGA Tour pro David Toms and renowned golf course architect Jim Lipe, the course is carved into nearly 300 acres of land. The challenging layout features wide fairways bordered by pine hammocks and native grasses, in addition to 2,000 feet of beautiful bulkhead.
 
This will mark Kentucky's first appearance in the LSU Tiger Golf Classic since 2017. The tournament was a staple of the UK schedule for seven seasons until a recent break.
 
It is also a reunion of sorts for Borst, who served as an assistant at LSU from 2007-10.
 
The 2021 event will once again be SEC heavy. Twelve of the 14 teams are from the SEC with Florida State and Pepperdine filling out the field. With the SEC presence, the competition will once against be difficult. The 14-team field features 12 teams in the Golfstat top 50 and eight in the top 25.
 
But UK proved in its last outing that it can compete with those teams. In a similar SEC-heavy field that featured nine top-25 teams and four top-10 squads in Georgia last month, UK finished in third place, behind only South Carolina and Ole Miss, who are ranked No. 1 and No. 6, respectively, in the latest rankings. Ole Miss is in the field this week.
 
Perhaps most impressive of all in that performance was the toughness and resiliency UK showed after a rocky start. The Wildcats were in 15th place after the opening round but tied for the lowest 36-hole score over the final two days. With that finish, UK is now ranked 35th nationally and appears to be a lock for an at-large NCAA berth.
 
The same five who put on that performance and have played the bulk of the season will be in action again this week.
 
Castle earned the No. 1 position. She has been as consistent as any Wildcat this season, finishing in the top 20 twice with no showing worse than 33rd place. The team has used her score in all 21 rounds in her sophomore campaign.  
 
Frye has been the top performer overall as a freshman. She boasts a team-best 73.6 stroke average with a team-high two top-10 finishes and three top-20 showings, that latest of which was tying for seventh place at the Liz Murphey. The performance was one spot behind her career best, a sixth-place finish at the season-opening Blessings Collegiate Invitational, and her 3-over par 219 was just two shots off her career low of 217, set at the Florida Gators Invitational.
 
Villanueva Aperribay is coming off a 49th-place performance but finished strong at the Liz Murphey. Near the bottom of the field after the first two rounds, Villanueva Aperribay showed her potential with a final-round 69. She has posted that score twice this season and it remains the best 18-hole round by a Wildcat in 2020-21.
 
Wenzler also tied for 49th at the Georgia tournament. She has four rounds of par or better this season.
 
Svejgård Nielsen is coming off her best performance in a year. She played well in the final two rounds of the Liz Murphy with scores of 71 and 73 in the second and third rounds. It resulted in a 16th-place finish, her first of the season, and her best 54-hole score of 2020-21, a 7-over-par 223.
 
For the latest on the Kentucky women's golf team, follow the team on Twitter, Facebook, and Instagram, as well as on the web at UKathletics.com.