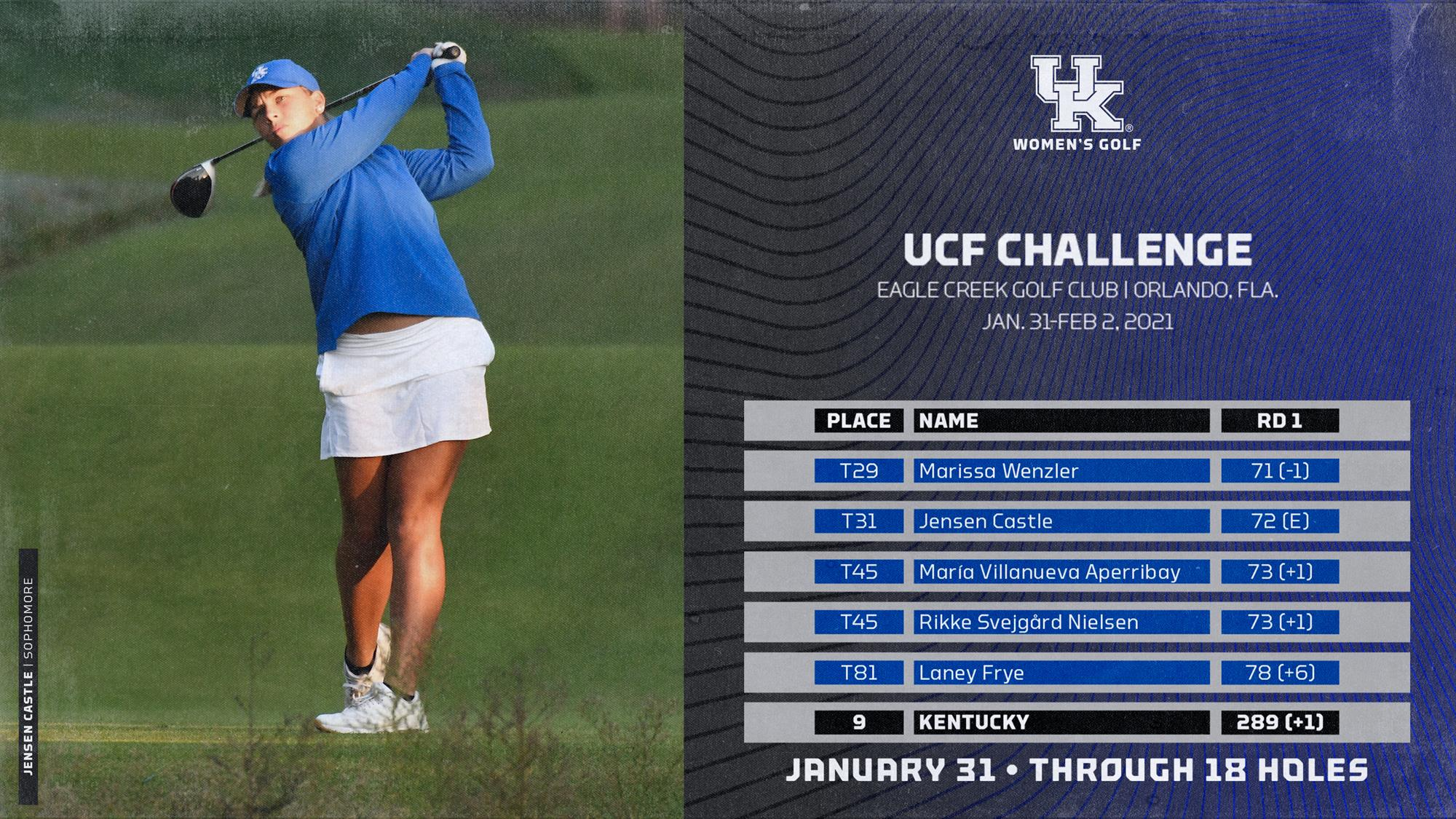 January 31, 2021 - 04:06 PM
UK WGolf Cards Season-Best 1-Over Par at UCF Challenge Opener
ORLANDO, Fla. – In the first tournament of the spring, the Kentucky women's golf team is already ahead of its fall production with the best round of the 2020-21 season.
 
The Wildcats carded a 1-over-par 289 in the opening round of the UCF Challenge on Sunday. With four Wildcats individually at 1-over par or better, Kentucky is in ninth place in the 18-team field after the first of three rounds at the Eagle Creek Golf Club (par 72, 6,349 yards) in Orlando, Florida.
 
Sophomore Marissa Wenzler posted the low round of the day for Kentucky with a 1-under-par 71. Fellow sophomore Jensen Castle is just a stroke behind at even par.
 
The Wildcats, who battled inconsistent play and a tough schedule in the fall, got off to a solid start to the spring but still have ground to make up with Arkansas leading at 15-under par.
 
"I know the scoreboard may not reflect it, but this team is heading in a good direction," UK head coach Golda Borst said. "We are making progress and I know good things will come, along with lower scores. We are a few swings away and we look forward to getting back after it tomorrow."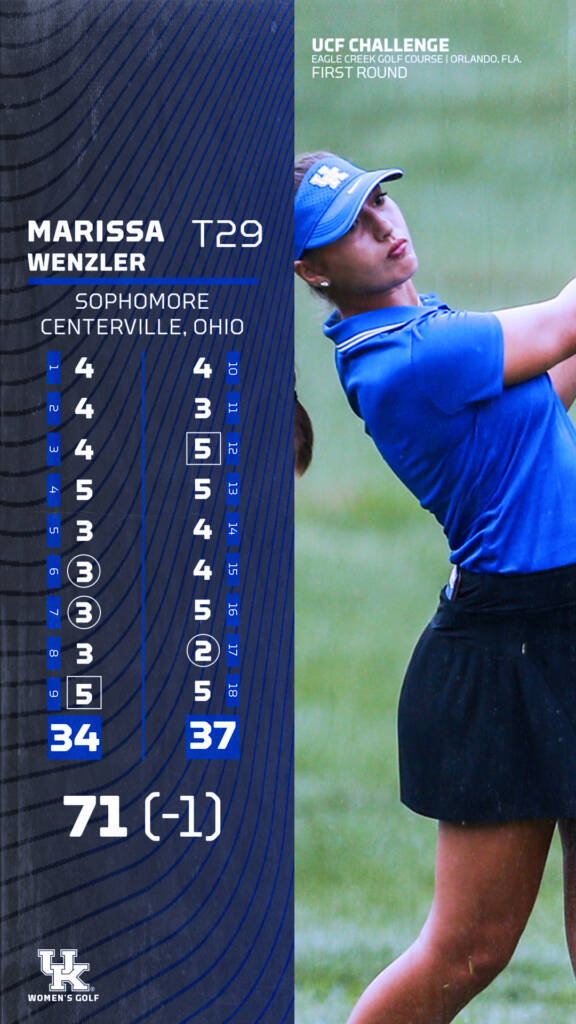 Play resumes Monday with the second round at 8 a.m. Live scoring will continue to be available at GolfStat.com.
 
UK entered the 2020-21 season with high expectations after a breakthrough campaign in 2019-20 that was ultimately cut short by the COVID-19 pandemic. Returning every key piece from last season's team, the Wildcats were unable able to meet the high expectations they set for themselves in the fall against three difficult fields.
 
However, Kentucky entered the first of a five-tournament regular-season spring slate this week with plenty of opportunities ahead over the next two months and got off to a good first step Sunday.
 
Four of UK's five competitors were between 71 and 73, led by Wenzler's 1-under-par day. The sophomore from Centerville, Ohio, posted a team-high-tying fourth round of par or better this season with three birdies and two bogeys on Sunday's scorecard. She is tied for 29th.
 
Castle, tied for 31st, also has four rounds of par or better in 10 opportunities with an even-par score in the opener of the UCF Challenge. Four birdies on her second nine – all in a six-hole stretch – evened out four bogeys.
 
Sophomore María Villanueva Aperribay, playing in her second tournament for UK after transferring from Augusta, matched Castle with four birdies. She was in line for her first round in red numbers for the Wildcats until she double bogeyed her last hole of the day on No. 9. With a 73, she is tied for 45th.
 
Senior Rikke Svejgård Nielsen matched Villanueva Aperribay with a 73. She had a relatively stress-free round with 17 pars and one bogey.
 
Freshman Laney Frye is tied for 81st after a 78 in the first round. She was Kentucky's top player in the fall with a team-best 73.9 scoring average and the team's lone top-10 finish, so a bounce-back Monday and Tuesday could be in store for the first-year Wildcat.
 
Kent State's Emily Price leads the 90-player field at 7-under par.
 
Of the 17 teams competing this week, 14 are playing in their first tournament of the 2020-21 season.
 
The Wildcats last played in the UCF Challenge in February 2017, where former UK star Isabelle Johansson recorded one of the lowest 54-hole totals in school history, an 8-under-par 208. Kentucky was a frequent visitor in the UCF Challenge through the 2017 tournament. UK had appeared in the UCF Challenge six times in seven seasons from 2011 to 2017, finishing in the top five three times in that span.
 
For the latest on the Kentucky women's golf team, follow the team on Twitter, Facebook, and Instagram, as well as on the web at UKathletics.com.