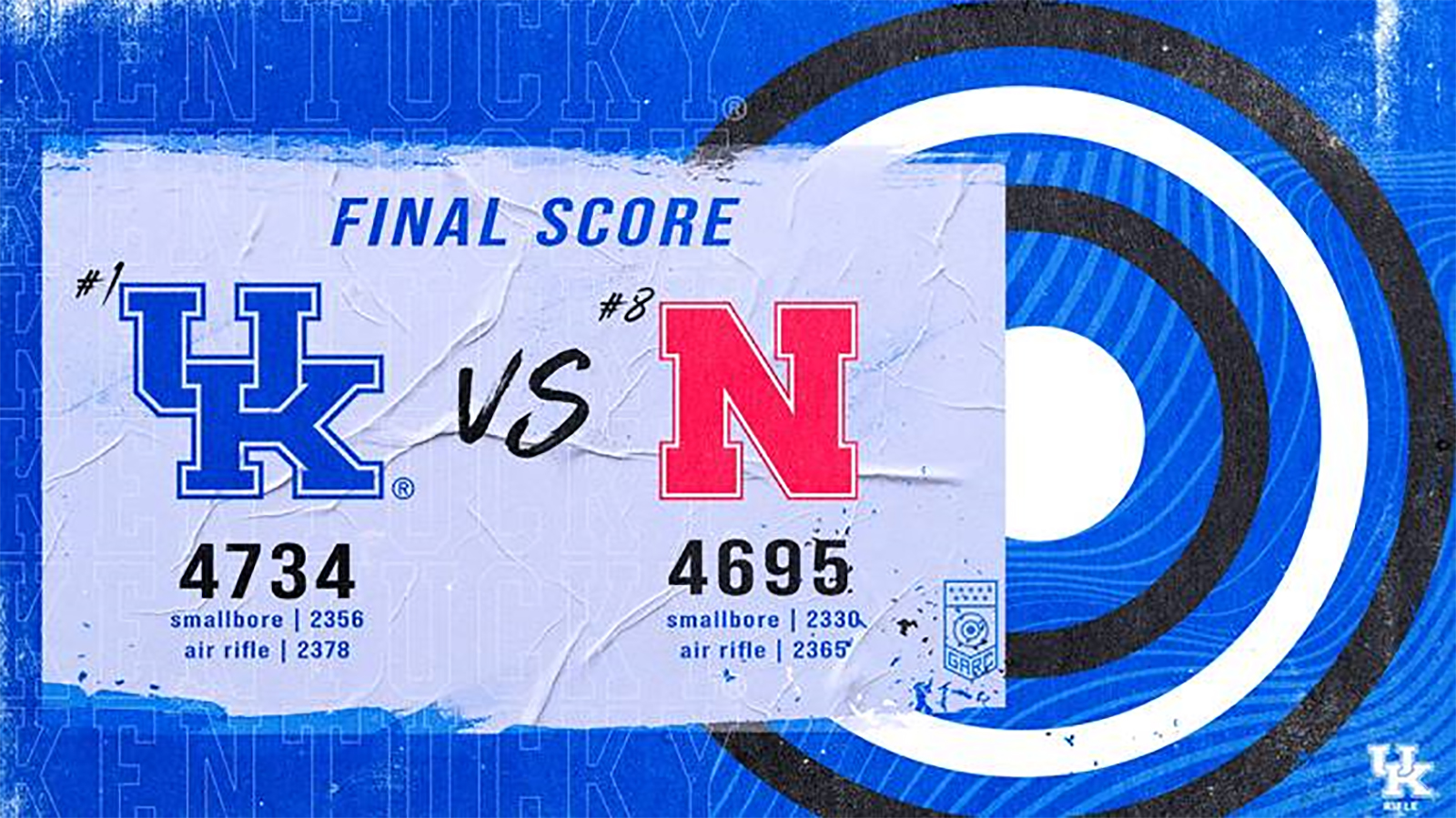 LEXINGTON, Kentucky – The No. 1-ranked Kentucky rifle team bounced back from the only loss of the season with a strong performance in defeating No. 8 Nebraska, 4734 to 4695, Friday at Barker Hall. 
 
Beginning with smallbore, the Wildcats established early that this would be their day. Junior Will Shaner led the way with a 592, followed by a career-high 591 from Richard Clark.  UK also got a career-high-tying 584 from sophomore Jaden Thompson as the Wildcats won the discipline, 2356 to 2330.
 
"As a team, we performed well today," Coach Harry Mullins said. "Richard breaking the 590 barrier (in smallbore) was a big step in his development and Jaden also had a good match."
 
Kentucky posted a 2378 in the air rifle, as all five Wildcats shot at least 591.  Sophomore Mary Tucker paced the Cats with 597 and senior Hailee Sigmon notched 595. All totaled, Kentucky placed 1-2-3 in the aggregate. Tucker won match honors with an 1186 aggregate, followed closely by Shaner with 1185 and Clark with 1184.  Thompson tallied 1175 and Sigmon filed an 1172. 
 
With the win, Kentucky improved to 9-1 on the season while Nebraska has a 3-2 record.  The Wildcats showed the hoped-for improvement after shooting 4713 in Monday's setback at Ole Miss.
 
"It was a collective effort and they battled really hard," Mullins said. "Those are good numbers and you can't produce those kinds of numbers without the entire team being involved. They continued to show the improvement from training camp and it translated on match day.  They were composed and stayed within themselves.
 
"It's exciting to watch them.  If they keep improving, we can see some really special things the next couple of months."    
 
At the conclusion of the official match, Kentucky reserves took part in a second relay to give them some additional action. Junior Mitchell Nelson led the second relay with an 1171 aggregate, highlighted by a career-high 589 in air rifle.  Sophomore Emmie Sellers had a career-best 576 in smallbore, and along with the top air score in the second relay (591), she had an 1167 aggregate. In addition, soph Mason Hamilton posted an 1150 aggregate and senior Mason Joachim checked in at 1148.
 
"Mitchell led us in smallbore and it was good to see him get his career high in the air rifle," said UK assistant coach Rena Curvey. "It also was a good day for Emmie, leading us in air rifle and her personal best in the smallbore."
 
It will be a quick turnaround for Kentucky, as following today's action, the Wildcats will drive across the Commonwealth for a Saturday morning matchup against Murray State. The Racers are 8-2 on the campaign and have won two in a row vs. Ohio State and Jacksonville State.  UK and MSU have faced each other twice this season.  On Nov. 7, UK won 4735-4621 at the Pat Spurgin Rifle Range in Murray.  On Nov. 20, UK played host to the Kentucky Long Rifle Match against Murray State and Morehead State.  UK won the event with a 7057 score, followed by Murray (6975) and Morehead (6931).
 
For the latest on the Kentucky rifle team, follow @UKRifle on Twitter, Instagram and Facebook, as well as on the web at UKathletics.com.