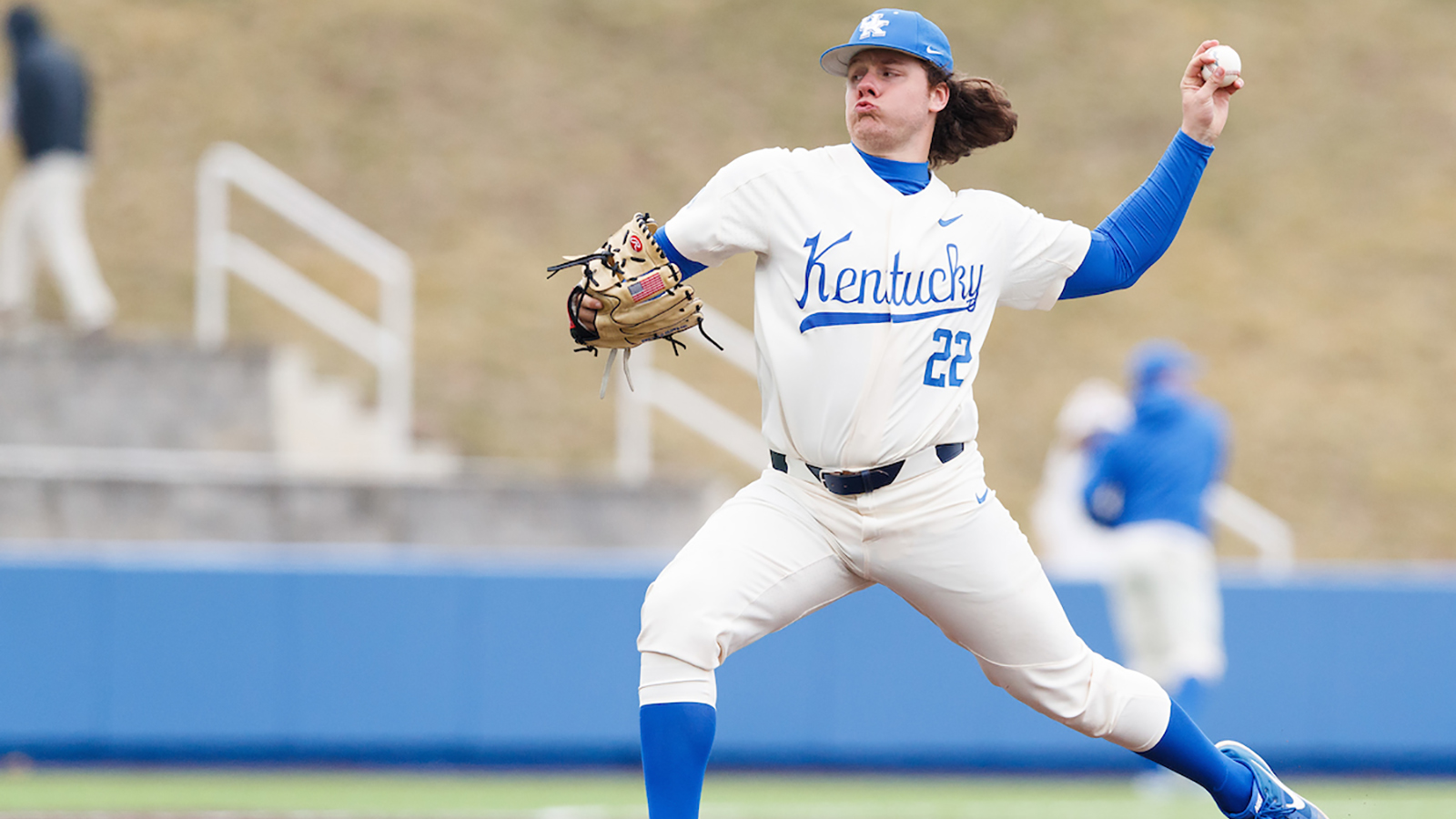 Story written by Hillary Smith (University of Kentucky Public Relations) and originally appeared on UKNow.
LEXINGTON, Ky. (Jan. 19, 2021) — "The truth is every parent worries about their child for varying reasons, this is just ours."
This worry started for Tammy and Jeff Marsh back in 2017. Their youngest son Dillon – a junior in high school – began complaining that he was tired and losing weight. The symptoms then began getting worse during his baseball season with the University of Kentucky recruit losing 26 pounds. "His strength on the pitcher's mound had also declined and he was easily fatigued. In hindsight, we should have recognized issues earlier, you sometimes just don't see what is in front of you," said Mrs. Marsh.
In the midst of the Pennsylvania State Championship playoffs, Dillon and his parents made an appointment with their longtime family doctor. After having some blood work done the doctor returned with the results. "The second he walked in the door Dillon and I looked at each other as we knew something was wrong by the expression on his face. It was terrifying."
It was what that doctor did next that laid the groundwork for the Marsh family's journey following Dillon's type 1 diabetes diagnosis. "He showed us an article about Bobby Clarke."
Clarke is a well-known professional hockey player who also has type 1 diabetes. "Our doctor was very familiar with Dillon's athletic goals so he wanted to introduce the disease on a positive note, telling Dillon there is nothing that he still couldn't achieve after getting the disease under control," said Mrs. Marsh.
The Marshes remember watching in awe at how their son processed everything that was thrown at him … handling it all with grace and optimism. A few days later, Dillon was admitted to the hospital and spent four days going through an intensive inpatient program for newly diagnosed patients. "While in the hospital, we watched him comfort smaller children and tell them they would be OK. I thought to myself 'really kiddo, where do you find this strength when you yourself were just diagnosed?' He simply knew that this disease would not define him or thwart his goals."
As Tammy and Jeff headed home from the hospital with Dillon, they realized they had just a year left with their son at home before sending him nine hours away to college with this new challenge.
During that year the Marsh family celebrated many things. Dillon signed his letter of intent to attend and play baseball at UK, he was awarded several scholarships, it was his final high school season, and high school graduation.  However, in between all of those "lasts" they embarked on a journey surrounding his "new" diagnosis.
That year was also filled with what Mrs. Marsh calls some soul searching of her own to help get her to a point of being OK with her son moving away from home and being responsible for managing his diabetes. "The thought of him being nine hours away only a year after diagnosis was a bit daunting."
She began researching the Lexington area and stumbled upon UK HealthCare's Barnstable Brown Diabetes Center (BBDC). "I could not have been more thrilled when I found out that Barnstable Brown Center existed and was a top-rated diabetes center. This type of program is not the norm but the exception – and it was in Dillon's new backyard."
BBDC's Dr. Kristen Stakelin helped as Dillon made the transition away from home and his parents along with the transition into life as a division one student-athlete, "Dillon has been a joy to know. He came to us with such a good attitude. He is disciplined and takes very good care of himself. Rather than let his diagnosis sidetrack him, he has been able to keep up with his classes, as well as maintain his scholarship on the UK baseball team."
Stakelin says thanks in large part to the vision and generosity of the Barnstable Brown family, BBDC can provide comprehensive diabetes care and education across the entire lifespan. "A center like BBDC is particularly important for someone like Dillon who moved away from his family and his physician soon after diagnosis. There needs to be a care team in place to help navigate everything from good glucose control to 'Who do I call if I need something?', 'Where can I get prescriptions filled?', or 'What happens if I have a problem after-hours?'
Unfortunately, the transition from high school to college can be one of those stressful life events that seem to unmask or trigger type 1 diabetes in those that are susceptible. It is not uncommon for us to see a few newly diagnosed college students each year. For a young adult that already has so much to adapt to in that time frame, it obviously can be a source of anxiety not only for the student, but for family left behind at home feeling as if they can't help. That sense of loss of control of the situation is something BBDC can help navigate. We are able to be a much-needed team and resource."
Now about three years into this chapter of his life, Dillon is thriving both academically and athletically. Mrs. Marsh says that the University of Kentucky, Dillon's coaches and trainers, BBDC, and many others are all to thank for his successes. "All of those that have had his best interest at heart here in Kentucky have allowed me to grow more confident."
Just as the doctor explained was possible at his initial diagnosis, Dillon still has big dreams for the future. He is working towards being drafted to play Major League Baseball where he hopes to reach larger audiences to spread his positive message. In addition to his accomplishments in the classroom and on the field, Dillon was also named a Global Ambassador for Team Type One.
As Dillon uses his story to help others, his mom is now also doing the same. Tammy Marsh says her own son inspires her as he handles each day with an immense amount of courage and positivity. She now hopes to help other parents who find themselves along this same road. Mrs. Marsh says she is glad she took the time at the beginning to be angry, sad, and terrified. She says all of that soon transformed into hope – hope for her son's future. "All things were possible for him. He was just going to have to do things a bit differently than others."
Both Tammy and Jeff Marsh recently retired from law enforcement and moved from their home of 21 years – Lancaster, Pennsylvania – to Lexington so it is easier to attend Dillon's baseball games. She hopes to offer support and encouragement to other families who have recently had a child diagnosed with type 1 diabetes. "No child or family is the same. No one is going to go through this journey identically. There is no playbook. Don't beat yourself up for being angry or sad. Give yourself time to process everything and then take it on … because you can't change it." She says while her family's journey will not be the exact same as others, she hopes her experiences and shared challenges can help them along the way.
Stakelin says she greatly encourages parents of newly diagnosed patients to reach out and talk to someone like Dillon's mom, "Find a support group of people with similar circumstances. Just to know that you are not in this alone, and to have someone who has "been there" to reach out to is reassuring."
Mrs. Marsh says the biggest piece of advice she can give to other parents is to simply, "Be your child's biggest supporter." She says depending on the child's age it is important that they have a sense of ownership in the disease and the knowledge to manage it. "I wanted to protect him and do everything. I realized that wouldn't benefit him going forward. So instead, we were all his biggest cheerleaders." That included Dillon's older brother, Colin, who was constantly reading studies, following educational blogs, and gathering information. "We just all got on board."
That strong family effort coupled with the support system he found in Lexington allowed Dillon to achieve his goals up until this point … and then dream even bigger dreams.
"We are so incredibly blessed and proud of where we are today. Remember, this disease is manageable. Type 1 diabetes does not define who your child is or what they will accomplish. All of their dreams are possible, as I have seen first-hand with Dillon."