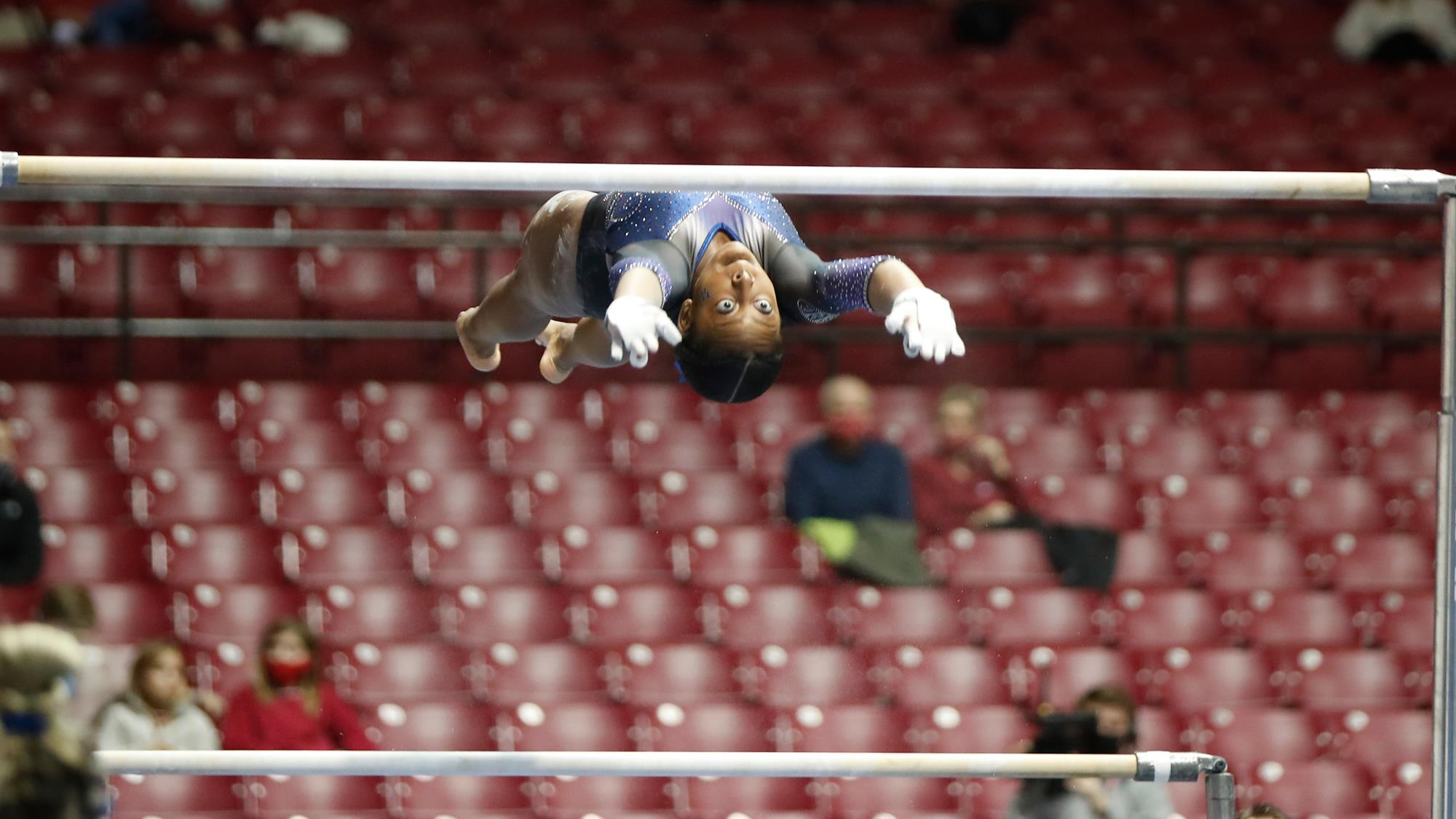 January 14, 2021 - 04:32 PM
No. 8 Kentucky to Face No. 9 Auburn in Home Opener
LEXINGTON, Ky. – After initiating the 2021 season with a top-10 performance among all of college gymnastics, the No. 8 Kentucky Wildcats (0-1) are set to make their home debut against the No. 9 Auburn Tigers (0-1) on Friday at 7 p.m. ET, televised live on SEC Network.
 
Friday will mark the official Southeastern Conference debut of both teams, with each side having already faced a league opponent in what was deemed a non-conference matchup last weekend.
 
Despite leading its season-opening competition entering both the third and fourth rotations, Kentucky ultimately fell 196.850-195.825 on the road to then-No. 6 Alabama on Jan. 8.
 
Juniors Josie Angeny and Cally Nixon combined for three first-place individual finishes, with Angeny being crowned the meet's all-around champion (39.425) and one of two event winners on uneven bars (9.900). Nixon was deemed the outright winner on vault (9.900).
 
Twelve of Kentucky's 24 competed routines were performed by underclassmen, while 10 of those 24 were the athletes' career debuts on the event.
 
The Wildcats enter Friday as the nation's No. 3 vault team (49.250), No. 7 bars team (49.100), No. 10 unit on balance beam (48.225) and No. 7 team on floor exercise (49.250).
 
Individually, Angeny comes in tied for a spot as the No. 3 all-arounder, tied for No. 3 on bars and tied for No. 10 on beam (9.900), while Nixon is tied for No. 3 on vault. Sophomore Raena Worley is tied for No. 9 all-around (39.275), tied for No. 9 on floor (9.900) and tied for No. 22 on bars (9.850).
 
Sophomore Shealyn Luksik is tied for No. 10 on bars (9.875), and junior Arianna Patterson is tied for No. 11 on vault (9.875). Junior Anna Haigis and freshman Hailey Davis are each tied for No. 14 on floor (9.875).
 
In Auburn's last outing, the Tigers were defeated 197.500-195.725 at home by No. 1 Florida.
 
Fans may purchase tickets to 2021 Kentucky gymnastics meets via Ticketmaster. To purchase a fan cutout of a person or pet, visit UKAthletics.com/FanCutouts. For the latest on the Kentucky gymnastics team, follow @UKGymnastics on Twitter, Facebook and Instagram, as well as on the web at UKAthletics.com.