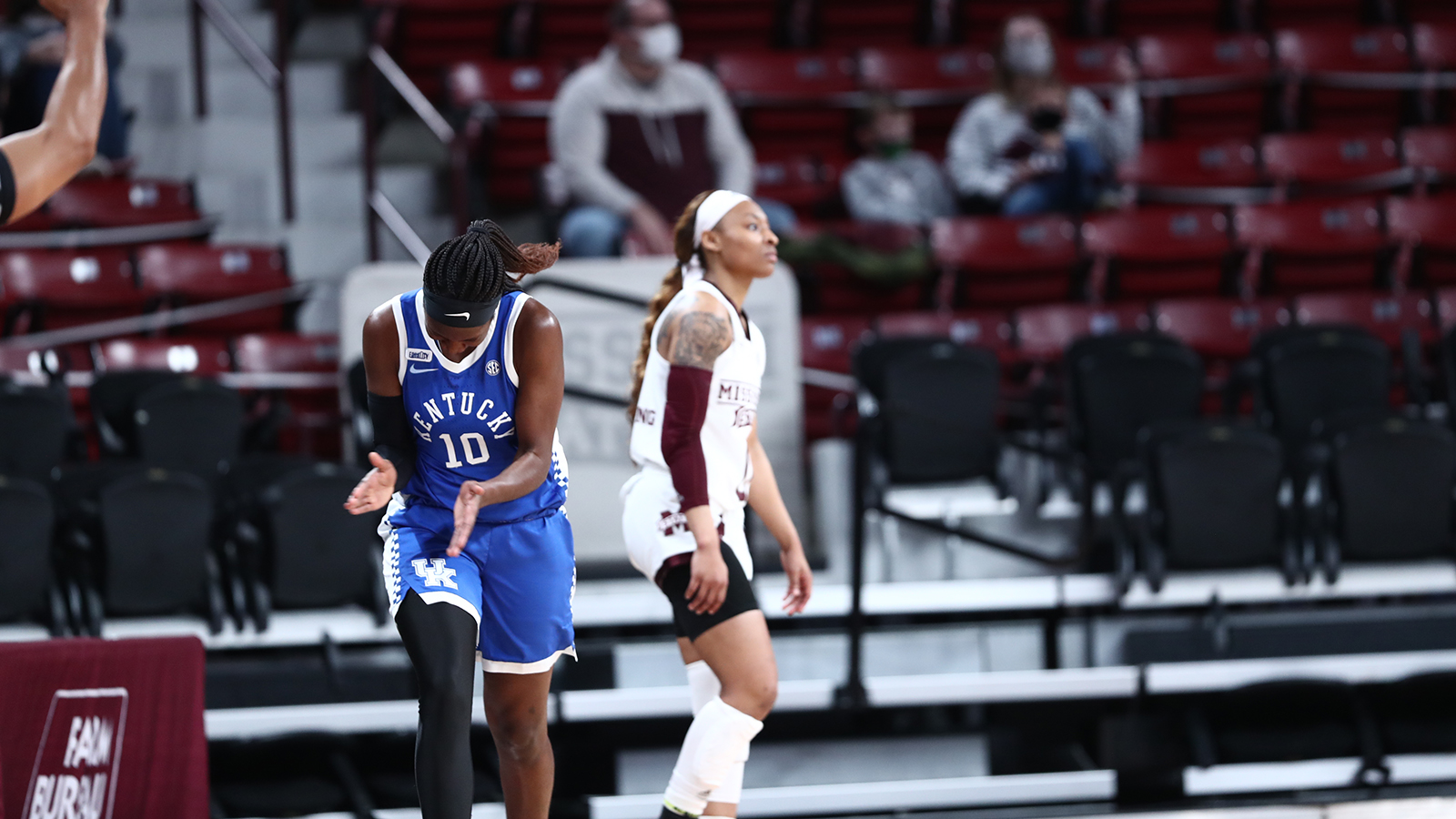 January 3, 2021 - 04:25 PM
Howard Takes Over Late, Helps Cats to Key Road Win
The Kentucky women's basketball team appeared to be in trouble on Sunday at Mississippi State. The 13th-ranked Cats trailed the No. 12 Bulldogs 66-60 with 7:26 to play. MSU had all of the momentum and appeared ready to take control of the game.
That's when UK All-American Rhyne Howard came alive.
From that point until the end of the game, a period of 12 minutes and 26 seconds, Howard scored 25 points as Kentucky held off Mississippi State 92-86 in overtime.
UK head coach Kyra Elzy had nothing but praise for Howard after the game.
"She showed today why she's the best player in the country," Elzy said. "She can take over at any time. What I love about Rhyne, she's so gifted but she's unselfish. She knows how to get her teammates involved and put them in scoring position."
After the game, Howard was more excited about getting a key win than her own play.
"It means a lot, especially on the road, at the Hump, this is a very tough place to play and they're a very tough team," Howard said. "It does give us a lot of confidence in showing that we can compete with teams ranked higher than us and we can hold our own."
Howard also had praise for her teammates, who carried the load when she was in foul trouble in the first half.
"If I get in foul trouble like I did, I just try to find the hot hand," Howard said. "When it starts happening for me, I know they'll do the same."
Elzy admired Howard's composure in Sunday's game as she faced the foul trouble in addition to a tough SEC opponent on the road.
"That's where she has taken a step forward. She can compose herself now," Elzy said. "That's where maturity kicks in. She tries not to get too high, not too low and steady. She's a leader for us, she kept us calm in the huddle. I like that she never gets too high and that's what helps make her the player she is."
But in the fourth quarter and overtime, Elzy knew exactly where the ball needed to be.
"My mentors said, when I took the job, the best advice was to give the ball to Rhyne Howard and let her do what she does best," Elzy said. "And in crunch time today, we gave her the ball and as you can see, what she can do is pretty spectacular."
How does Elzy know when Howard is ready to take control of a game?
"But when it's time to take over, we have a great relationship, she'll give me that look, she'll call for a certain play and we put the ball in her hands," Elzy said. "When it's time to make big plays, we put the ball in her hands and let her does what she does best."
With 33 points on Sunday, and in leading her team to another win over a Top 15 opponent, Howard showed again why she's the best player in the country.