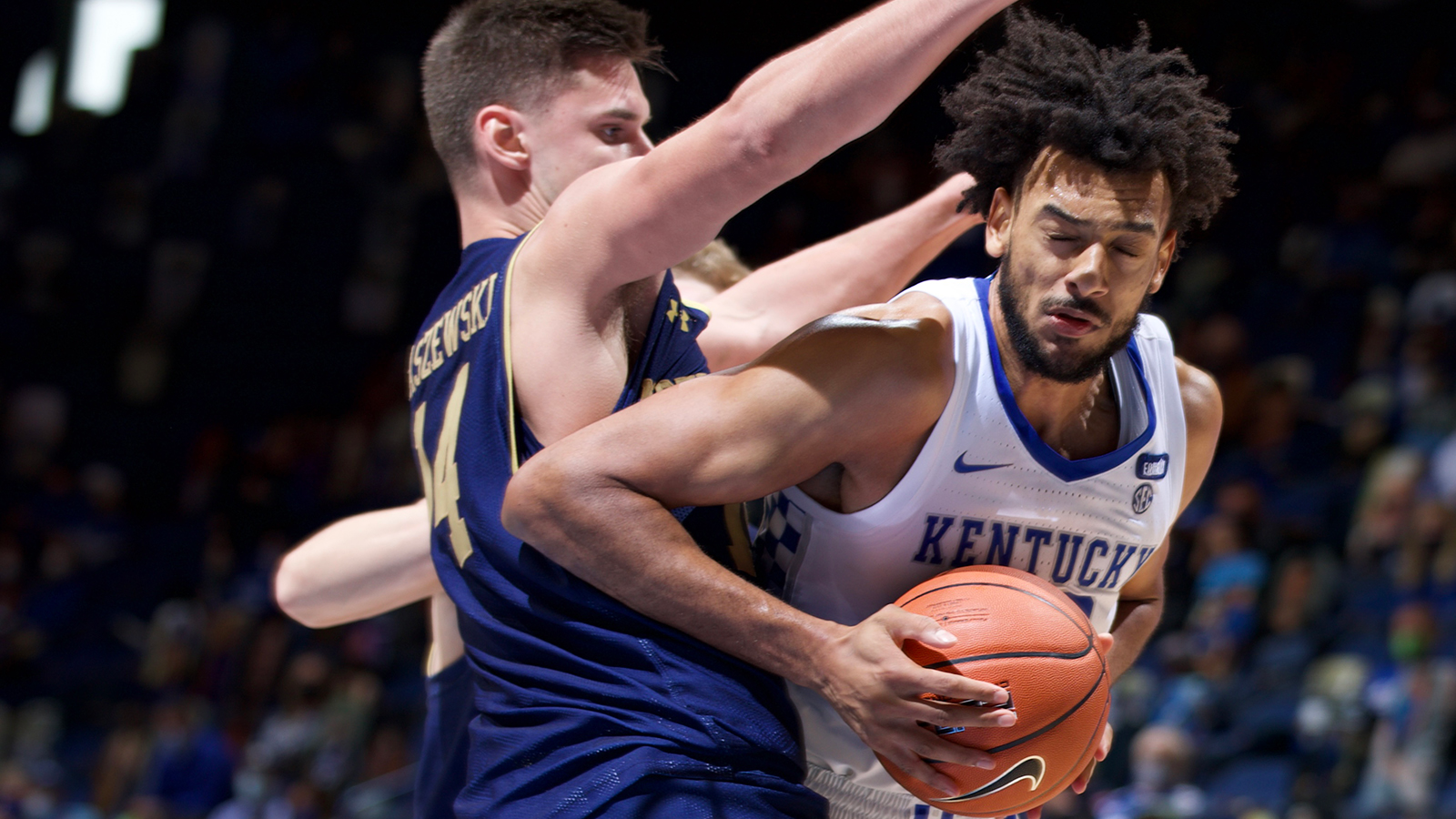 December 12, 2020 - 03:33 PM
Cats Find Something to Build On in Second Half
Things looked bleak for Kentucky in the first half of Saturday's game against Notre Dame. Actually, bleak might be an understatement.
The Cats trailed the Fighting Irish by 22 points at the break. That's not a misprint. Notre Dame led 48-26 after 20 minutes of play. It was the largest deficit ever for Kentucky at the half in a home game.
Notre Dame completely controlled the first half of play, hitting 16 of 27 (59.3 percent) from the floor, including six of 11 (54.5 percent) from behind the arc. The Irish also dominated the boards (17-10), points off turnovers (15-2), fast break points (6-2) and second-chance points (4-0).
In fact, UK head coach John Calipari's message to his team at halftime was very simple.
"And so all I said at halftime is, Let's win the second half," Calipari said. "Let's just worry about winning the second half."
But early in that second half, something changed. And when it did, the Cats made their run.
UK turned up the defense, holding Notre Dame without a point for 9:27 of the second half. The Irish hit just two of their first 16 shots in the second half. While the Irish were not scoring at all, Kentucky struggled to score at times, but did run off 16 straight points, turning a 53-33 margin into a 53-49 deficit with 7:34 still left in the game.
The explanation as to how the Cats came back was simple, according to Calipari.
"We picked up and pressed and we became the aggressor," Calipari said. "That's what happened."
After a Notre Dame basket from Prentiss Hubb, UK's Olivier Sarr cut the deficit to four again, 55-51, with 4:44 to play in the game.
Kentucky would eventually get within one on a Terrence Clarke layup with 1:31 to play. After a Hubb layup, the Cats again got within one, 64-63, on a jumper by Sarr.
The Cats would have a possession to win the game at the end. But Sarr's jumper came up short and Devin Askew's tip-in came too late, as the Cats' valiant comeback effort came up just short.
Sarr knew that the slow start ultimately cost the Cats on Saturday.
"We didn't do a good job locking in from the jump," Sarr said. "We reacted, but it was a little too late."
Sophomore Jacob Toppin, who provided a spark off the bench in the second half, agreed with Sarr.
"I think the biggest lesson of that game is we need to play 40 minutes," Toppin said. "The first half, we did not play to our potential."
And while no coach ever wants to lose, UK head coach John Calipari was proud of his team's effort to rally in the second half.
"But there was good stuff in the second half," Calipari said. "I hate losing, you got to win some games, this was a game down 22 we had no business even being in. But that shows you what I keep saying, you just keep playing. Keep fighting."
After saying on Friday that he hoped his team would look different after a week of "Camp Cal" practices, the Hall of Famer sees better things ahead for this team.
"Look, there's hope now," Calipari said. "If that's who we are those 20 minutes, there's hope. All right, now we got to play 40. I like the fact that we came back, we toughed, we did some good stuff. There's so much to teach here. We made strides. Now, we move on."
That next opportunity to move on comes next Saturday when the Cats face UCLA in the CBS Sports Classic in Cleveland. But before that, it's another week of "Camp Cal" and hopefully building on the second half from the Notre Dame contest.