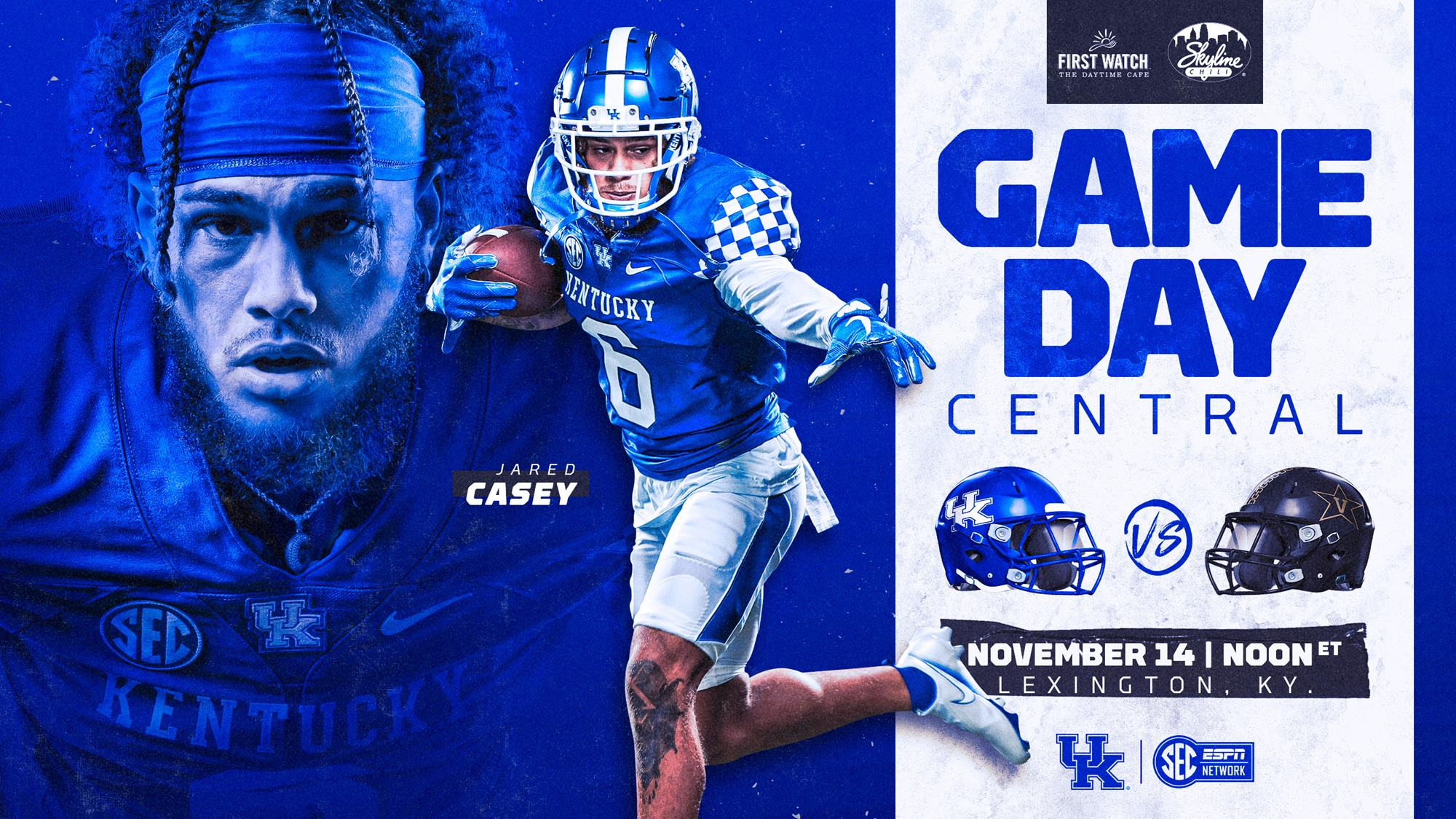 Rested and re-charged, Kentucky returns to the field this weekend after its bye week to host Vanderbilt. Game time is noon EST and it will be televised on the SEC Network. The game kicks off the final four-game push of the 2020 regular season.
Kentucky enjoyed the first break last week in a treacherous 10-game all-Southeastern Conference schedule, getting its footing back after six straight weeks of games. Last time out, the Wildcats fell 14-3 in a hard-fought, physical battle with No. 5 Georgia that left both teams complimenting the other's smashmouth brand of football. UK running back Chris Rodriguez Jr. became just the second player this season to rush for more than 100 yards vs. Georgia and turned in the longest run of the season against the Bulldogs' tenacious defense.
Turnovers have told the tale for the Wildcats so far this season. UK is +8 in turnover margin in its two wins (10 takeaways, two turnovers) but the Cats are -4 in their four losses.
 
Kentucky vs. Vanderbilt
Sat., Nov. 14 – 12 p.m. ET
Memorial Stadium
Columbia, Mo.
Game Notes: UK | VU
Digital Gameday Program
Gameday App
Coverage

TV: SEC Network
Radio: UK Sports Network
Watch
Listen
Live Stats

UK
Team Stats
VU
2-4
Record
0-5
2-4
Conference Record
0-5
20.8
Scoring/game
12.8
294.7
Total offense/game
333.8
176.2
Rushing yards/game
115.6
118.5
Passing yards/game
218.2
21.2
Kickoff returns (avg)
23.2
8.0
Punt returns (avg)
9.2
46.2
Punting (avg)
40.3
30:36
Time of possession/game
31:07
45.7%
Third down conversion
41.9%
28.6%
Fourth down conversion
50.0%
19.0
Points allowed/game
35.4
355.3
Total yards allowed/game
444.0
143.3
Rush yards allowed/game
160.6
212.0
Pass yards allowed/game
279.4

Vanderbilt has yet to find the win column this season but has been on the verge several times, including a 24-17 defeat at Mississippi State last week that saw the Commodores nearly come all the way back from a 17-point halftime deficit. 
John Schlarman, Kentucky Assistant Football Coach, Has Died
John Schlarman, assistant coach for the University of Kentucky football team and an All-Southeastern Conference offensive lineman during his playing days at UK, died Thursday following a two-year battle with cancer. He was 45.
"I'm heartbroken to learn about the passing of my friend, John Schlarman," said UK head coach Mark Stoops. "My prayers go out to LeeAnne and the kids, Joseph, Benjamin, Matthew and Evelyn, through this very difficult time.
"John was everything we all strive to be – honest, tough, fair, respected. Kentucky football won't be the same without him but his legacy will never fade. He was a fighter and we will strive every day to honor his warrior spirit."
Schlarman was diagnosed with cholangiocarcinoma in the summer of 2018. The determination he displayed as a Kentucky football player was reflected in his fight against the disease. He continued to coach through countless treatments – his tenacity an inspiration to UK players and everyone else around him – and did not miss a game until UK's two most recent contests. His final appearance on the sidelines was October 17 at Tennessee, when Stoops awarded Schlarman the game ball following the Wildcats' win.
"The UK Athletics family is in deep sorrow on the passing of John Schlarman," said Mitch Barnhart, UK Director of Athletics.  "Throughout the last two years, he has been an incredible inspiration. He taught people how to live and showed all of us what it means to be courageous.
"John was a great husband and father, teacher and leader.  He will be remembered for the love he had for his family, his dedication to his players and his excellence as a coach. Our prayers and heartfelt condolences are with his family and all who knew and loved him."
Schlarman was an original member of Stoops' staff in 2013, working tirelessly to help rebuild a football program that he loved dearly.  A perfect fit for Stoops' blue-collar approach, Schlarman's offensive line played a key role in the process that culminated with four consecutive bowl appearances from 2016-19. In 2018, UK went 10-3, the school's first 10-win season in 41 years, topped by a win over Penn State in the VRBO Citrus Bowl.  UK followed with a win over Virginia Tech in the 2019 Belk Bowl. 
During the last four seasons, Kentucky broke numerous school records, including single-season records for most rushing yards, most rushing touchdowns and most rushing yards per attempt. In 2016 and '19, Schlarman's Cats were semifinalists for the Joe Moore Award given to the nation's top offensive line…Read More
Cat Scratches: Cats Ready to Get Back on Field After Week Off
After having last Saturday off, Kentucky now turns its focus to the final four games of the 2020 season. The Cats are 2-4 and host Vanderbilt at Kroger Field this weekend.
UK head coach Mark Stoops was glad that his team had some time away this past week, but he's also ready to get back to work.
"Looking forward to getting back on the field this week," Stoops said. "Certainly needed some time off for our football team to heal up, to get better, mentally and physically, to get recharged for the home stretch here. We had a good off week. Got some rest early in the week, got healed up a little bit."
The Cats used the week off not only to rest and heal but also to work on things that Stoops thinks the team can do better…Read More
Series vs. Vanderbilt
• Kentucky leads the all-time series 46-42-4, including 25-15-2 in Lexington.
• UK has won the past four meetings and five of the past six.
• UK has held Vanderbilt to 22 points or less in each of the past six meetings.
• The first meeting between the schools came in 1896, a 6-0 Vanderbilt win in Nashville. Of SEC teams, only the Tennessee series dates back further (1893).
• Throughout the series' history it has typically featured close outcomes. Thirty-seven meetings have been decided by a touchdown or less in the series, including three of the past five.
• Biggest UK win: 51 (53-2) in 1978 in Lexington.
• Biggest Vanderbilt win: 50 (50-0) in 1897 in Nashville.
• Games decided by eight points or less: UK leads 19-17.
• The series has had three scoreless ties in its history.
• UK coach Mark Stoops is 5-2 vs. Vanderbilt during his tenure.
• Last season, Kentucky defeated Vanderbilt, 38-14, in Nashville.
• The Cats erased a 14-3 first quarter deficit by scoring the game's final 35 points.
• At the time, it was UK's largest SEC road win since in 18 years. The Cats defeated Vanderbilt 56-30 in Nashville in 2001. 
Kentucky-Vanderbilt Connections
• Kentucky has three players on its roster from the state of Tennessee: DL Quinton Bohanna (Cordova), DL Tre'vonn Rybka (Dickson) and OT Darian Kinnard (Knoxville).
• Vanderbilt has one player from Kentucky: LB Michael Spencer (Union).
A UK Win Would…
• Extend UK's winning streak in the series to five games and six of the past seven overall.
• Improve UK to 26-15-2 vs. Vanderbilt in Lexington.
• Be the fourth straight win vs. Vanderbilt in Lexington and fifth in the past six meetings at Kroger Field.
• Improve UK coach Mark Stoops to 6-2 vs. Vanderbilt during his tenure.
• A sixth win over Vanderbilt would be the most for Stoops against any opponent.
• Give Stoops his record 34th home victory at Kentucky.
• Give Stoops 47 career victories at UK, tying Fran Curci (1973-81) for second on the school's alltime list.
• Even the Cats' home record and SEC East home record this season at 2-2.