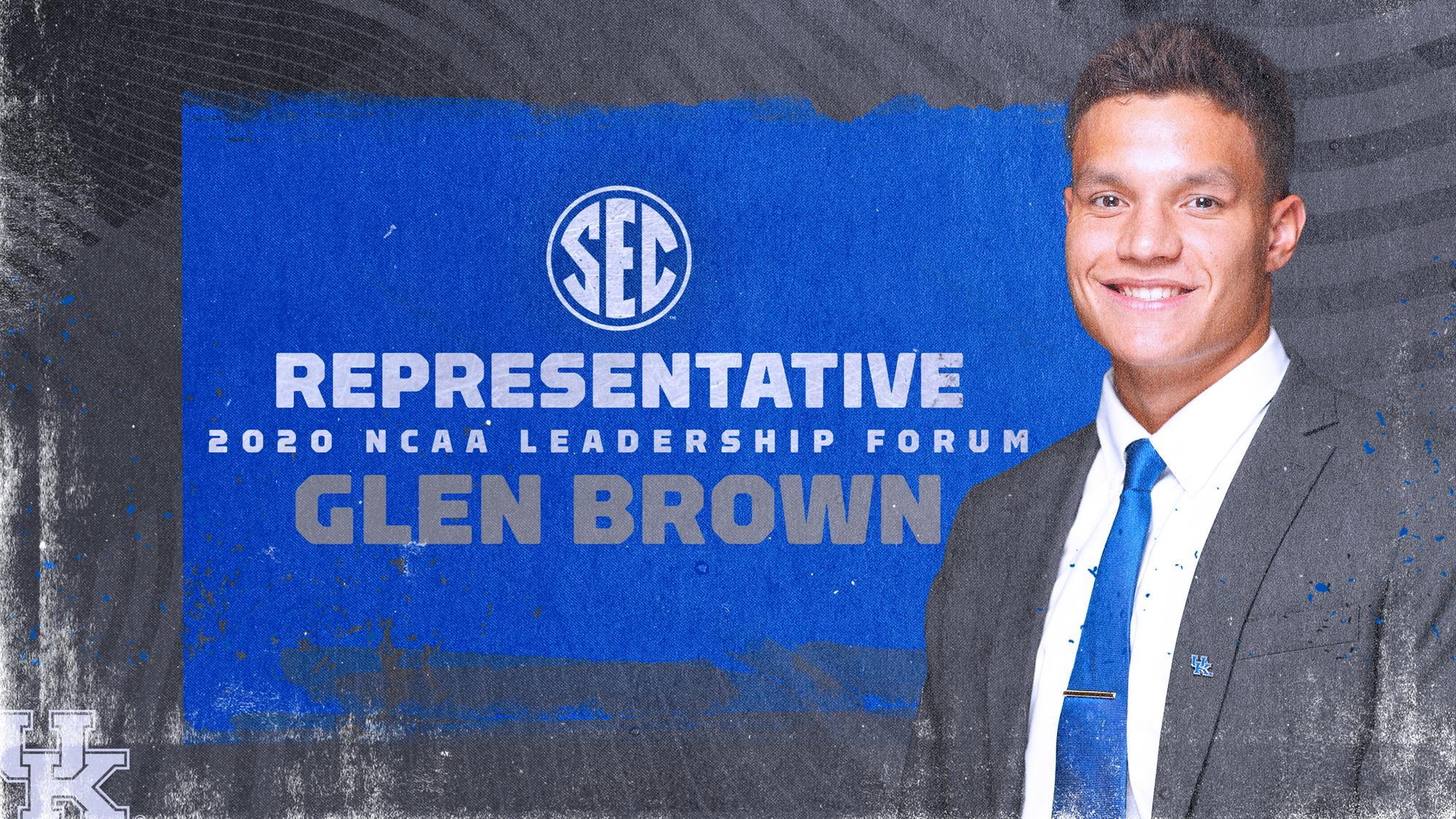 February 25, 2020 - 11:17 AM
Brown Selected to Represent Southeastern Conference at 2020 NCAA Leadership Forum
BIRMINGHAM, Ala. – Senior Glen Brown of the University of Kentucky men's swimming and diving team will represent the Southeastern Conference at the 2020 NCAA Student-Athlete Leadership Forum in Los Angeles, California, April 16-19. He is one of two student-athletes selected from the conference, alongside LSU's Milan Stoke (volleyball).
 
"We are proud Glen will be representing the University of Kentucky and the SEC at the Spring NCAA Leadership Forum," said Kentucky Athletic Director Mitch Barnhart. "He has fully embraced the transformative power of being a student-athlete at UK, growing into a standout competitor, an excellent student and an impactful servant in the community. We know he will bring a valuable perspective and voice to this important forum."
 
Brown serves as the president of Kentucky's Student-Athlete Advisory Committee and has been involved in helping Kentucky Athletics make maximum impact with Special Olympics Kentucky by creating year-around sports training and athletic competitions for both the children and adults with intellectual disabilities. He was recently inducted into the Frank G. Ham Society of Character, which honors Kentucky student-athletes who have shown an extraordinary commitment to academic excellence, athletic participation, personal development, career preparation and serving as a role model. An accounting major and native of Kokomo, Indiana, Brown has volunteered for a number of organizations, including The Humane Society, God's Pantry and Salvation Army.
 
Brown is a 2019 NCAA All-American, 2019 SEC Community Service Team member, 2019 CSCAA Scholar All-America First Team selection and 2020 SEC Championships bronze medalist.
 
The last Kentucky student-athlete selected to represent the conference at the NCAA Leadership Forum was Marcus Lee (men's basketball) in 2016.
 
Brown and Stokes were selected as exceptional student-athletes who have shown outstanding leadership among their peers, institutions and communities. They have participated in the SEC's Career Tour and are members of the SEC Academic Honor Roll.
 
The NCAA Student-Athlete Leadership Forum was created in 1997 and has hosted approximately 5,000 student-athletes since its inception. Student-athletes who attend the forum are taught leadership skills and given the chance to explore the relationship between personal values, core beliefs and behavioral styles. The forum also aims to give attendees a thorough understanding of the NCAA as a whole, the different divisional perspectives and the valuable role of Student-Athlete Advisory Committees.
 
For the latest on the Kentucky swimming and diving program, follow @UKSwimDive on Twitter and on Instagram, on Facebook and on the web at UKathletics.com.