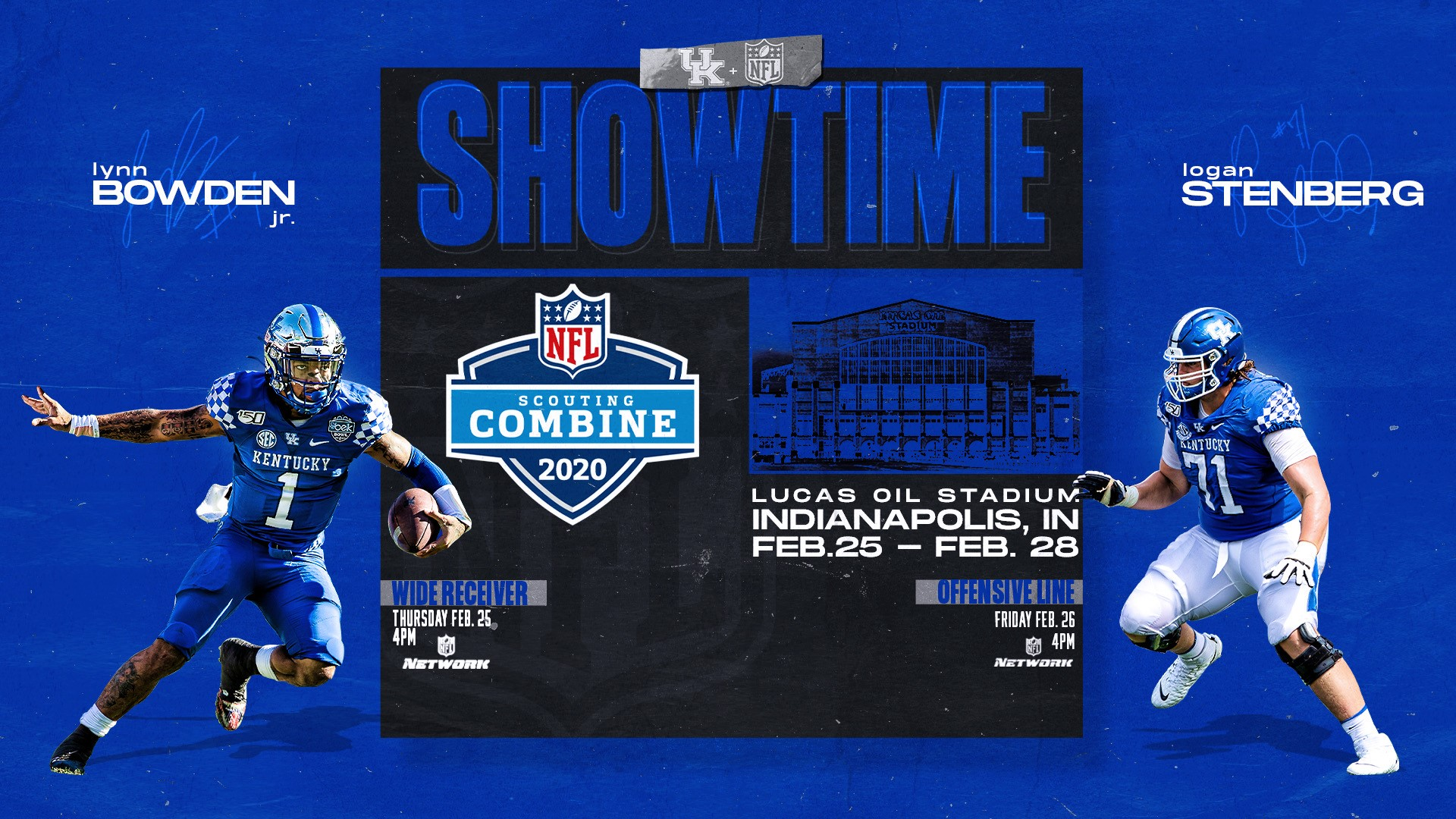 Former Kentucky football players Lynn Bowden Jr. and Logan Stenberg are set to participate in the 2020 NFL Scouting Combine this week at Lucas Oil Stadium in Indianapolis.
 
The NFL Scouting Combine, which features executives, coaches, player personnel and medical personnel from all 32 teams, evaluates top draft prospects with measurements and position-specific on-field workouts.
 
NFL Network's coverage of the Combine kicks off Thursday, February 27 with quarterbacks, wide receivers and tight ends from 4 p.m. ET to 11 p.m. ET. Bowden is expected to arrive on the field at 5 p.m. ET.
 
Combine coverage continues Friday, February 28 with running backs, offensive linemen and special teams from 4 p.m. ET to 11 p.m. ET. Stenberg is expected to arrive on the field at 3 p.m. ET.
 
Coverage continues Saturday, February 29 with defensive linemen and linebackers from 4 p.m. to 11 p.m. ET.  Coverage concludes Sunday, March 1 with defensive backs from 2 p.m. ET to 7 p.m. ET.
Bowden, the winner of the 2019 Paul Hornung Award for the nation's most versatile player, etched his name into program lore after injuries at quarterback forced him to return to the position for the first time since high school. All the junior did was set a school record for career and single-season rushing yards by a quarterback, break the SEC's single-game rushing mark by a quarterback, turn in the second-highest single-game rushing total in UK history, highest single-season yards per rush attempt average and deliver at least 100 rushing yards in seven of his eight starts at quarterback (and miss an eighth by a single yard vs. Georgia).
 
The Wildcats won six of his eight starts at quarterback while advancing to a fourth-straight bowl game and re-writing the school's record books for rushing production. He was named a consensus first-team All-American as an all-purpose player and was a first-team All-SEC selection. His magnificent performance in the Belk Bowl earned Most Valuable Player honors as he rushed for 233 yards – an NCAA record for most rushing yards by a QB in a bowl game – with two touchdowns. For good measure, he threw the game-winning 13-yard touchdown pass with 15 seconds remaining.
 
For the season, the Youngstown, Ohio native averaged 7.9 yards per rushing attempt, breaking Stanley "Boom" Williams' record of 7.1 per attempt in 2015. Although only playing quarterback for eight games, he rushed for 1,468 yards and 13 touchdowns.
 
Bowden finished with 4,660 all-purpose yards in his career, fifth in UK history and had 1,530 career rushing yards as a Wildcat, moving into 21st place on the UK career rushing list. He also ranks 13th on UK's career receptions list with 114 and is 18th on the career receiving yards list with 1,303 yards.
 
Stenberg, of Madison, Alabama, was the most experienced member of an offensive line with 39 consecutive starts. The 6-foot-6, 327-pounder was a road grader for the Cats, as UK set the school record in 2019 for total rushing yards (3,624), yards per rush (6.32) and rushing touchdowns (36). He helped quarterback Bowden lead the league in rushing yardage and lead the country in yards per carry (7.94). Stenberg was named a second-team All-American and first-team All-SEC choice for his efforts.
 
Stenberg was part of a senior class who won 32 games over the last four seasons, the most wins for UK in a four-year span since 1949-52, when Paul "Bear" Bryant coached the Cats. He also helped UK advance to four consecutive bowl appearances and back-to-back bowl wins for the first time since the 2007 Music City Bowl and 2009 Liberty Bowl.
 
For the 2019 season, Stenberg graded at 85 percent, led team with 95 knockdown blocks and 209 blocks at the point of attack. He did not allow a sack all season and allowed only one QB pressure.
 
Off the field, Stenberg graduated in May of 2019 with a degree in integrated strategic communication.
 
For more information on the Kentucky football team, follow @UKFootball on Twitter and Instagram, or like Kentucky Football on Facebook.