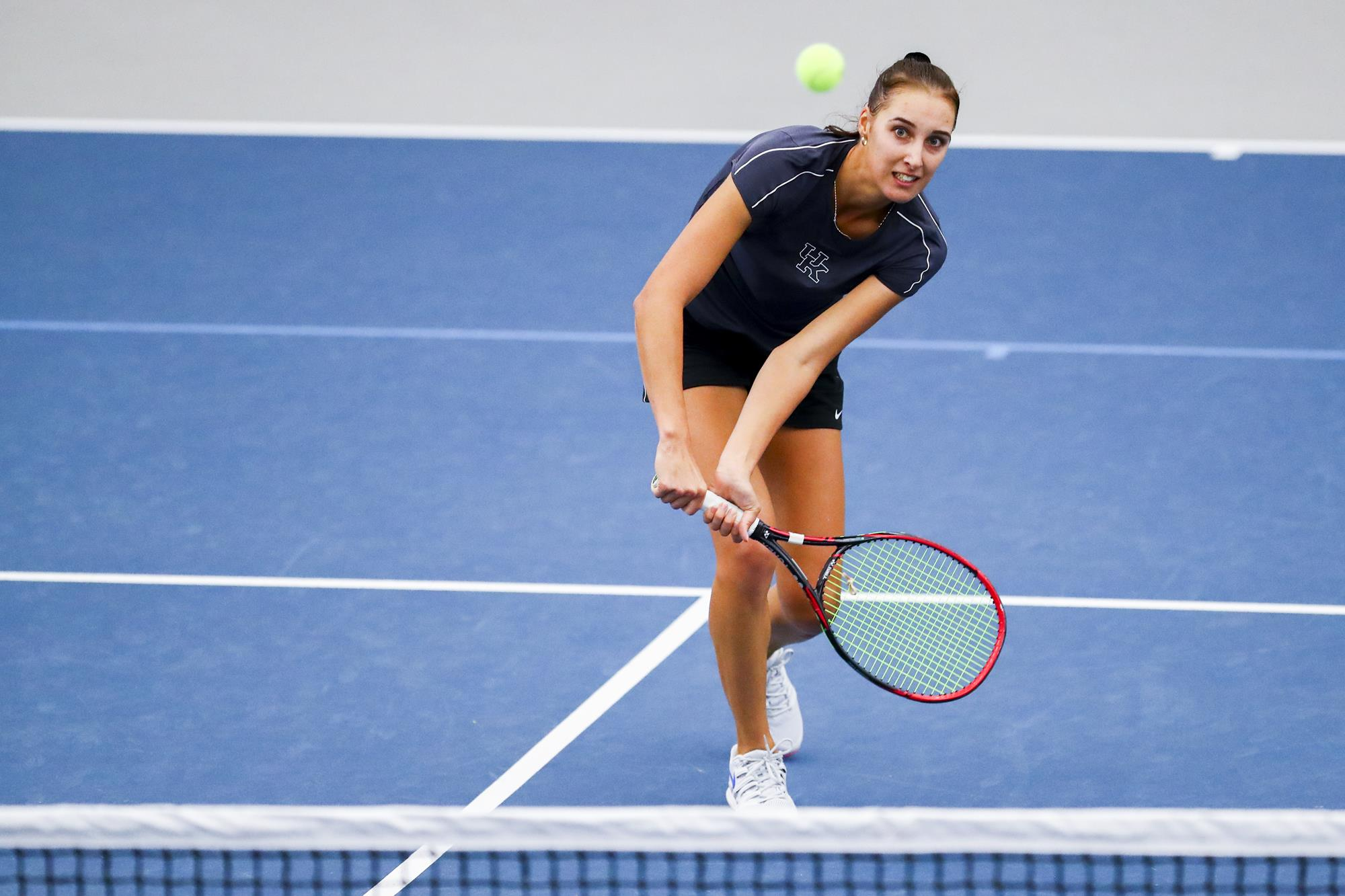 February 20, 2020 - 02:01 PM
Kentucky Women's Tennis Confronts Two Top-25 Opponents On The Road This Weekend
COLUMBUS, Ohio – The University of Kentucky women's tennis team returns to action this weekend after a brief pause in the schedule to face a pair of top-ranked non-conference teams in Columbus, Ohio, just one week before the conference schedule begins. Kicking off the tough road swing, Kentucky will face No. 6 Ohio State on Friday, Feb. 21 at 5 p.m. ET, followed by No. 24 Arizona State on Saturday, Feb. 22 at noon, inside the Varsity Indoor Tennis Center.
 
The Wildcats bring a 7-2 record to Columbus, including a 3-1 mark on the road and a 0-1 mark at neutral sites. Freshman Carlota Molina and redshirt junior Lesedi Jacobs are both featured on this week's International Tennis Association's Top 125 for their singles performances in 2019-20, as Molina is ranked 97th and Jacobs is ranked 118th.
 
Paired with redshirt senior Akvile Paražinskaite, Jacobs and Paražinskaite are also pegged as the 26th-best doubles team in the nation after forming a 13-1 record overall (fall and spring) and a 3-0 record in dual matches. The duo's performance is important to the team, as Kentucky is undefeated this season when it wins the doubles point.
 
Putting together the most impressive resume on the team thus far, Molina is undefeated on the singles courts in dual matches, boasting an 8-0 record. The rookie is the solo Wildcat with an undefeated mark, while she also has two wins over ranked opponents. From Gran Canaria, Spain, Molina plays mostly in the No. 3 spot this season. She holds a 10-match win streak, meanwhile posting a 13-1 record in the singles competition overall in 2019-20.
 
No. 6 Ohio State has a 4-3 record this season, losing to a pair of ranked foes in its last appearance to then-No. 9 Vanderbilt and then-No. 2 Texas in mid-February. Three Buckeyes are listed on the national singles rankings – No. 11 Shiori Fukuda, No. 54 Irina Cantos Siemers and No. 60 Danielle Wolf. The team also boasts a ranked duo in the nation, as Siemers and Kolie Allen are tabbed as the 53rd-best doubles team.
 
No. 24 Arizona State owns an 8-3 record this season, including defeating Northwestern and then-No. 9 Vanderbilt to win its International Tennis Association Kick-Off Weekend regional site and make a run at the ITA Indoor Championships. Just like the Buckeyes, three Sun Devils are listed on the national singles ranking – No. 38 Ilze Hattingh, No. 91 Savannah Slaysman and No. 120 Sammi Hampton.
 
Fans can stream the matches live here, or keep up with live scoring here.
 
For the latest on the Kentucky women's tennis program, follow @UKWomensTennis on Twitter and on Instagram, on Facebook and on the web at UKathletics.com.