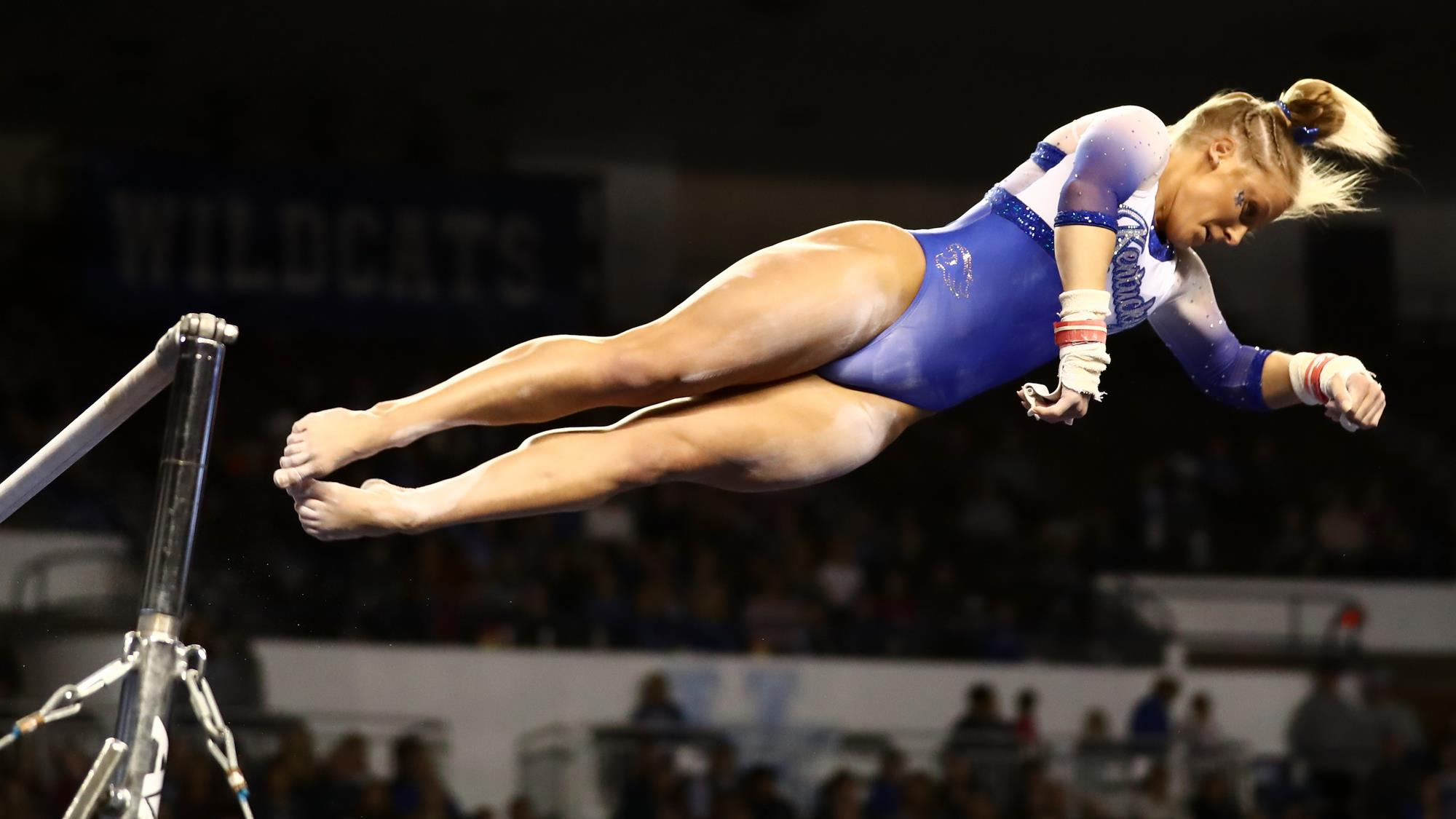 February 16, 2020 - 10:26 PM
Cats Record Season-Best Bars Score in Loss at No. 9 LSU
BATON ROUGE, La. – After opening the competition with its best uneven bars rotation of the season, No. 12 Kentucky (6-3, 3-2 Southeastern Conference) ultimately fell 197.500-196.625 to No. 9 LSU (9-2, 3-2 SEC) on Sunday at Pete Maravich Assembly Center.
 
The performance was Kentucky's third-best team score of its 2020 campaign, highlighted by individual wins from Ella Warren, Mollie Korth and Raena Worley.
 
"Losses are tough any time, and this one is no different," said head coach Tim Garrison. "This team expects to win no matter who we compete against and is disappointed with the results. The positive we can take from today is that the mistakes we made were issues with amplitude, meaning we did big gymnastics and struggled to hold onto landings. I'm fully expecting a focused, if not slightly irritated, team in training this week determined to get these things right."
 
Sophomore Josie Angeny led off the Wildcats' 49.350 showing on bars with a career-high 9.825, though it was the rotation's final two routines that proved to be the best of the day. Warren recorded a career high of her own with a 9.925, while Korth matched the score from the first of the eight-time All-American's three anchor spots on the day.
 
The pair of upperclassmen tied LSU's Sami Durante and Ruby Harrold for the event victory, giving Warren her first bars win and Korth the 18th such accomplishment of her storied career.
 
Following Kentucky's lone sub-49-point rotation of the contest on vault, the Wildcats logged their best score on any event with a 49.375 team floor exercise. Junior Megan Monfredi led off with a career-high 9.875, and Worley and Korth tied for second place overall with a 9.900 apiece.
 
The Cats ended the competition on balance beam, pulling down a 49.075. Sophomore Anna Haigis made her NCAA debut with a 9.675, followed immediately by a career-high-tying 9.875 from senior Hailey Poland. Worley claimed Kentucky's only outright victory of the day from the No. 5 spot with a 9.900, earning the first beam win of her freshman season.
 
After returning from its only two-meet road stretch of the season, Kentucky will get back to action versus No. 11 Georgia (7-5, 1-2 SEC) on Friday at 7 p.m. ET at Memorial Coliseum.
 
To purchase tickets for the 2020 season, visit UKAthleticsTix.com. For the latest on the Kentucky gymnastics team, follow @UKGymnastics on Twitter, Facebook and Instagram, as well as on the web at UKAthletics.com.