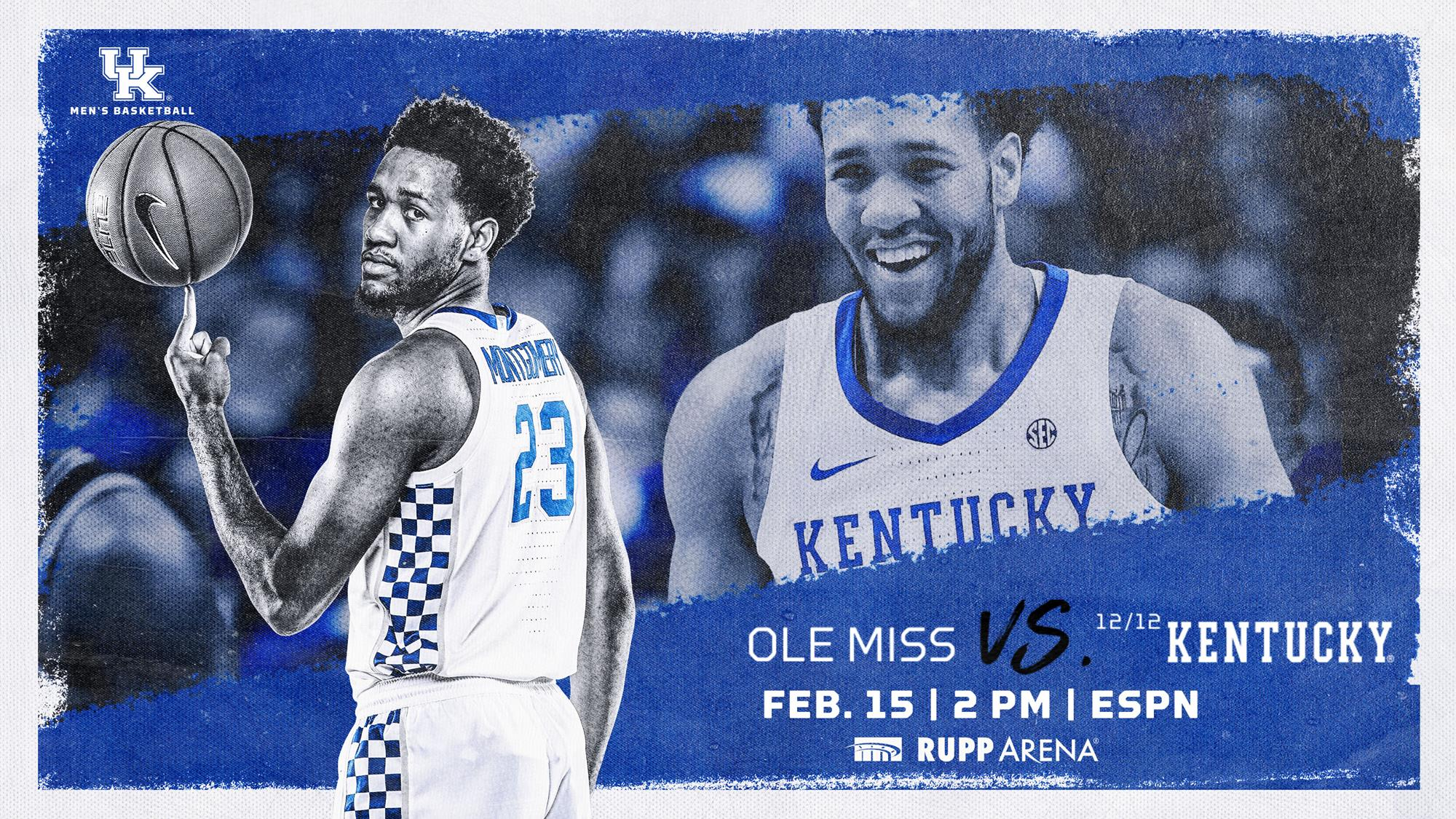 February 14, 2020 - 04:22 PM
No. 12 Cats Welcome Rebels on Saturday
A conversation about the hottest team in the Southeastern Conference would have to include Auburn, which has won seven straight. Kentucky – in the midst of winning seven of its last eight, and the last two comfortably on the road – can make a case too.
 
Those two teams, of course, are tied atop the league with LSU, but a look a little further down the standings reveals another contender: Ole Miss.
 
The Rebels, in spite of their modest 13-11 record (4-7 in SEC play), have caught fire over the last 10 days. First they dispatched South Carolina, leading by double digits for the final 17 minutes en route to an 84-70 victory. Next they held Florida scoreless for the final four minutes of a 68-51 win. And in their latest triumph, the Rebels blitzed rival Mississippi State with separate 20-3 and 21-3 runs for an 83-58 win.
 
Thanks to the streak, Ole Miss has rocketed from 122nd nationally all the way to 88th according to kenpom.com – the biggest jump of any major conference team over that stretch. The Rebels are shooting 47.6% from the field and 43.8% from 3 during the three-game winning streak, holding opponents to 37.1% and 24.5% in the process.
 
On Saturday at 2 p.m., No. 12/12 Kentucky (19-5, 9-2 SEC) will look to put a stop to that.
 
Kentucky vs. Ole Miss

Sat., Feb. 15 – 2 p.m. ET
Rupp Arena
Lexington, Ky.
Game Notes: UK | UM
UK Athletics App

Coverage

TV: ESPN
Radio: UK Sports Network
Watch
Listen
Live Stats

UK
Stats
UM
19-5
Record
13-11
9-2
Conference Record
4-7
75.4
PPG
69.8
65.6
Opp PPG
67.0
.463
FG%
.433
.384
Opp FG%
.421
37.9
RPG
34.4
.333
3PT FG%
.328
.293
Opp 3PT FG%
.291
14.0
APG
13.6
5.2
SPG
7.3
5.2
BPG
2.7

A conversation about the hottest player in the SEC, meanwhile, would likely begin and end with Ole Miss's best player: Breein Tyree. The dynamic senior who helped lead the Rebels to a surprise NCAA Tournament berth in Kermit Davis's first season has scored 101 points over his last three games, making 11 combined 3s and getting to the foul line 26 times to surge into a virtual tie with Arkansas' Mason Jones atop the SEC scoring leaderboard at 20.0 points per game.
 
"The last three games he's averaging like 38 points a game," John Calipari said, exaggerating only slightly. "… He makes everybody on the court better. He defends, he tries to steal, he's good. In our league, how many of our guys are like him? Not many. He's playing well and somebody we need to keep an eye on." 
 
A year ago, Tyree scored 21 points on UK, but made only 6 of 18 from the field in doing so. Ashton Hagans figures to draw the assignment on the Ole Miss point guard mere days after flirting with a triple-double in a performance in a win at Vanderbilt that was among his best of the season.
 
"Made easy plays. He wasn't trying to do crazy things," Coach Cal said. "He was more disciplined, he also subbed himself, he played 31 minutes instead of trying to play 37 minutes which means in that extra five or six minutes that's when the play comes way back both defensively and offensively so you know I love the fact that he subbed himself." 
 
Hagans and the Wildcats will playing their first home game in 10 days, not to mention their first inside Rupp Arena at Central Bank Center on a Saturday in more than a month. Coach Cal wants his team to relish that fact, because time is running out on the 2019-20 season. Only seven regular-season games remain, meaning the Wildcats have precious few opportunities left to play with a group that has become tight-knit as the year has worn on.
 
"This is a team that you care about one another," Calipari said. "Play for your brothers more than your playing for you. Play for each other. You should feel a sense of responsibility in how you play, not for you, but for them. Because, when you leave us and you think every team is this way, good luck. They're not all this way."
 
Calipari has coached long enough to know that teammates taking genuine joy in one another's success – like when Keion Brooks Jr. and Johnny Juzang broke out at Tennessee – is a rare thing. He doesn't want them to take that for granted.
 
"So, play for each other," Calipari said. "Don't worry about you. Just know I need to be respectful of all this stuff, and I to make sure I understand I'm playing for my teammates as more than I'm playing for me."  
Guards Lead Another Comeback Effort Against Vanderbilt
NASHVILLE, Tenn. – Kentucky coach John Calipari watched his Wildcats fall behind by as many as 14 points in the first half and enter the locker room down with their biggest deficit of the season on the road at Vanderbilt.
No yelling. No tirade. Calipari only told his Wildcats to start throwing the ball inside to Nick Richards.
Tyrese Maxey scored 25 points, and 12th-ranked Kentucky rallied from their biggest halftime deficit this season to beat Vanderbilt 78-64 Tuesday night.
"The whole point of this is them learning about themselves," Calipari said. "And I said, 'They made eight 3s guys, and you missed five 1-foot shots. This is going to be what the score is.'"
Ashton Hagans backed up his coach.
"He was real calm," Hagans said of Calipari. "He wanted us to work it out altogether and talk on it. You know, we came out there and just we were the aggressor in the second half and we were just trying to get the win."
The Wildcats (19-5, 9-2) did that to keep a piece of the lead atop the Southeastern Conference standings with Auburn and LSU. The Wildcats also won their eighth straight over Vanderbilt, though this was the fifth time in this streak that they've had to rally from a double-digit deficit after clawing back to a 36-27 deficit at halftime.
Immanuel Quickley also had 18 points, Nick Richards had 12 and Hagans finished with 11 points and 10 rebounds in Calipari's 400th career game at Kentucky.
Vanderbilt (9-15, 1-10) was looking to make Kentucky the second straight ranked team to come into Memorial Gym and lose within the past week after the Commodores upset then-No. 18 LSU. Saben Lee led Vanderbilt with 20 points. Dylan Disu had 12 points and 10 rebounds, Scotty Pippen Jr. had 13 and Maxwell Evans 10.
Kentucky looked like a different team in the second half. The Wildcats finally took their first lead on a Maxey layup with 11:16 left at 48-46 during a 24-4 run. Richards' dunk capped the spurt with Kentucky up 59-48 with 6:11 to go.
The Commodores pulled within 62-57 with 4:17 left after Jordan Wright stole the ball on the inbounds play. Quickley answered with consecutive 3s to push Kentucky's lead back to double digits.
Of note …
• Kentucky limited Vanderbilt to 37.3% from the field, improving to 199-19 (.913) under Calipari when keeping the opponent at 40% or less, including 12-3 this season
• UK won the rebounding 43-32, moving to 16-0 this season when claiming the board battle
• Kentucky 12 blocked shots, only one shy of the season high vs. Lamar
• UK made 6 of 9 from 3-point range (66.7%)
• Entering the game at 78.7% at the foul line, the Wildcats had another solid performance at 84.2% (16 of 19). It was the sixth straight game shooting 80% or better, and the Wildcats are 85.1% during that span
• Kentucky led by as many as 15 points during the game. UK is 279-7 under Calipari when leading by at least 10 points during the game
• Maxey eclipsed 25 points for the third time in his career. He had 27 against Louisville and 26 in the win over Michigan State
• Quickley scored in double figures for the 13th straight game. It's the longest streak in double-digits since Malik Monk had 30 straight such games from Nov. 11, 2016-Feb. 28, 2017
• Hagans registered his third career double-double and first of the points-rebounds variety. He had a career-high 10 rebounds to go with 11 points. He also added eight assists
• Richards had 15 points, seven rebounds and three blocks. UK is 18-1 this season when he scores in double figures 
Kentucky Has Dominated the Ole Miss Series But …
Historically, Kentucky has dominated the series vs. Ole Miss. The numbers are jaw-dropping. A 107-13 all-time UK advantage. A 54-2 Kentucky mark in Lexington. Ten straight wins for the Wildcats.
But none of that will matter Saturday, and the Wildcats would be unwise to look at any historical numbers when evaluating this Ole Miss team, especially of late.
After struggling early in the conference season, Ole Miss seems to have found its way. The Rebels have won three straight, but it's how they've done so that has likely caught the eye of John Calipari and his team.
Not only has Ole Miss beaten three consecutive league teams vying for NCAA Tournament berths, the Rebels have beaten them badly. Ole Miss has combined to beat its last three opponents by an average of 18.7 points per games with Breein Tyree playing like one of the hottest players in the country.
Tyree is averaging 33.7 points over the last three games on 54.8% shooting with 11 3-pointers.
It's also worth mentioning that before this current three-game winning streak, Ole Miss forced overtime with Auburn in a one-point loss and took LSU to the wire the next game. Both Auburn and LSU are tied with Kentucky for the Southeastern Conference lead.