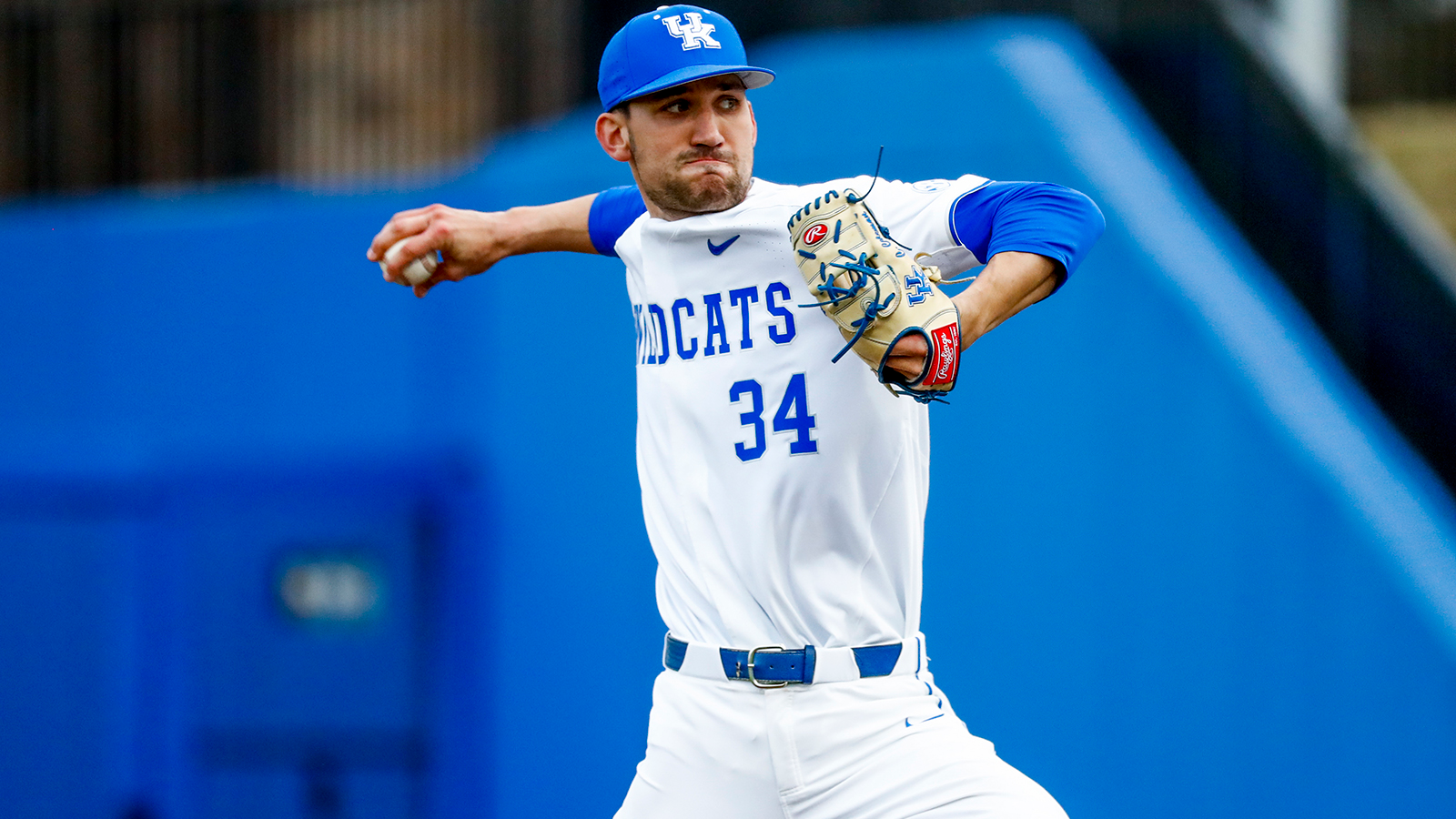 On every play in a baseball game, the pitcher finds himself in a precarious position. Having just thrown the ball, the pitcher stands less than 60 feet from a hitter wielding a bat with which he is trying to hit said ball. Pitchers are required to have extremely quick reflexes in order to protect themselves from serious injury.
Sometimes, however, the pitcher is unable to protect himself. In Major League Baseball, there have been a number of pitchers who have been hit with a line drive. Some of them, including pitchers like Mike Mussina and Brandon McCarthy have been hit in the head or the face.
As a true freshman at Kentucky, Carson Coleman faced such a situation. In a live batting practice situation, Coleman experienced the fear of every pitcher.
"I just got really unlucky, not that I was totally out of the way, but I got hit right in the face," Coleman said. "It pretty much hit me right where, if you drew a line right from my forehead to my nose. Fractured my skull partially, fractured my orbital, shattered my nose, it was probably 5-6 pieces. I had a bone spur I had to get removed later."
After suffering such an injury, some pitchers are not able to return to the mound. Others return but are not the pitcher they were before the incident. Luckily for Coleman, he never experienced either of those, although he did have one close call.
"Coming back, baseball-wise, people thought I might have a PTSD kind of deal, but honestly, I never really thought about it," Coleman said. "I was really good. I came back, got to throw, so that was nice to get back. It's never really bothered me. There was one time, my sophomore year, where Ryan Johnson hit a line drive towards me and Troy (Squires) was catching and he was like 'are you alright'? Nothing's really bothered me from that."
What seemed like a tragic incident at the time has turned into something that Coleman has used to build himself up during his career at UK.
"That wasn't a good way to start my freshman year. I ended up having to get a couple of surgeries after that and, obviously, I redshirted," Coleman said. "The recovery from it wasn't terrible, it was just a really hard two, three weeks. But I always go back to my freshman year, being able to redshirt, I always call it a blessing in disguise. Because of that, I got a chance to develop, mentally, and have a positive deal with (my situation)."
Coleman and the Cats open the 2020 campaign on Friday, visiting TCU in Fort Worth, Texas. The teams are set for a three-game series, beginning with Friday's opener at 7:30 p.m. ET. Saturday's first pitch is set for 3 p.m., while Sunday's finale begins at 1:30 p.m. All three games can be seen online at gofrogs.com. Check the UK baseball schedule page for specific game links.
The Cats are coming off a 26-29 season in 2019. Last year's squad featured new faces at nearly every position, but nearly all of those players return for this season, giving UK the experience it did not have in 2019.
Coleman, who is a redshirt junior this year, was selected in the 33rd round of the 2019 Major League Baseball Draft by the Tampa Bay Rays after leading the Cats with five saves last season. Rather than turn pro, Coleman elected to come back to school, where he could play another season and earn his degree from UK.
UK head coach Nick Mingione looks forward to having Coleman out of the bullpen again this season.
"Carson Coleman is the one guy who has the most experience (out of the bullpen)," Mingione said. "He ended up getting drafted this past June, decided to come back. He is going to graduate in May. He will be a key piece out of our bullpen, as he has been basically his entire career."
Mingione knows what makes Coleman successful.
"He's been in a lot of tight games and big situations and it's one of those things where those experiences are only going to make him better," Mingione said. "His maturity is just incredible. I just have such a peace about him."
While Coleman, who was recently inducted into UK's Frank G. Ham Society of Character, could be thinking about his own future, he's prepared to do whatever the team needs him to do to win.
"Whether it's closing or not, whatever situation gets me in with a chance to be in that winning situation, whether that's coming in with bases loaded and no outs, or it comes to the ninth inning and I get a chance to close, whatever gives us the best chance to win, that's just going to be my deal," Coleman said.
Going through such a traumatic situation and bouncing back from it has made Coleman a more mature person and a more mature player. This should be the season that it all comes together for the Lexington native.