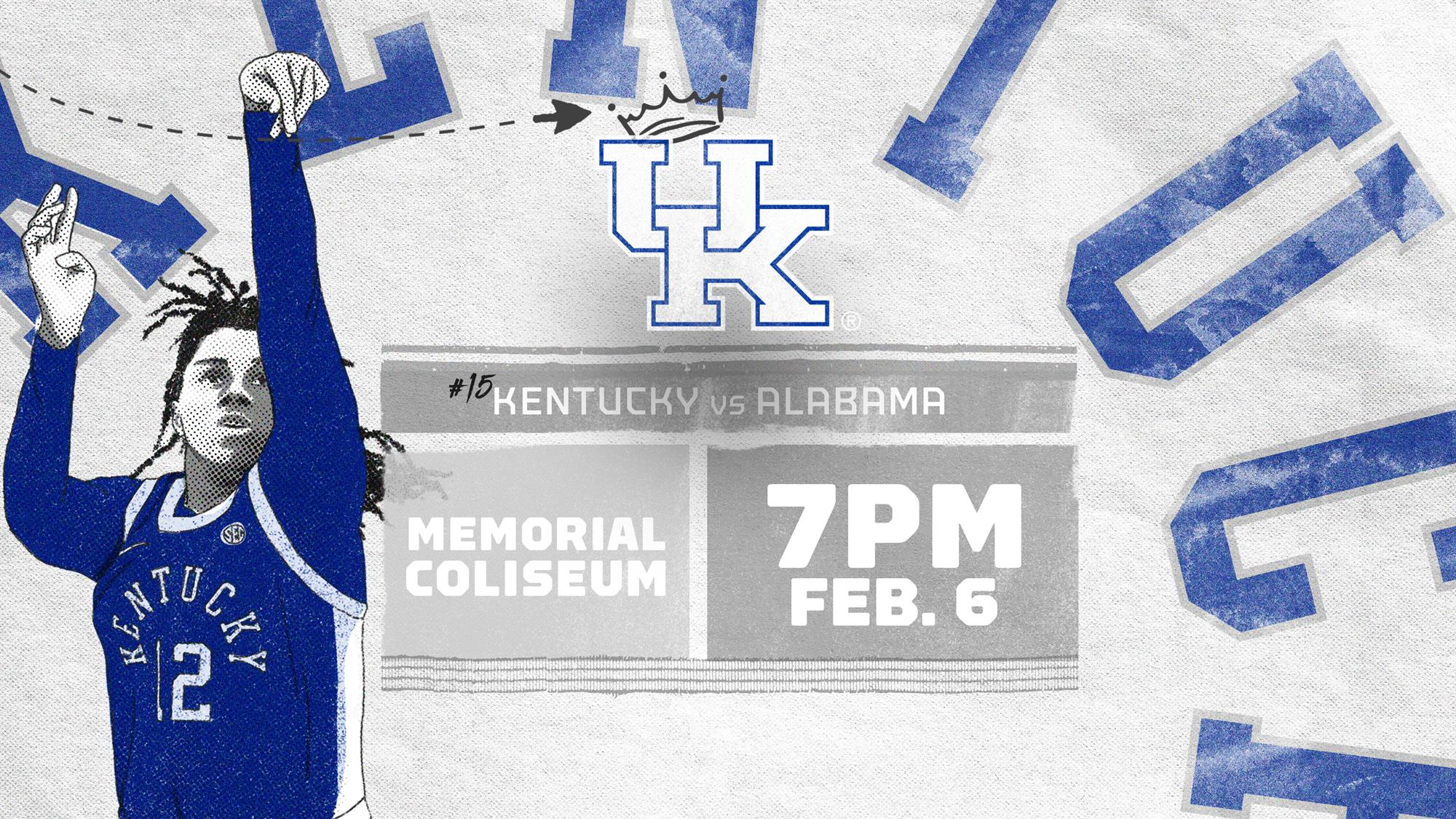 February 5, 2020 - 12:17 PM
No. 15 Kentucky Looks to Bounce Back Thursday vs. Alabama
LEXINGTON, Ky. – The No. 15 University of Kentucky women's basketball team will look to bounce back from only its fourth loss of the season when it plays host to Alabama on Thursday at 7 p.m. ET inside Memorial Coliseum. UK players will be wearing "Adamstown" shirts pregame paying homage to the former community as part of the ongoing year-long celebration of the university's "70 Years of Integration" series and commemorating 50 years of black studies at UK. The commemoration is sponsored by UK's Office for Institutional Diversity and more information on the commemoration is below.
 
Single-game tickets are $10 (all ages) in reserved seating areas, while general admission tickets are $8 for adults and $5 for children (ages 6-18) and seniors (age 65+). Children aged 5 and under do not require a ticket in general admission areas. Young fans are encouraged to take advantage of the Kid Zone pregame with games, poster making stations, coloring stations and more. Senior guard Amanda Paschal is scheduled to sign autographs on the concourse following the game.
 
The game vs. Alabama will be broadcast on SEC Network+ with Jeff Piecoro and Christi Thomas on the call. The action can also be seen through WatchESPN on computers, smartphones or tablets. Darren Headrick will have the call on the UK Sports Network on 630AM WLAP in Lexington. Live stats and free live audio will be available online at UKathletics.com.
 
Spectator parking is located in all E-lots surrounding Memorial Coliseum and are off control 3 hours prior to tip. Additionally, the South Limestone Garage (PS#5) and the Rose Street Garage (PS#2) are available 2 hours prior to tip. The Bill Gatton Student Center is available as a pay-to-park option. Availability is based on the Gatton Student Center Event Schedule.
 
Parking is prohibited in any R (Residential) lots. Vehicles parking in R lots without a proper permit, along yellow curbs, grass spaces, or other non-specified and unapproved areas may be subject to ticket and/or tow. Disabled spectator parking is available with a valid, state issues disabled hangtag in the E lot North of the Craft Center. These spaces are available on a first-come, first-served basis until full.
 
Shuttles are available beginning 2 hours prior to tip off and pick up and drop off near the South Limestone Garage (PS#5) and the High Street Lot. Shuttles will start back up after halftime to return guests to their parking areas, the shuttle will discontinue service 1-hour post-game.
 
Kentucky (17-4, 6-3 SEC) is coming off a disappointing loss on Sunday to Florida letting a 10-point halftime lead get away in the second half. Junior guard Chasity Patterson scored a career high 25 points in the game, while senior guard Jaida Roper had 15 points. The Wildcats hit a season-low three 3s in the game and allowed the Gators to score 51 second-half points in the loss. The Wildcats continue to be without sophomore guard Rhyne Howard, who is averaging a team-best 23.2 points per game and 6.3 rebounds per game. The guard is expected to return in mid-February.
 
UK leads the all-time series against Alabama, 32-17, including a 14-6 mark in games played in Lexington. The Wildcats have won eight straight games against the Crimson Tide, including eight of the last nine against Alabama in Lexington. UK's last loss in the series was a 57-55 setback on Jan. 23, 2014 in Lexington. Of Kentucky's eight straight wins against Alabama only one has been by single digits, edging the Crimson Tide in the 2018 SEC Tournament 71-64 in Nashville. The two teams met already this season on Jan. 9 in Tuscaloosa with UK earning a 81-71 win behind a school-record tying 43 points from Rhyne Howard.
 
Alabama (13-9, 3-6 SEC) is coming off a 57-56 win at Ole Miss on Sunday. The Crimson Tide also have Southeastern Conference wins over Vanderbilt and Auburn this season. Alabama is led by Jordan Lewis, who averages 12.9 points per game and grabs 4.4 rebounds per game. Jasmine Walker is averaging 11.3 points per game with 6.9 rebounds per game, while Cierra Johnson is earning 8.5 points per game and has 28 steals.
 
UK Paying Homage to Adamstown, Commemorating 70 Years of Integration
Kentucky players will don new shooting shirts during pregame warmups against Alabama on Thursday with "Adamstown" on the front. Adamstown was a black community that was placed at the bottom of a hill on what was the edge of Lexington in the 1870s. By 1880 there were 65 black families in the community. Adamstown was on Adams Street, located near what is today Euclid Avenue. The neighborhood moved in preparation for the building of Memorial Coliseum in 1949-50.
 
Thursday's game is part of an ongoing year-long celebration of the university's "70 Years of Integration" series and commemorating 50 years of black studies at UK. The commemoration is sponsored by UK's Office for Institutional Diversity.
 
In 1968, African American and Africana Studies began with an interdisciplinary course, Afro-American Life and Culture. Later that year, the Black Student Union launched a campaign for more courses. As a result of their successful efforts, the African American Studies and Research Program was born. The program, founded by Emeritus Professor Doris Wilkinson, would eventually become African American and Africana Studies.
 
Students can now major and minor in AAAS, opening a world of possibilities in today's rapidly diversifying, global economy. A background in AAAS gives students an edge in understanding cultural and structural forces. What students learn throughout the program could lead to career opportunities in business, education, communication, medicine, law and politics.
 
Commemorating integration will feature a series of events, academic courses and special presentations throughout the 2019-20 academic year. Colleges and units from across the campus are involved in creating a year-long calendar of events and programs that will allow UK to reflect on the legacy of Lyman T. Johnson, who became the first black man to enroll at the University of Kentucky, and continue to carry out the conversations he started 70 years ago.
 
For more information on the Kentucky women's basketball team, visit UKathletics.com or follow @KentuckyWBB on Twitter, Instagram and Facebook.