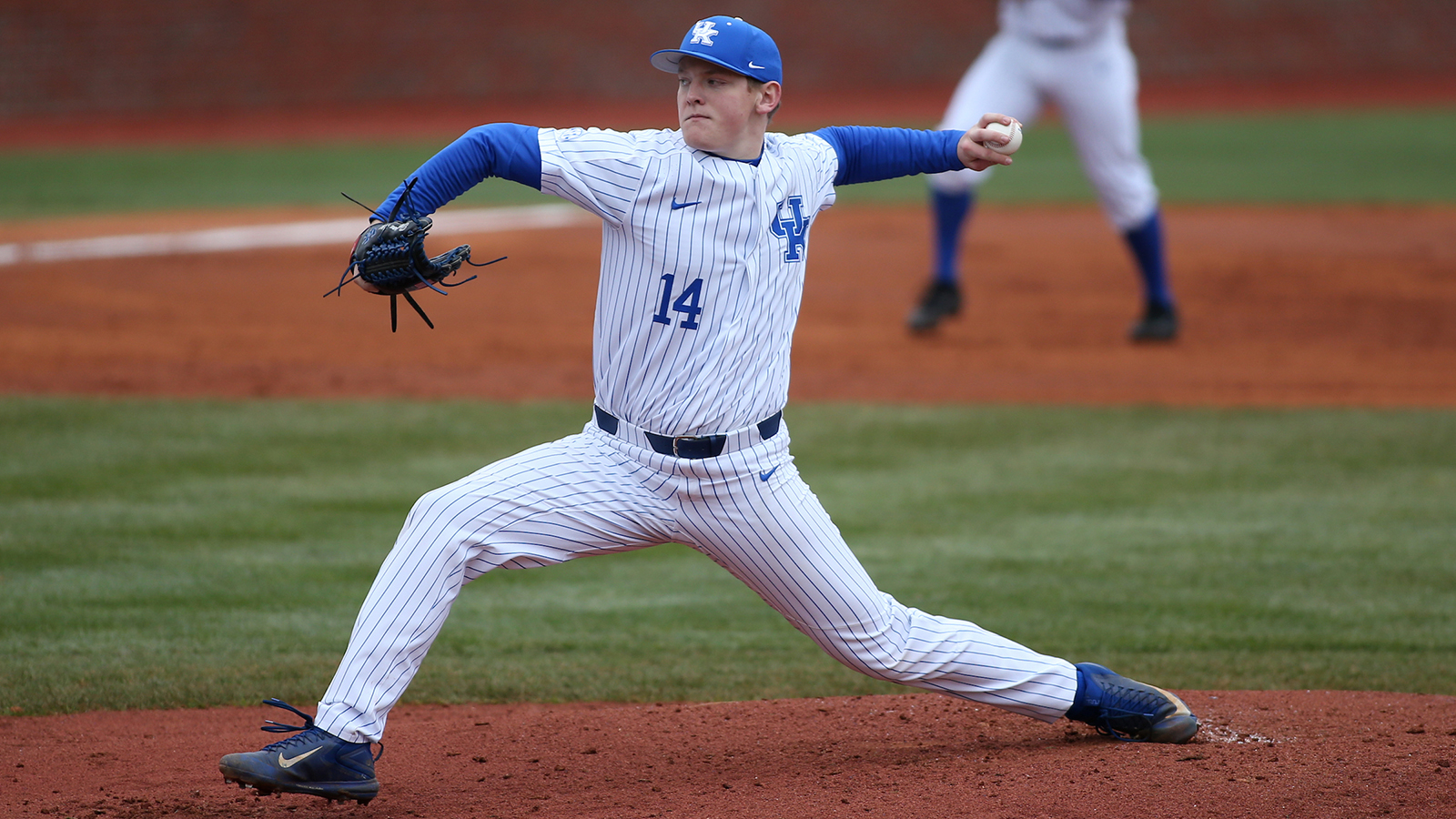 Thompson's Return a Huge Boost for UK Baseball
Heading into Saturday's game at Tennessee, the Kentucky baseball team had lost seven straight Saturday contests. While starting pitchers Sean Hjelle and Justin Lewis had done their parts on Friday and Sunday, respectively, the Wildcats were missing that same impact on Saturday.
The reason was clear. After pitching against Texas Tech on March 10, sophomore Zack Thompson missed nearly two months while recovering from an arm injury. Kentucky struggled to find anyone to fill Thompson's role in his absence.
Thompson, who is projected as a first round pick in the 2019 Major League Baseball Draft, has been through the rehab process and is now healthy, although his stamina is still in the building phase. He saw his first action since the injury last Saturday against Missouri, when he pitched a scoreless ninth inning, allowing a hit and a walk while striking out two.
On Saturday, Thompson made his first start since the injury, and he looked like the Thompson of old. He pitched three scoreless innings, allowing no hits, walking two while tying his season high with seven strikeouts. Thompson threw 51 pitches in a game that Kentucky eventually won 10-3.
Thompson's return is a huge boost for the Wildcats as they head into the home stretch of the regular season. The lefty was 8-3 last season, striking out 96 batters in 75.2 innings of work. If he can return to that kind of form, it would certainly bode well for the Cats in the SEC race, as well as the race to host an NCAA Regional.
How good has Thompson been during his UK career? He's second in school history in hits allowed per nine innings, giving up just 6.01.
Another important factor is that Thompson gives UK a left-handed starter between right-handers Hjelle and Lewis, helping to keep opponents in check.
Kentucky head coach Nick Mingione knows how important Thompson can be for his team. After Thompson's appearance last week against Missouri, Mingione could not contain his excitement over the idea of having Thompson back in the weekend rotation.
"It was really good to see him back out there," Mingione said. "I think it's really obvious our team really misses that guy and we need that guy. There's nothing I would want more than to just go 'hey man, here you go, be our Saturday guy and go' because I think it's really obvious how much we miss that guy."
After Saturday's performance at Tennessee, the Cats are hopeful that Thompson is fully healthy and ready to contribute down the stretch of the regular season, as well as the postseason.