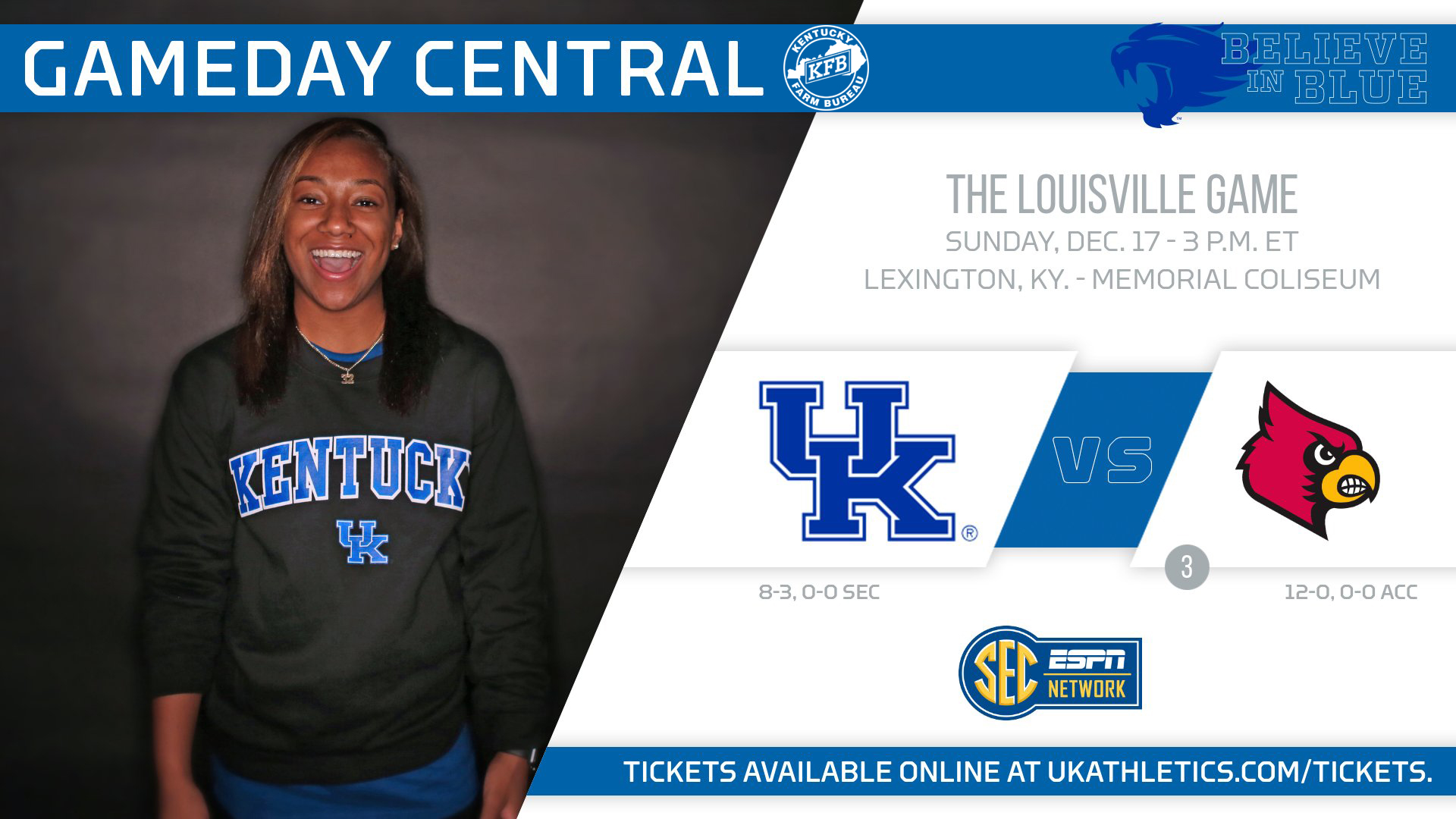 December 15, 2017 - 01:25 PM
Kentucky Hosts No. 3/4 Louisville Sunday in Memorial Coliseum
LEXINGTON, Ky. – Looking to get back in the win column following a difficult road trip through the Sunshine State last weekend, the University of Kentucky women's basketball team will play host to undefeated and third-ranked Louisville on Sunday at 3 p.m. ET inside Memorial Coliseum.   
 
The game will be televised nationally on the SEC Network with Pam Ward, Gail Goestenkors and Steffi Sorensen on the call. The action can also be seen through WatchESPN on computers, smartphones or tablets. Darren Headrick, now in his first year with the program, will be calling the game on the UK Sports Radio Network. Fans in Lexington can hear Headrick's call on 630 AM WLAP. Live stats and free audio will be available online at ukathletics.com.
 

Fans are encouraged to wear blue to the game and all Wildcat fans will receive a free pompom upon entry into Memorial Coliseum. Sophomore guard Jaida Roper is scheduled to sign autographs following the game on the main concourse near the Lexington Avenue entrance. Young fans are encouraged to take advantage of the Kid Zone pregame with games, poster making stations, coloring stations and more.
 
Single-game tickets are $9 (all ages) in reserved seating areas, while general admission tickets are $8 for adults and $5 for children (ages 6-18) and seniors (age 65+). Children ages five and under do not require a ticket in general admission areas.
 
UK enters Sunday's game on a two-game losing skid, falling on the road last weekend at Florida Gulf Coast and Miami (Fla.), who both have been receiving votes a majority of the season in the USA Today/Coaches Top 25. The losses ended a stretch of five games in 11 days for the Wildcats, who went 2-3 during that stretch with all three losses coming on the road to teams that have been or are currently ranked/receiving votes in the national polls.
 
Kentucky (8-3) is in the middle of stretch where eight straight opponents are either ranked/receiving votes or have been ranked/receiving votes this season. The stretch includes at FGCU (rv), at Miami (rv), vs. No. 3/4 Louisville, No. 24/rv Cal, at MTSU (rv), vs. No. 7/7 Tennessee and at No. 19/22 Texas A&M. UK is 0-1 vs. ranked foes this season, falling at top-10 ranked Baylor.
 
Junior guard Maci Morris is leading Kentucky in scoring this season by averaging 15.8 points per game. The native of Pineville, Ky., has hit a team-best 30 3-pointers and sits second on the team with 11 steals and 10 blocks. Fellow junior guard Taylor Murray is averaging 12.3 points per game, while sitting second on the team with 5.9 rebounds per game. Murray has a team-best 40 assists and 18 steals. As a team, UK is shooting 44.1 percent from the field, 38.7 percent from 3 and has a +10.2 rebounding margin this season.
 
Louisville enters Sunday's game with a perfect 12-0 record, earning three wins already over ranked opponents. The Cardinals have defeated No. 5 Ohio State, No. 24 Michigan and No. 10 Oregon. UofL has one win over a Southeastern Conference team already this season, taking down Vanderbilt, 79-57, on Dec. 7 in the KFC Yum! Center.
 
Most recently, Louisville defeated Tennessee State, 92-56, on Dec. 12 inside the KFC Yum! Center with seven different players scoring in double figures. The Cardinals shot 54.3 percent from the field, 47.1 percent from long range and outrebounded TSU, 52-31.
 
Junior guard Asia Durr is the leading scorer for the Cardinals this season averaging 17.8 points per game. Durr is hitting 44.8 percent of her shots, including 46.1 percent (35-of-17) from 3. Senior forward Myisha Hines-Allen is averaging 13.1 points per game with 9.3 rebounds per game, while sophomore guard Jazmine Jones is posting 9.8 points and 4.8 rebounds per game. Freshman guard Dana Evans has a team-best 52 assists this season to go along with a team-high 23 steals.
 
As a squad, the Cardinals are hitting 50.4 percent from the field, 40.0 percent from 3 and averaging 84.4 points per game, while opponents are scoring just 55.3 points per game. UofL has a +11.7 rebounding margin and a +5.8 turnover margin.
 
Kentucky owns a 34-19 all-time record against Louisville in women's basketball, including a 22-4 mark in games played in Lexington. This is the first time the two teams have met in Memorial Coliseum since UK posted a 74-54 victory over the Cards on Dec. 4, 2011. Louisville has not defeated Kentucky in Lexington since earning an 80-65 victory over the Wildcats on Dec. 20, 2007 in Rupp Arena. The Cardinals have not defeated Kentucky in Memorial Coliseum since a 68-67 victory over the Wildcats on Feb. 6, 1979. The Wildcats have won five of the last six meetings in the series.
 
Louisville earned its first win over Kentucky in six tries last season in the KFC Yum! Center, taking down the Wildcats 69-67 in overtime. Then-senior Makayla Epps had 22 points, 16 rebounds and six assists, while Murray had a career-high 21 points and Morris added 10 points.
Kentucky shot 42.1 percent from the floor in the game, but the Wildcats committed 19 turnovers and lost the battle of the boards 49-40.
 
For more information on the Kentucky women's basketball team, visit UKathletics.com or follow @KentuckyWBB on Twitter, Instagram and Snapchat, or Kentucky Women's Basketball on Facebook.
 
Parking
Spectator parking is located in all of the E-lots surrounding Memorial Coliseum, all lots are off control three hours prior to tip. Additionally, the South Limestone Garage (PS#5) and the Rose Street Garage (PS#2) are available two hours prior to tip.  See the shuttle map and route information diagram at this link for all available women's basketball spectator parking options.
The Lexington Parking Authority Transit Center Parking Garage, located between High Street and Vine Street is available for parking after 5 p.m. during the week and all day on the weekends.  Additionally, a free shuttle service will pick up by the Transit Center bus stop, near the corner of High Street and Martin Luther King beginning two hours prior to tip. UK Athletics Event Staff will be at the Transit Center Garage Entrance to assist with directing patrons to the correct shuttle pick-up location.
Parking is prohibited in any R (Residential) lots.  Vehicles parking in R lots without a proper permit, along yellow curbs, grass spaces, or other non-specified and unapproved areas may be subject to ticket and/or tow.
Disabled spectator parking is available with a valid, state issued disabled hang tag in the E-Lot (Employee Lot) North of the Craft Center.  These spaces are available on a first-come, first-served basis until full.
 Transit Center Parking Garage
UK women's basketball fans can avoid traffic and congestion around Memorial Coliseum and park for FREE at the Transit Center Garage – available after 5 p.m. on weekdays and all day for weekend games.
The Transit Center Parking Garage is accessible from Vine Street of High Street.
Push the green flashing button upon entry, take the yellow token and store it in a safe place. Park in the garage and find the UK Athletics event staff member at the entrance of the garage near Lexington Avenue for a free parking token to use after the game when you exit the garage. Staff will remain on site until 20 minutes after tip.
Please do not lose your token. If you lose your token, you will be charged an $8 fee for a lost token fee. If you lose your token, visit the pay on foot station located in the seventh floor elevator lobby of the garage and choose "lost token." You will be charged $8 and given a new token that can be used to exit the garage.
 Shuttles
Shuttles are available beginning two hours prior to tip and pick up and drop off near the South Limestone Garage (Parking Structure #5) (blue route) and near the Transit Center Parking Garage and High Street Lot (green route).
Shuttles will start back up after halftime to return guests to their parking areas, the shuttle will discontinue service one hour postgame.
A shuttle map with route information is available here.
 Game Day Information
Doors to Memorial Coliseum open 1.5 hours prior to tip.
UK Athletics encourages women's basketball fans to arrive early to ease traffic and parking congestion around the Coliseum.
For more information on parking around Memorial Coliseum and other game-day questions visit ukathleticsgameday.com.
 
Kentucky WBB News Conference
Memorial Coliseum – Lexington, Ky.
Friday, December 15, 2017
Matthew Mitchell
 
Opening Statement…
"Big game against Louisville on Sunday. It's always a difficult game and over the past 10 years has been a very tough game with very few exceptions. They're always tough because they're always very well coached and really good players, and that's the story this year. Really talented team, really well-coached and big challenge facing us on Sunday. We're working hard to get ready for it."
           
On if there was a common thread in the two losses looking back…
"Yeah, we were not mentally into those games at the level that we had to be on the road. We gave ourselves a chance to win in both games. Had a chance to win, but just made some errors that you could just point to. The five games in 11 days, very little practice time, three on the road finally took a toll on the team. So, we just made too many mistakes to win. The good news was everything that contributed to those two losses were situations that we felt like were more mental errors that we could correct. Nothing that we didn't feel like was correctable. So, that now puts you a in a position where you're trying to get that corrected. It's been a tough week for the players trying to get through final exams, but now we're through that and I think can really devote our attention to getting better and trying to sharpen up some of those errors that we're making defensively. The ball's getting driven to the basket too much. Florida Gulf Coast just made too many layups and then transition defense was a bugaboo in the Miami game. So, all those things, you get back in practice and looking forward now to trying to get some of those sharpened up and corrected."
 
On whether Jaida Roper will be available in Sunday's game…
"Yeah, she had a great week of practice. Doing a good job."
           
On what you do to stop Asia Durr…
"Yeah, she's just a very explosive player and very explosive scorer. You just try your very best to play as a team and try to, you know, make everybody aware while not just being totally consumed with one player. Last year in the game she had a really good game, but (Myisha) Hines-Allen was just a fantastic player. Really got 22 touches and 26 points and had a really monster game there. So, they are not a one player band there. They have a lot of good players. With Durr, you're just trying to make it as tough as possible, make her earn as many points as possible and try to make her as uncomfortable as you can. There's not a lot of situations where she looks uncomfortable. She's an extremely explosive scorer."
 
On whether the success of both Louisville and Kentucky over the last few years has changed the rivalry…
"I don't know that it has. You know, I don't know. I can tell you getting prepared for them every year has definitely made me a better coach and stretched me. You really have to work hard to prepare for Louisville. They just are well-coached. So, I think over the years, for one week a year, just having to study them and try to get ready for them has definitely helped me improve as a coach. I think when you talk about any of the sports on campus and on their campus it's always a game that means a lot to the players and to the fans. You know, last year was a really tough game. You could tell both teams wanted to win competing. So, that's what it's been almost without exception over the last 10 years. You know, we have a healthy respect for them."
 
On the team's enthusiasm and hustle …
"Yeah, I think that what has been so good through 11 games is when that is present we have done some good stuff and when it's been absent you have had to pay for it. The Baylor game that we lost, I thought that the team gave good effort but we just weren't quite ready for that game. This past weekend, there were definitely inconsistencies in that. You saw a really good Florida Gulf Coast team fired up. They hadn't played in a week and were ready to go. They had a lot of good hustle, effort and energy locked in. The same thing with Miami, really outhustled us in the second half. It is good for the team to know and our young players right now with the travel and the final exams on them you get to a spot where you have a little bit of cognitive overload and they have to get to a spot where you can simplify it for them and you can see those hustle plays come through because when you are thinking about every next step that slows you down. I still stand by that statement and think we are going to have to be a team that successful through hustle and being precise on the simple things that we do and giving our very best and our all when we do that and we can be a dangerous team. Still working on that and trying to get to that spot and believe that we will."
 
On having a go-to player late in a game like he had last year in Makayla Epps …
"Well, let's talk about Makayla now that you have mentioned her. I just left Rupp Arena and saw her graduate and again she is going to have her number retired tomorrow night at Marion County. I am so proud of Makayla Epps. She came back this semester instead of going overseas and playing basketball. She came back and finished her degree and I thought that saw tremendous discipline on her part and did well with her classes. So we are so happy that she graduated and excited for her future. I definitely think that Maci Morris is a player ever since I started watching her that is very comfortable with the ball in her hands late. Taylor Murray is a tremendous weapon for us late in ball games and is a junior now. She has had the ball in her hands late in games before. Those two players have the ability to handle the ball, make a 3, get to the basket, make free throws. So we are really comfortable for those two."
 
On if it falls on veteran players to teach the younger players how to handle tough road trips …
"Listen, we have to do a great job of teaching every day. It is like working with the post players right now. They are still in the process of trying to learn how to function in a game in a stance, staying low and protecting the ball. All of the little things that didn't matter 12 months ago, are now of vital importance in a game. So you do have to be sharp every day. You have to teach every day and go in with the idea that you are going to improve every single day and once you stack those on top of each other it clicks one day and you get going. The things that they do well now are valuable to us and the things that they need to do are going to be valuable at the end. So you have to have tremendous discipline and patience to make sure you can bring that out of the players."
 
On if the team's 3-point shooting early and if he expects it to continue …
"I think we have really good 3-point shooters. If you look at it over the course of 11 games, I don't think we have had a couple good games, I think we are a good 3-point shooting team. I think that will be something that will be good for the team."