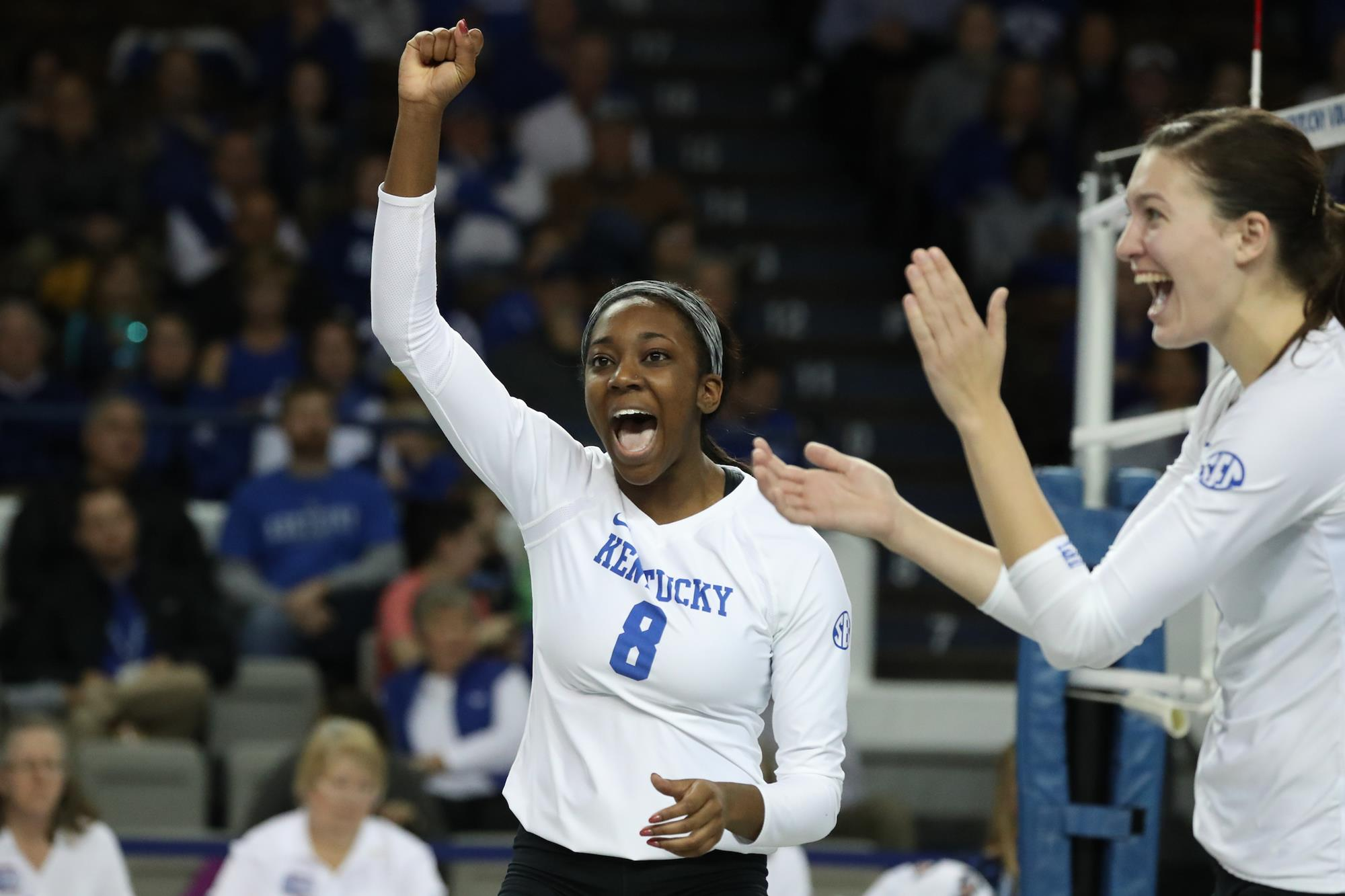 August 25, 2017 - 01:37 PM
Seniors Lead UK Volleyball to Season-Opening Win
The 2017 Kentucky volleyball team is loaded with experience, and three of the team's seniors led the way in Friday's season-opening win over Arkansas State.
Kaz Brown, Emily Franklin and Darian Mack each hit over .500 in the match, as Kentucky won 25-23, 25-15, 25-19 in the season-opening Bluegrass Battle at Memorial Coliseum. The three seniors combined for 23 kills and just one error in Friday morning's match, something that Mack attributes to the team's hard work in the preseason.
"All of the training that we've done in the preseason, finally being able to put it into a real match was big," Mack said. "The excitement of the first game, and my last first home game. I think all of that combined came together."
Franklin had nine kills and just one error in 12 swings (.667 hitting percentage), while adding three digs, a block and an assist. Mack had eight kills and no errors in 13 attacks (.615), while adding five total blocks. Brown was also outstanding, with six kills and no errors on 11 attacks (.545) while adding eight block assists in the match.
Kentucky head coach Craig Skinner liked how his seniors set the pace for the rest of the team.
"It's a great senior group, they're quality leaders and are physically talented on the volleyball court," Skinner said. "They did a great job of stabilizing us as we went through the three sets."
Mack knows that the team's senior leadership will be important throughout the season.
"Our leadership and our experience really carries throughout the team," Mack said. "Hopefully, we will see that continue all season."
As a team, Kentucky hit .307 for the match, including a sizzling .417 in the first set. That first set was very competitive, but Kentucky exerted its dominance in sets two and three. Skinner thought his team adjusted well to the Arkansas State attack.
"We did a really good job defensively in the second and third sets," Skinner said. "We weren't (blocking well) early because it was so fast, but we caught up to it. Against a fast offense, you really have to have still hands to get blocks against a team like that. We adjusted well."
Mack agreed with her head coach. 
"Their offense was really new to us at first," Mack said. "But after we got comfortable and seeing the ball off the hands and seeing how they swing, we finally got it down."
Kentucky returns to action on Friday night against No. 23 Utah at 9 p.m. inside Memorial Coliseum.