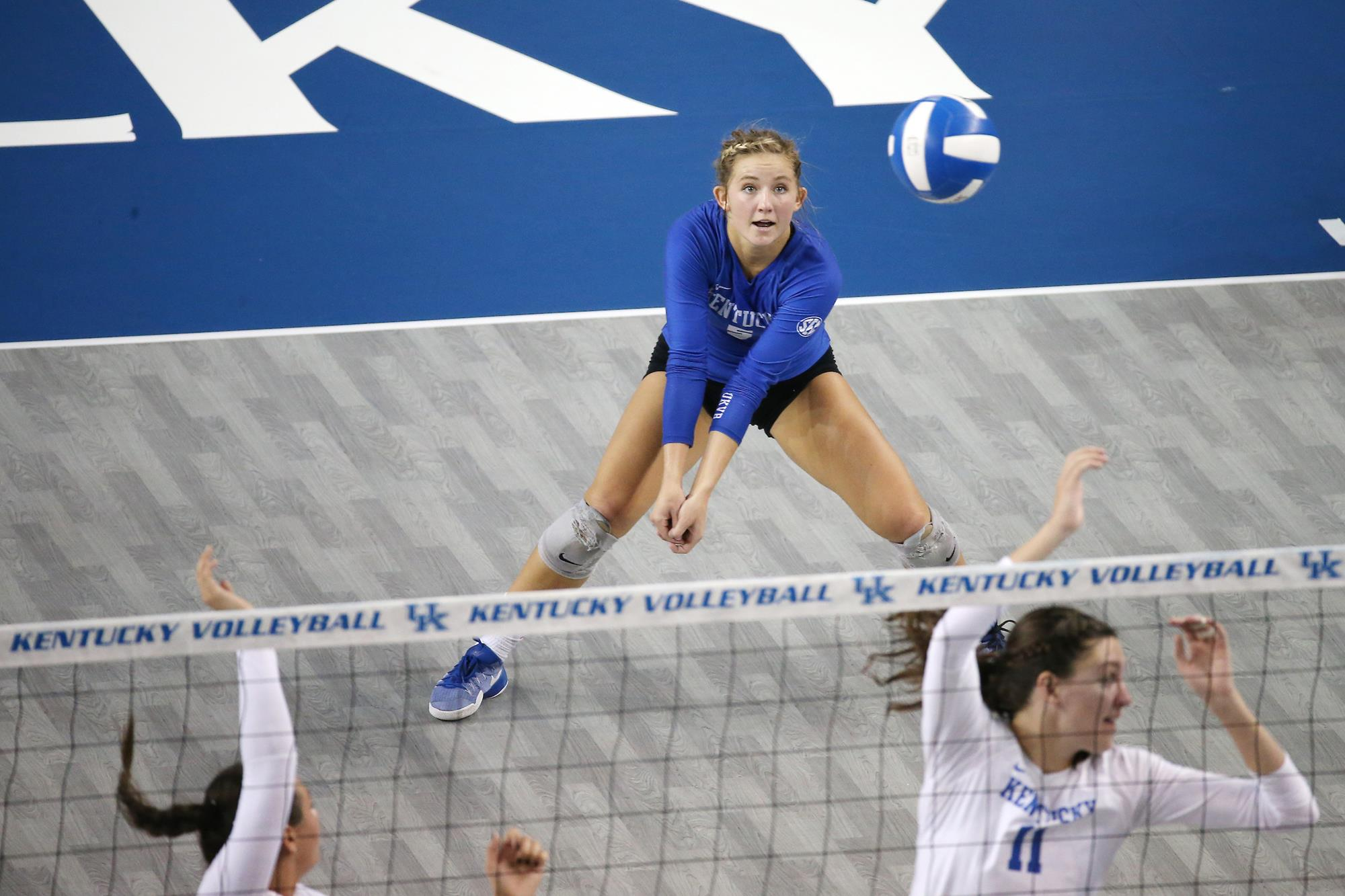 August 23, 2017 - 11:42 AM
UK Volleyball's Dusek Impacts Program On and Off Court
Ashley Dusek has had a huge impact on the Kentucky volleyball program during her three-year career. But what might be surprising to some is that Dusek's impact off the court is even greater than her significant impact on the court.
That's saying a great deal, because Dusek will go down as one of the most accomplished players in UK's history. She was named the SEC Libero of the Year as both a sophomore and a junior after her stellar defensive efforts. (Only one player in league history, former UK All-American Stephanie Klefot, has won the award on three occasions.)
Dusek, a 5-7 senior from East Bernard, Texas, has been All-SEC twice, has been named to the AVCA All-Southeastern Region in back-to-back seasons and has been AVCA All-American Honorable Mention. She has amassed 1,169 digs in three seasons, which ranks seventh in UK volleyball history and fourth in the same category during the 25-point rally scoring era. Her 566 digs in 2015 ranks as the third-highest total in any season in UK history. And the records go on and on.
When asked if Dusek belongs in the conversation pertaining to the greatest libero not only in UK history, but in league history, Kentucky head coach Craig Skinner did not hesitate.
"She's absolutely in that conversation," Skinner said. "Back-to-back Libero of the Year in her sophomore and junior years, being selected to be on the collegiate national team to travel to Thailand. She's respected nationally. Stephanie Klefot was the only three-time Libero of the Year in the history of the league. Ashley has produced equally as well as Stephanie. Knowing (Ashley), I would expect her to produce in a similar way her senior year."
While that is an extremely impressive resume, it's not the first thing that her teammates mention when asked about Dusek.
One of Dusek's fellow seniors, Harper Hempel, remembers how Dusek initially welcomed her into the program.
"When I came here and didn't know any of the girls, she was always really nice to me," Hempel said of Dusek. "She would come in and get extra reps with me and help me out." 
The friendship between Hempel and Dusek has continued to grow over the years. "She's very selfless. She's a very fun person to be around. We've been best friends ever since."
Freshman Gabby Curry has had the chance to get to know Dusek since arriving on campus in the spring.
"I obviously knew she was amazing, but Ashley Dusek is a truly amazing person," said freshman Gabby Curry. "Being behind her (at the same position) was incredible, just watching and learning."
Fellow freshman Avery Skinner, who is also from Texas and has known Dusek for about five years, concurs with Curry.
"I've always looked up to her," Skinner said of Dusek. "She's been super-helpful getting me (settled in at UK) and telling me things I need to know. That was a big part in making my decision, having someone from home, knowing she loved it here."
This season, Dusek will face a new challenge after injuring her knee in spring practice. But in typical Dusek fashion, her rehab is going better than expected.
"She's ahead of schedule in her recovery," coach Skinner said. "She's working really hard in practice and doing all of the things she's able to do. She's doing a lot more things than I thought she would be able to do at this point. I think each day will add a level of confidence and a level of mental stability that she will be able to do all of the things she always has been."
Dusek was also optimistic about her recovery.
"It's going well," she said. "I've gotten great responses from doctors. It's great."
And while she hasn't been able to take part in all of preseason practices, Dusek has participated in other ways.
"Her presence is known in practice even though she's not between the lines on every drill," coach Skinner said. "She's one of those players who can pull aside a player and give them information about the nuances of the game and reading the game at a very elite level. I'm seeing her talk to people individually and talking to the team as plays develop. It's allowed her to grow as a verbal leader because she has not been a verbal leader in terms of giving information, but she's coming out of her shell now."
Dusek hopes to return to the court early in the season to begin adding to her considerable volleyball legacy. But when asked how she hopes to be remembered, Dusek didn't focus on her athletic accomplishments.
"What I would want to be remembered for is how I go about things," Dusek said. "Not necessarily about my skills, but how I am as a person. I want people to talk people about how personable I am and how I can be there for other people, I really like to do that. My skill would come with it, but being a good person."
Making an impact both on and off the court will be a part of Dusek's legacy at UK. Her contributions to the program, and to her teammates, won't soon be forgotten.