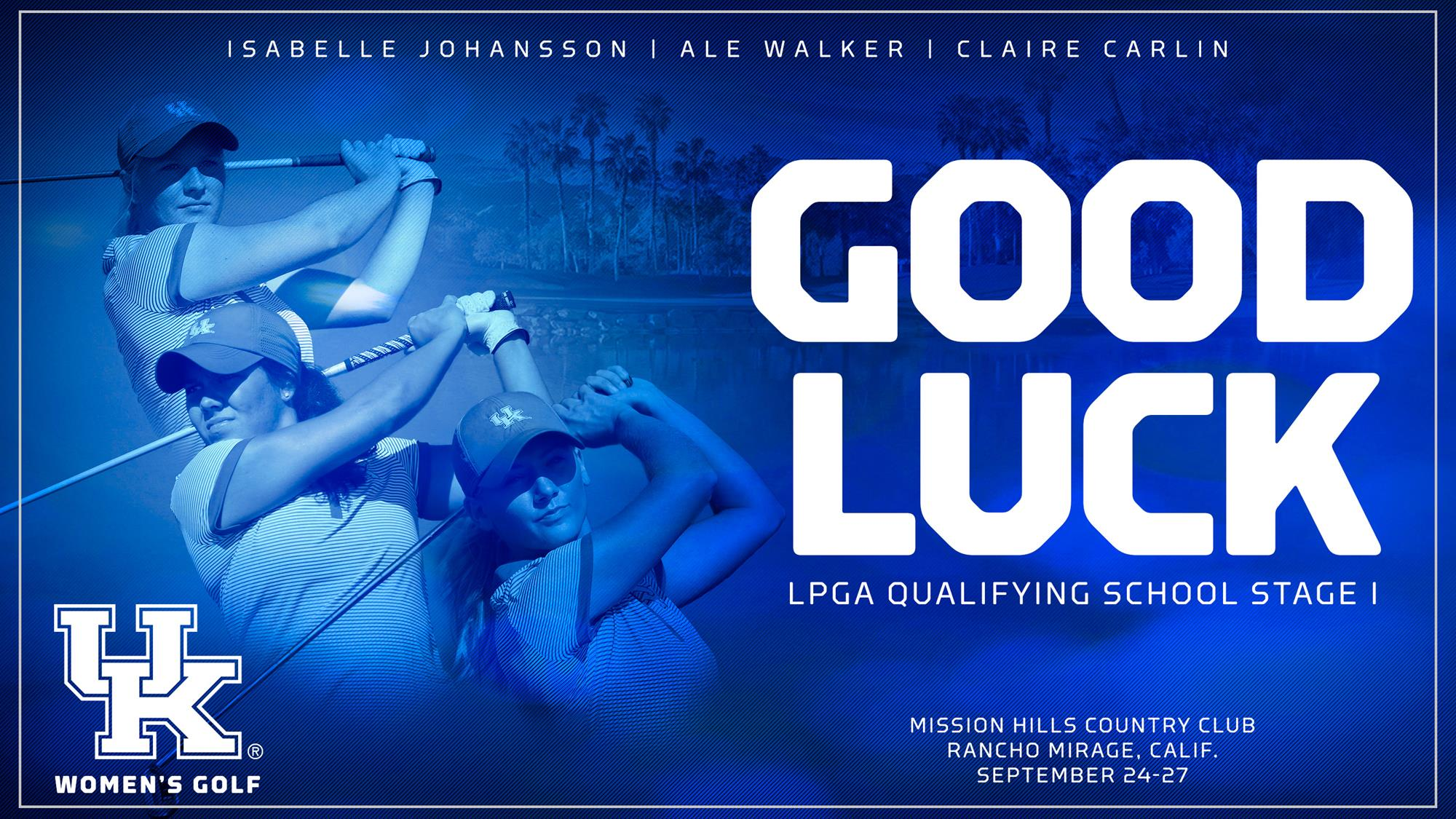 August 23, 2017 - 05:19 PM
Three UK Women's Golfers in LPGA Qualifying School This Week
RANCHO MIRAGE, Calif. – Class is in session in more ways than one for a trio of Kentucky women's golfers this week.
 
As the fall semester begins on UK's campus, Claire Carlin, Isabelle Johansson and Ale Walker will be in Rancho Mirage, California, this week for stage one of LPGA Qualifying School. The trio of Wildcats are a part of a 362-player field competing to make the second stage of Q-School.
 
Stage one will be Thursday through Sunday at the Mission Hills Country Club in Rancho Mirage. Players will compete in a 72-hole competition with the top 90 players and ties advancing to stage two after 72 holes. A cut will be made after 54 holes and only the top 125 players and ties will advance to Sunday's final round. Status for the Symetra Tour, the official development tour for the LPGA Tour, is available for those players who make the 54-hole cut.
 
The ultimate goal for the weekend, however, is to advance on to stage two of Q-School, which will take place at Plantation Golf & Country Club in Venice, Florida, the week of Oct. 16-22. From there, players will try to make it to the final stage of Q-School, which will be Nov. 27-Dec. 3 at LPGA International in Daytona Beach, Florida. The top 20 finishers of the final stage will earn LPGA Tour membership.
 
Play will begin Thursday at approximately 10 a.m. ET on all four days of competition. Players will rotate through the three courses (Dinah Shore, Arnold Palmer and Gary Player) at Mission Hills Country Club for the first three rounds with the final round set to take place on the Dinah Shore course.
 
Regardless of what happens this week, the Q-School appearance will present both a warm-up for the 2017-18 season – which is quickly approaching on the horizon – and, perhaps, a prelude to life after UK women's golf for the upperclassmen. Johansson and Walker are entering their final seasons at UK while Carlin is in her junior season.
 
All three are expected to be important pieces on a team that not only expects to advance to NCAA regionals for the seventh time in the eight-year Golda Borst era but advance to the NCAA Championships for the first time since 1992 as well.
 
With Carlin, Johansson and Walker included, UK will return all but two of its players from the 2016-17 squad that qualified for NCAA regionals, broke individual and team records, and won two individual titles.
 
Johansson will likely go down as one of the most decorated golfers in Kentucky women's golf history as she enters her senior season. Already the owner of four top-10 tournament finishes in her career, including a victory at the Minnesota Invitational last year, Johansson set the 18-hole school record with a 64 at the 2017 UCF Challenge and finished the 2016-17 season with the best scoring average in school history.
 
Walker has played in 23 events in her Kentucky career with three top-20 tournament finishes. After missing all of 2015-16 with injuries, she returned last year to play in five events with a top-10 finish in the stroke-play portion of the East & West Match Play Challenge.
 
Carlin earned her way into the lineup in the spring and played in four events, including an appearance at the NCAA regional in Columbus, Ohio. She also shot a career-low 69 at the Clover Cup in Mesa, Arizona.
 
The Wildcats are less than a month away from teeing off their 2017-18 season. They begin play Sept. 18 at the Mercedes-Benz Championship in Knoxville, Tennessee.
 
For the latest on the Kentucky women's golf team, follow the team on Twitter, Facebook, Instagram and Snapchat, as well as on the web at UKathletics.com.