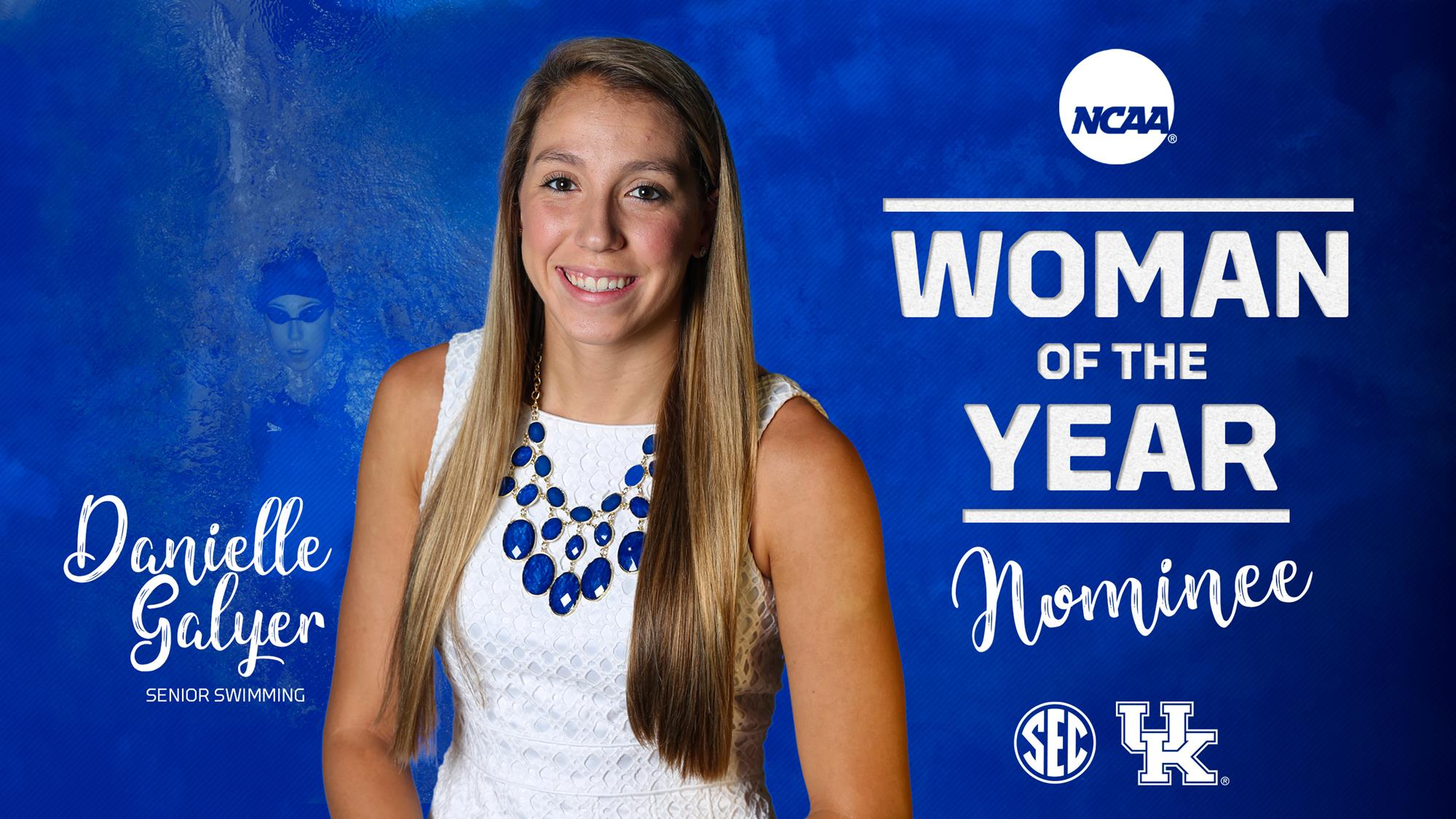 August 2, 2017 - 09:46 AM
Danielle Galyer Named SEC's NCAA Woman of the Year Nominee
BIRMINGHAM, Ala. – Former Kentucky swimmer Danielle Galyer has been named one of the Southeastern Conference nominees for the 2017 NCAA Woman of the Year, the league office announced Monday.
From the initial 543 nominees, Galyer was chosen along with former Georgia swimmer Chantal Van Landeghem to represent the SEC.
"This is the highest award one can receive and no one is more deserving than Danielle," said Kentucky head coach Lars Jorgensen. "The impact she left on our program and on this university is truly immeasurable."
The NCAA Woman of the Year award honors graduating female college athletes who have distinguished themselves throughout their collegiate careers in academics, athletics, service and leadership.
Galyer, a four-year standout from the women's swimming and diving program, became Kentucky's first swimmer to win a national championship when she took the 200-yard backstroke crown at the 2016 NCAA Championships. A four-time First Team All-American, three-year All-Southeastern Conference selection and two-year member of the USA National Team, she finished fifth overall in the 200-meter backstroke at the 2016 US Olympic Trials.
Double majoring in psychology and political science, Galyer maintained a flawless 4.0 grade-point average in her time as a student-athlete. The Greenville, S.C., native was selected Southeastern Conference Scholar-Athlete of the Year for both her sophomore and junior campaigns and was awarded the NCAA Elite 90 Award in 2016 and 2017. Galyer also served as Kentucky's SAAC president for two years and was a member of the SEC Community Service Team in 2016. 
Next, the Woman of the Year selection committee, made up of representatives from the NCAA membership, will then choose the top 30 honorees — 10 from each division.
From the top 30, the selection committee determines the top three honorees from each division and announces the nine finalists in September. The NCAA Committee on Women's Athletics then chooses the 2017 NCAA Woman of the Year from those nine.
The top 30 honorees will be recognized and the 2017 NCAA Woman of the Year will be announced at the annual award ceremony Oct. 22 in Indianapolis.