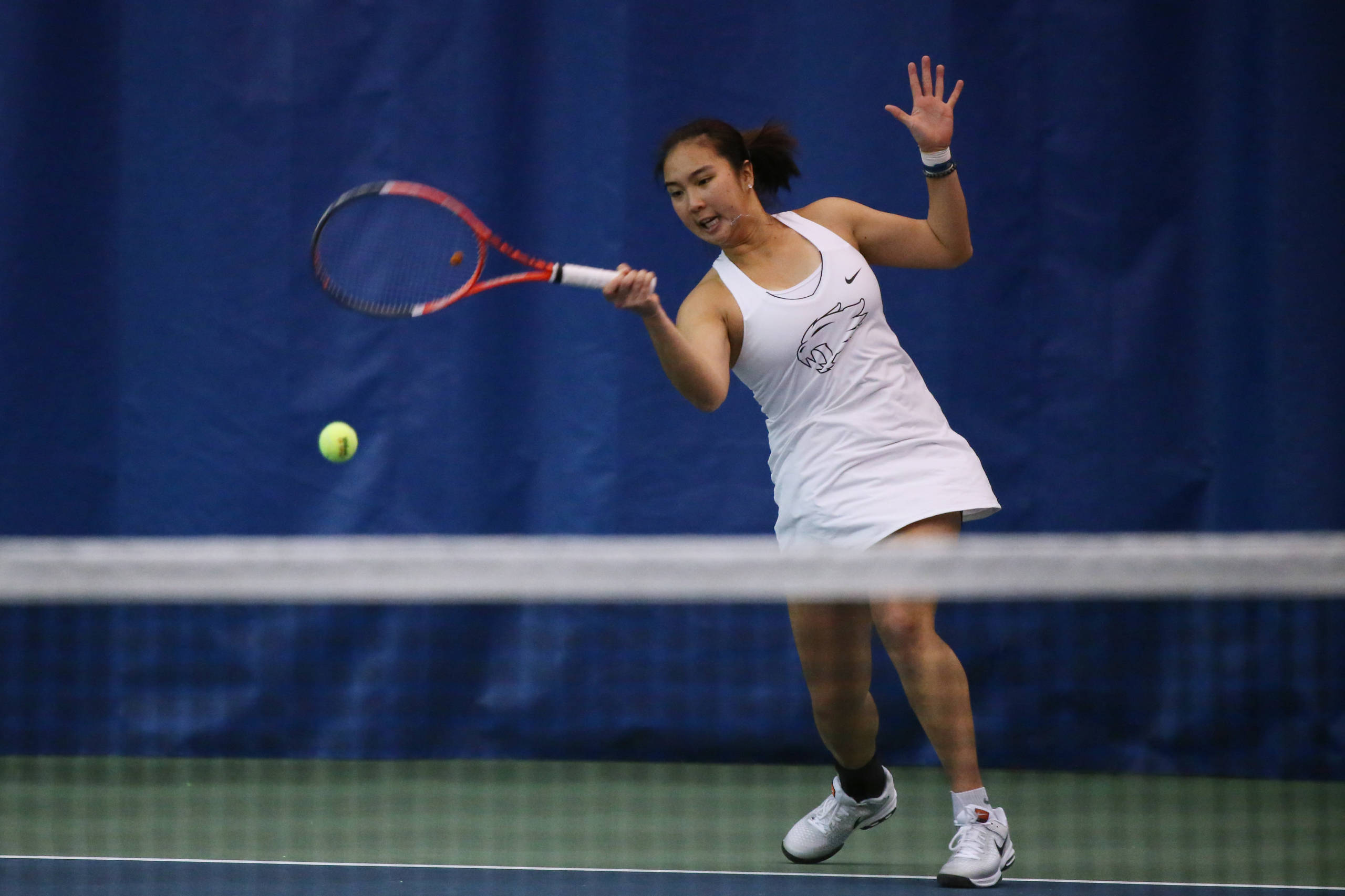 February 26, 2017 - 03:30 PM
Kentucky Extends Win Streak to Five, Blanks Princeton 4-0
LEXINGTON, Ky. – The Kentucky women's tennis team earned its fifth straight win on Sunday afternoon, defeating Princeton 4-0 inside the Boone Tennis Center. The Wildcats improve to 8-1 this spring season, including a spotless record at home, while the Tigers fall to 5-5.
"It was a great performance from us," said assistant coach Federico Sabogal. "I think this was by far the best match we have had this spring. We competed very well in doubles and carried that energy into singles. Our one-through-six were extremely energetic, pumped up and they did exactly what we're asking them to do.  Princeton is a good team and well coached. Especially in the bottom of the lineup, they are strong. Our girls competed well and put ourselves in the position to win the match. It's great it happened right before we start SEC play."
Kentucky jumped out in front quickly, dropping just three games in doubles. The No. 5 duo of senior Aldila Sutjiadi and junior Mami Adachi breezed past Nicole Kalhorn and Katrine Steffensen, 6-0, for the first doubles win of the day. Sophomore Justina Mikulskyte and junior Emily Fanning clinched the doubles point with a 6-1 victory over Clare Mckee and Tiffany Chen. 
In singles, Adachi was the first to win taking down Sivan Krems, 6-1, 6-3. Shortly after, sophomore Akvile Paražinskaite put UK up 3-0, taking down Chen in straight sets. To win the match for the Wildcats, 13th-ranked Sutjuadi beat Steffensen, 7-5, 6-3 at the No. 1 singles spot.
Fanning was locked in a battle at 6-2, 4-6, 4-2 when play was halted. Mikulskyte and Chumney had also started when the match was in hand. Mikulskyte was down 3-4, and Chumney was up 5-1. 
"Emily was great, she had a really good first set," Sabogal added. "She competed well. In the second set, she was a little more tentative and the other girl was playing well. In the third set, she rebounded again and started doing what was working for her. She was leading 4-2 and I think she was going to get that match."
Kentucky will be back in action next Friday, March 3 when UK travels to Athens, Georgia to begin the Southeastern Conference season against the Georgia Bulldogs.  First serve is set for 3 p.m. 
Agate
#43 Kentucky 4, Princeton 0
Boone Tennis Center – Lexington, Ky.
Feb. 26, 2017
Doubles (Order of Finish: 1-3)
1 – #5 Aldila Sutjiadi/Mami Adachi (UK) def. Kalhorn/Steffensen (PRIN), 6-0
2. Paražinskaite/ Chumney (UK) vs. Krems /Pollner (PRIN), 3-2, unfinished
3. Mikulskyte/Fanning (UK) def. McKee/Chen (PRIN), 6-1
Singles (Order of Finish: 3-2-1)
1 – #13 Sutjiadi (UK) def. Steffensen (PRIN), 7-5, 6-3
2 – Paražinskaite (UK) def. Chen (PRIN), 6-2, 6-2
3 – Adachi (UK) def. Krems (PRIN), 6-1, 6-3
4 – Fanning (UK) vs. Kalhorn (PRIN), 6-2, 4-6, 4-2, unfinished
5 – Mikulskyte (UK) vs. McKee (PRIN), 3-4, unfinished
6 – Chumney (UK) vs. Pollner (PRIN), 5-1, unfinished