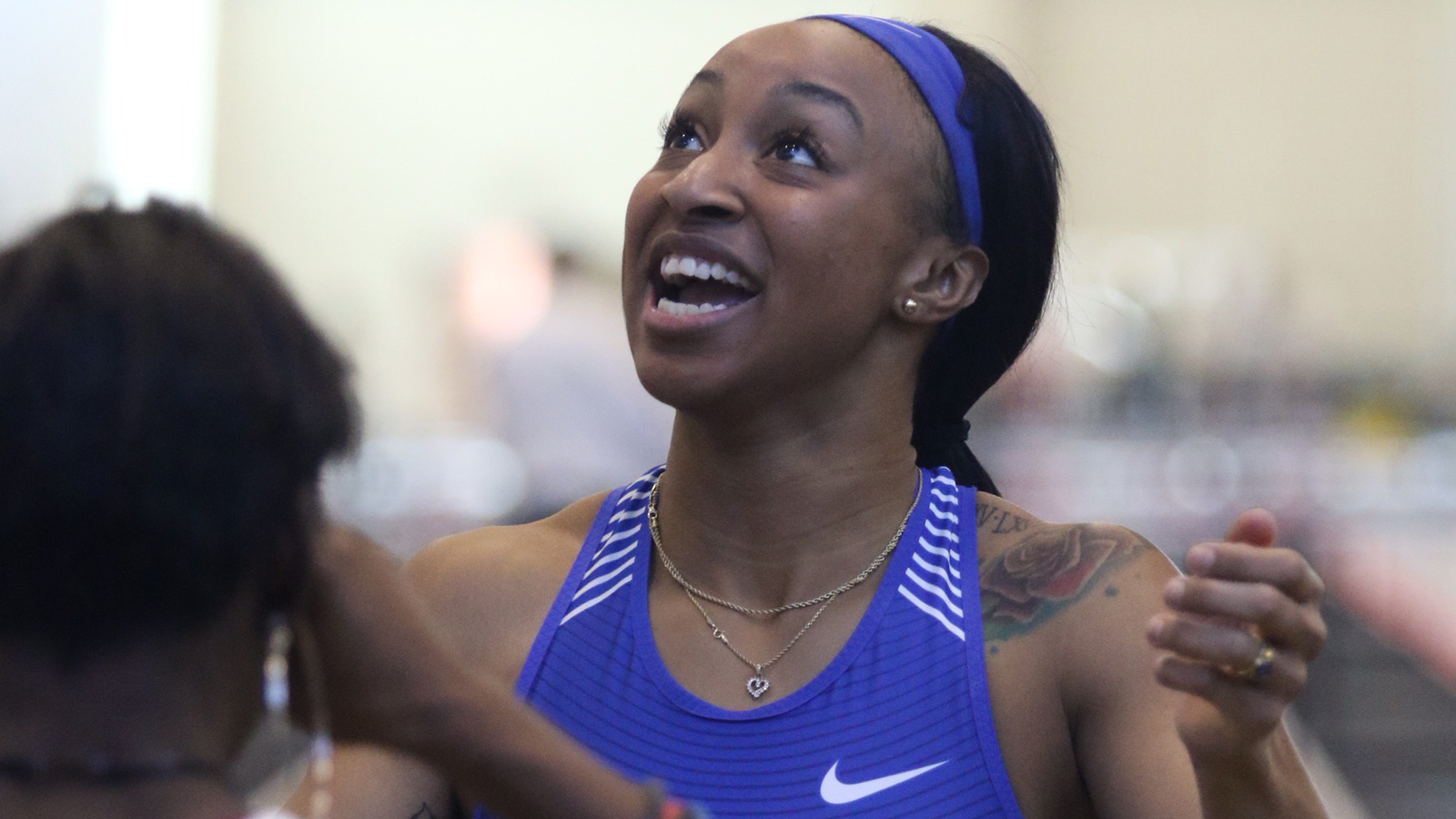 February 25, 2017 - 11:52 PM
Camacho-Quinn Wins Hurdles Gold, Leads UKTF to Third at SEC Indoor
Photo Gallery
| 
Results
|
Individual Scores
NASHVILLE, Tenn. – The Kentucky women's track and field team tied the school record for team finish at the Southeastern Conference Indoor Championships – third overall with 71 points – this weekend. 
Kentucky's Jasmine Camacho-Quinn once again displayed her tantalizing potential, scoring 19 points, highlighted by a 60-meter hurdles win that solidified her standing as the SEC's premier short hurdler both indoors and out.
The UK women's program finished third at the SEC indoor meet for the first time since 1989, its only other top-three finish at indoor SECs.
Arkansas won the women's title with 106.5 points, while LSU was second with 94. With 72 points. Kentucky finished eight points in front of Georgia's 64, while Ole Miss was fifth with 61.5.
The UK men's team improved by 12 points and four spots from a year ago in placing seventh with 44 points. Arkansas edged Alabama 98-93 for the men's team title.
"I'm happy to come out with the win in the indoor hurdles," Camacho-Quinn said. "It's kind of a validation of the work we've been putting in because last year, my freshman year indoors, didn't go as well as I had hoped, but it provided me motivation and I started to put it together outdoors. So I'm glad to have reached this goal and most importantly to have helped our team finish third."
Camacho-Quinn needed a .01-second PR of 8.02 to outclass a top-notch field, which featured defending SEC Champion Mikiah Briscoe (LSU) to take ownership of the SEC indoor 60m hurdles crown to go along with the outdoor 100m hurdles title she won last May.
Looking back now, last year's SEC indoor meet now appears a blip on the map of Kentucky's tightening grip on SEC women's hurdles game. Kendra Harrison won the SEC Indoor 60m hurdles and 100m hurdles titles in 2014 and 2015, and now Camacho-Quinn is reigning conference gold medalist in the 60m hurdles and 100m hurdles.
Camacho-Quin set the tone on Championship Saturday by winning the hurdles – the first running event of the day. She came back later in the day and scored eight points out of the outside lane in the 200m with a Silver-Medal time of 23.31.
She also earned a one-point share of Kentucky's four in the 4x400m relay dropping a 52.9 split on the second leg of UK's 3:36.25 performance for fifth place. Only Missouri's Karissa Schweizer (20 points) scored more individually than Camacho-Quinn.
But while Camacho-Quinn's 19 points in the sprints in a conference known for its high-end depth in those events were formidable, they made up but a small fraction of the 72 UK needed to take third.
Sha'Keela Saunders finished her last SEC indoor meet with her coveted second conference long jump gold in addition to two points in the triple jump and a point for running leadoff on the 4x400m relay.
Javianne Oliver ran a 60m dash time of 7.22 to place second to LSU's Hobbs (7.18).
Katy Kunc scored nine points for the meet as she added three points via a sixth-place (16:19.66) finish in Saturday's 5k, to go along with her four points from a fifth place in the 3k on Friday.
Destiny Carter scored a total of 5.5 points this weekend, having finished tied-sixth in the 200m with a time of 23.51 to score 2.5 to go along with the two she earned from Friday's seventh-place long jump, and the one she earned on the third leg of UK's fifth-place, 3:36.25 mile relay. Freshman Faith Ross ran anchor on that relay.
Marie-Josee Ebwea-Bile placed sixth in the triple jump to score three points with a mark of 43'11.25"/13.39m. 
Michelle McKinney, Jill Weston, Jacklyn Howell and Caroline McCaslin scored four points with a fifth-place distance medley relay time of 11:18.84.
Men's team recap
Nick Anderson won his first SEC indoor medal, and the second SEC hurdles medal of his career (2016 110H) with a new PR of 7.74 for bronze in the 60m hurdles.
In terms of raw points, Tim Duckworth carried the banner for the Wildcats men's team this weekend though. He scored 10 points with a pair of fourth-place finishes – in the long jump and high jump – on Friday before scoring another three with a sixth-place in the pole vault on Friday. His clearance at 17'0.25"/5.20m was a new PR and made him the No. 2 performer in the event in school history.
Kendall Muhammad, long-jump seventh-placer Fred Dorsey, Ian Jones and Ben Young ran 9:40.63 to place fourth in the DMR with a five-point earning time of 9:40.63.
Jacob Thomson earned four points in Saturday's 5k with a fifth-place time of 14:11.91, to go along with the three he earned in the 3k on Friday.
Nikolas Huffman placed sixth with a shot-put mark of 60'5.25"/18.42m to earn three points.
Friday notables
Saunders and Olivia Gruver earned medals – Saunders gold, Gruver bronze to headline Friday.
Friday Men's team scorers
Duckworth – currently ranked No. 2 in the NCAA in the heptathlon – elected to enter three individual events instead this weekend and that decision paid a strong initial dividend on Friday.
By generous accounting, he totaled a combined 10 points by placing fourth in both the high jump and long jump. Xaivier McAllister tied Duckworth for fourth in the high jump as they cleared 7'0.25"/2.14m.
Dorsey was seventh in the long jump having reached a mark of 25'2.5"/7.68m scoring two points, to go along with Duckworth's five, from a mark of 25'7.25"/7.80m
Both David Cline and Logan Bryer set new PR's in the weight throw to score points, with each making the final from the first flight. Cline broke Andy Fryman's school record with a mark of 67'8.75"/20.64m to place sixth and score three points. Bryer placed eight with a mark of 66'8"/20.32m.
Thomson finished sixth in the 3k scoring three points with a time of 8:07.19.
Friday Women's team scorers
Kunc ran a PR 9:25.54 to score five points by finishing fourth in the women's 3k. That time made her the No. 8 performer in UK history.
Carter reached an indoor PR mark 20'10"/6.35m to place seventh in the long jump and score two points. 
Where to find coverage
The SEC Indoor Championships will also air as part of a two-hour show on ESPN on Sunday at 8 p.m. ET. The broadcast talent includes Dwight Stones, Larry Rawson, Jill Montgomery and John Anderson. 
SECITF Precedent
The Kentucky women's team was sixth (48 points) last season and the men's team was 11th (32 points) at the SEC Indoor Championships. 
Kentucky's best-ever SEC indoor women's finish was third with 92 points in 1989. The UK men's team's best SEC indoor finish was second in 1960.
Meet Notes
Women's Finish – Third, 72 points, tied School Record finish (1989)

UK was fourth in 2014 and 2015, sixth last year

Men's Finish – Seventh, 44 points (+12 points from 2016)

(were 11th last year, 12th in 2015, 5th in 2014),
Saturday Champion
• 60m hurdles – Jasmine Camacho-Quinn
 PR, T-No. 5 in the NCAA right now, No. 2 UK all-time (performer not performance), 8.02, 10 points
Kentucky's third SEC 60H Champion in last four years (Kendra Harrison – 2014, 2015)
Saturday Medals
Men's
• 60m hurdles – Nick Anderson — Bronze
o PR, T-7th in NCAA, T-No. 2 performer in school history, 7.74, 6 points
Women's
• 60m – Javianne Oliver – Silver
o 7.22, 8 points
• 200m – Jasmine Camacho-Quinn – Silver
o 23.31, 8 points
Saturday Scorers
Men's
• Shot Put – Nik Huffman 
o Sixth place, 60'5.25"/18.42m, 3 points
• Pole Vault – Tim Duckworth
o Sixth place, 17'0.25"/5.20m, 3 points 
PR, No. 2 performer in school history
• 5k – Jacob Thomson
o Fifth place, 14:11.91, 4 points
• DMR (Muhammad, Dorsey, Jones, Young)
o Fourth place, 9:40.63, 5 points
Women's
• 5k – Katy Kunc
o Sixth place, 16:19.66, 3 points
• 200m – Destiny Carter
o T-sixth, 23.51, 2.5 points
• Triple Jump – Sha'Keela Saunders
o Seventh place, 43'8.5"/13.32m, 2 points
• Triple Jump – Marie-Josee Ebwea-Bile
o Sixth place, 43'11.25"/13.39m, 3 points
• 4X400M Relay (Saunders, Camacho-Quinn, Carter, Ross)
o Fifth, 3:36.25. 4 Points
DMR (McKinney, Weston, Howell, McCaslin)
o Fifth place, 11:18.84, 4 Points
Friday Champion
• Long Jump – Sha'Keela Saunders
o No. 6 collegiate indoor jump all-time, NCAA-leader – 22'4.5"/6.82m, 10 points
Friday Medal
• Pole Vault – Olivia Gruver, Bronze Medal
o UK record, No. 3 in NCAA right now – 14'8.75"/20.64m – Six points
Friday Scorers
Men's
• High Jump – Tied fourth place, Tim Duckworth and Xaivier McAllister
o 7'0.25"/2.14m – 5+4= Combined nine points
• Long Jump – Fred Dorsey: seventh place
o 25'2.5"/7.68m – two points
• Long Jump – Tim Duckworth: fourth place
o 25'7.25"/7.80m – five points
• Weight Throw – Logan Bryer: Eighth place
o PR 66'8"/20.32m – one point
• Weight Throw – David Cline. Sixth place
o School record: 67'8.75"/20.64m – Three points
• 3k – Jacob Thomson, sixth place 
o 8:07.19 – Three points
Women's

• Long Jump – Destiny Carter, Seventh place
o Indoor UK best: 20'10"/6.35m – two points
• 3k – Katy Kunc, Fourth place
o PR, No. 8 in school history, 9:25.54 – five points
Friday Champion
• Long Jump – Sha'Keela Saunders
o No. 6 collegiate indoor jump all-time, NCAA-leader – 22'4.5"/6.82m, 10 points
Friday Medal
• Pole Vault – Olivia Gruver, Bronze Medal
o UK record, No. 3 in NCAA right now – 14'8.75"/20.64m – Six points
Friday Scorers
Men's
• High Jump – Tied fourth place, Tim Duckworth and Xaivier McAllister
o 7'0.25"/2.14m – 5+4= Combined nine points
• Long Jump – Fred Dorsey: seventh place
o 25'2.5"/7.68m – two points
• Long Jump – Tim Duckworth: fourth place
o 25'7.25"/7.80m – five points
• Weight Throw – Logan Bryer: Eighth place
o PR 66'8"/20.32m – one point
• Weight Throw – David Cline. Sixth place
o School record: 67'8.75"/20.64m – Three points
• 3k – Jacob Thomson, sixth place 
o 8:07.19 – Three points
Women's
• Long Jump – Destiny Carter, Seventh place
o Indoor UK best: 20'10"/6.35m – two points
• 3k – Katy Kunc, Fourth place
o PR, No. 8 in school history, 9:25.54 – five points
UK Results – Sat,
February 25th

Event

UK entries

Men's
Heptathlon 60mH

12. Cameron Short: 8.58 (841 points)

Men's
Heptathlon Pole Vault

15. Short:
13'1.5"/4.00m

Women's
High Jump Final

T-4. Ellen
Ekholm: 5'8.5"/1.74m (4.5 points)

Women's
Weight Throw Final

10. Brandi Walker: 64'6"/19.66m
25. Nicole Fautsch: 50'3.5"/15.33m

Women's
Triple Jump Final

6. Marie-Josee Ebwea-Bile: 43'11.25"/13.39m
(3 points)

7. Sha'Keela Saunders: 43'8.5"/13.32m (2
points)

Women's
60m Hurdles Final

1. Jasmine Camacho-Quinn: 8.02 (10 points),
PR

8. Jacklyn Howell: 9.24 (1 point)

Men's
60m Hurdles Final

3. Nick Anderson: 7.74 (6 points)

Women's
60m Final

2. Javianne Oliver: 7.22 (8 points)

Men's
Heptathlon 1000m

12. Short: 2:54.20 (722 points)

Heptathlon
Total

12. Short: 5225

Men's
Shot Put Final

6. Nik Huffman: 60'5.25"/18.42m (3 points)

9. Noah Castle: 60'5.25"/18.42m (PR)

14. Charles Lenford: 56'2"/17.12m (PR)

Men's
Pole Vault Final

6. Tim Duckworth: 17'0.75"/ 5.20m (3
points), PR, No. performer in school history

Women's
5000m Final

6. Katy Kunc: 16:19.66 (3 points)

Women's
200m Final

2. Jasmine Camacho-Quinn: 23.31 (8 points)

T-6. Destiny Carter: 23.51 (2.5 points)

Men's
5000m Final

5. Jacob Thomson: 14:11.91 (4 points)

20. Mick Iacofano: 14.51.09

Women's
Distance Medley Final

5. UK (McKinney, Weston, Howell, McCaslin);
11:18.84 (4 Points) – No. 4 UK history

Men's
Distance Medley Final

4. UK (Muhammad, Dorsey, Jones, Young):
9:40.63 (5 points)

Women's
4×400 Final

5. UK (Saunders, Camacho-Quinn, Carter,
Ross): 3:36.25 (4 Points)

UK
Results – Friday, Feb. 24

Event

UK Entries

Men's
Heptathlon 60m Dash

12. Cameron Short: 7.25 (796 points)

Men's
Heptathlon Long Jump

14. Short: 21'4"/6.50m (697 points)

Men's
Heptathlon Shot Put]

3. Short: 47'0.75"/14.34m (749 points)

Men's
Heptathlon High Jump

1. Short: 6'6.75"/2.00m (803 points)

Men's
Heptathlon Day 1 Total

8. Cameron Short: 3045 points

Men's
High Jump Final

4. Tim Duckworth: 7'0.25"/2.14m (4.5
points)

4. Xaivier McAllister: 7'0.25"/2.14m (4.5
points)

Women's
Pole Vault Final

3. Olivia Gruver: 14'8.75"/4.49m (6 points) – School Record –
No. 3 NCAA rn,

Men's
Weight Throw Final

6. David Cline: 67'8.75"/20.64m         – School Record –
8. Logan Bryer: 66'8"/20.32m

Women's
60m Hurdles Prelims
3 Heats. Winner plus Top 5
Times Advance to Final.

1. Jasmine Camacho-Quinn: 8.06Q
3. Jacklyn Howell: 8.21Q
9. Faith Ross: 8.34

Men's
60m Hurdles Prelims
2 Heats. Winner plus Top 6
Times Advance to Final.

6. Nick Anderson: 7.84q
12. Caleb Wilt: 8.10

Women's
60m Dash Prelims
5 Heats. Winner Plus Top 3
Times Advance to Final.

2. Javianne Oliver: 7.22Q

15. Destiny Carter: 7.39

Men's
60m Dash Prelims
4
Heats. Winner plus Top 4 Times Advance to Final.

11. Kenshard Hamilton: 6.73
20. Craig Green: 6.90

Women's
Long Jump Final
Top 9 after 3 jumps to final

1. Sha'Keela Saunders: 22'4.5"/6.82m (10 points)– No. 6
collegiate jump all-time, indoor PR

7. Destiny Carter: 20'10"/6.35m (2 points) – indoor PR

13. Marie-Josee Ebwea-Bile: 20'1.75"/6.14m

Men's
Long Jump Final
Top 9 after 3 jumps to final

4. Tim Duckworth: 25'7.25"/7.80m (5 pts)

7. Fred Dorsey: 25'2.5"/7.68m (2 pts)

14. Mohammed Abubakar: 24'1"/7.34m

Women's
Mile Prelims
2 Heats. Top 3 in Each Heat
Plus Top 4 Times Advance to Final.

14. Michelle McKinney: 4:52.80

Men's
Mile Prelim
2 Heats. Top 3 in Each Heat
Plus Top 4 Times Advance to Final.

12. Kendall Muhammad: 4:12.18

Women's
Shot Put Final

9. Nicole Fautsch: 48'9"/14.86m
10. Adriana Brown: 46'11.75"/14.32m

Men's
800m Prelims
3 Heats. Top
2 in Each Heat Plus Top 2 Times Advance to Final.

10. Ian Jones: 1:50.48 – PR –

Women's
200m Dash Prelims
10 Heats. Top
8 Times Advance to Final.; Two Section Final.

2. Jasmine Camacho-Quinn: 23.37q
5. Destiny Carter: 23.50q
18. Javianne Oliver: 24.02

Men's
200m Dash Prelims
9 Heats. Top 8 Times Advance
to Final.; Two Section Final.

25. Kenshard Hamilton: 21.90
27. Craig Green: 21.99

Women's
3000m Final

4. Katy Kunc: 9:25.54 (five points) – PR —

Men's
3000m Final

6. Jacob Thomson: 8:07.19 (three points)
—