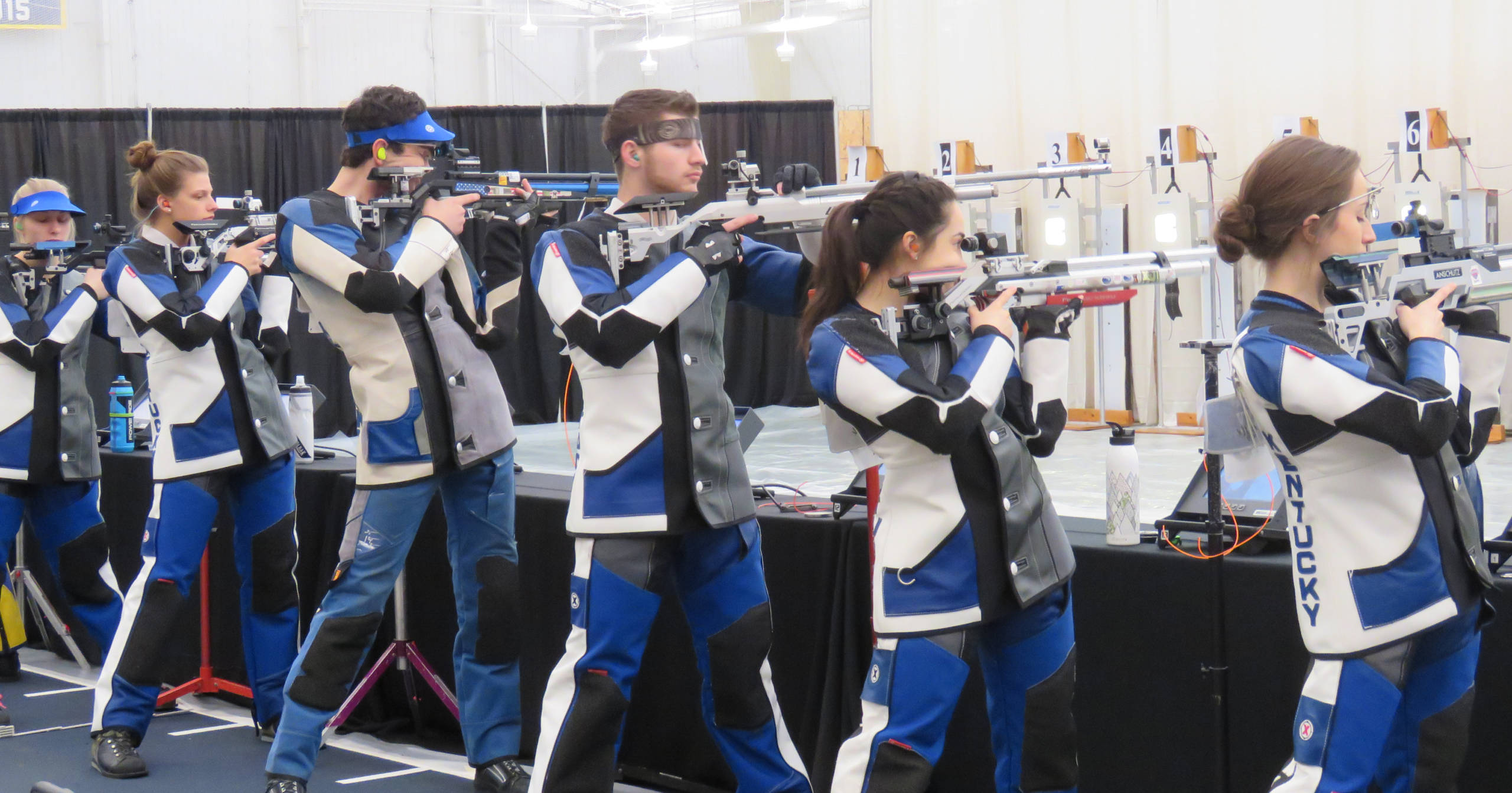 AKRON, Ohio – The sixth-ranked Kentucky rifle team finished in third place at the Great American Rifle Conference Championships after a 2361 in air rifle on Saturday. The Wildcats shot a 4667 aggregate. Defending national champion West Virginia won the title. 
"I thought the team did well, especially with the field that we had," head coach Harry Mullins said. "West Virginia is back on top, and Nebraska is another team that made the final eight for NCAA Championships. We left some points that we could've gotten, but we're right where we've been performing. If we want to increase our scores, then we just have to increase our focus even more and keep putting in the hard work that we have been all year. That's what got us a spot in the final eight. The effort is there and we're shooting well." 
Heather Kirby, who had the highest prone score in smallbore on Friday, finished just a few points shy of making the final but led the team with a 592 in air rifle and eleventh-place finish. Hanna Carr scored 591 – her third-highest air rifle score of the 2016-17 season. Sonya May and Billy Azzinaro tied in 17th place, two places behind Carr, with two scores of 589.  
Nebraska finished in second place behind top-ranked West Virginia after a 4679 aggregate, while NC State (4660) finished fourth. Army (4649) rounded out the top-five teams on the leaderboard. 
"It's always disappointing not winning after you've put in the hard work, but this team is very capable of performing at a high level and does," Mullins said. "Now with NCAA Championships next we need to dig our heels in, climb up the mountain, and grind to accomplish what we want." 
The Wildcats will travel to the 2017 NCAA Championships on March 10-11 at Ohio State's French Field House in Columbus, Ohio. The field includes seven other teams – Air Force, Alaska, Murray State, Nebraska, Ohio State, TCU, and West Virginia. Army, Jacksonville State, Memphis, Mississippi, and NC State will send individuals. 
Final Standings
| | | | |
| --- | --- | --- | --- |
| Team | SB | AR | AGG |
| 1. West Va. | 2341 | 2384 | 4725 |
| 2. Nebraska | 2303 | 2376 | 4679 |
| 3. Kentucky | 2306 | 2361 | 4667 |
| 4. NC State | 2304 | 2356 | 4660 |
| 5. Army | 2311 | 2338 | 4649 |
| 6. Akron | 2286 | 2344 | 4630 |
| 7. Memphis | 2303 | 2326 | 4629 |
| 8. Mississippi | 2286 | 2338 | 4624 |
| 9. Navy | 2295 | 2326 | 4621 |
| | | | |
| --- | --- | --- | --- |
| Kentucky Rifle | SB | AR | AGG |
| Billy Azzinaro | 584 | 589 | 1173 |
| Hanna Carr | 576 | 591 | 1167 |
| Heather Kirby | 571 | 592 | 1163 |
| Sonya May | 571 | 589 | 1160 |
| Jason Spaude | 575 | 584 | 1159 |
| Jason Sharbel | 577 | 582 | 1159 |
| Ian Foos | 568 | 586 | 1154 |
| Morgan Duerr | 571 | 583 | 1154 |
| Carmen Fry | 573 | 578 | 1151 |
| Jenna Bethea | | 583 | 583 |
| Cathryn Papasodora | | 582 | 582 |