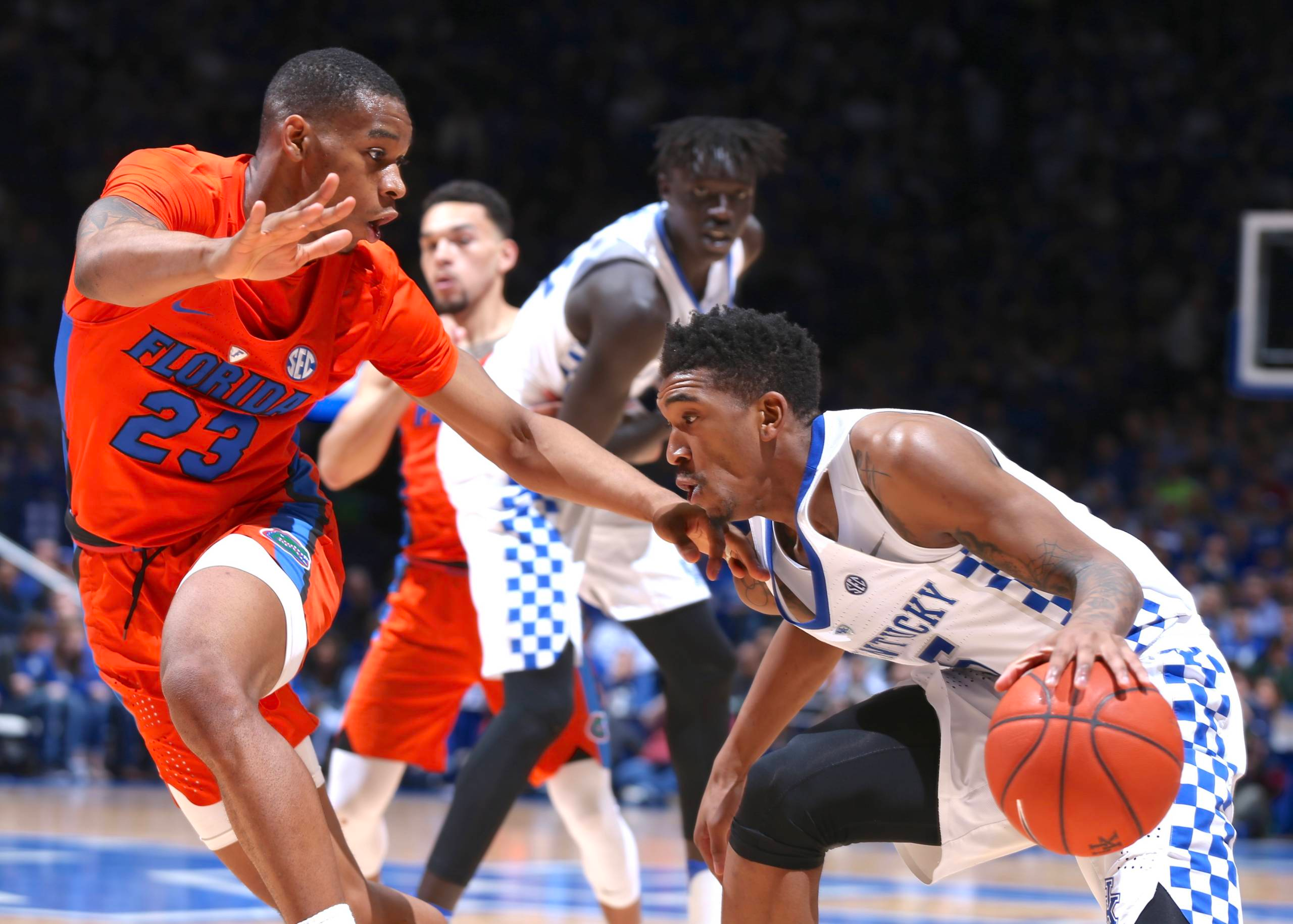 February 25, 2017 - 06:24 PM
Attack Mode: Monk's Second-Half Outburst Lifts UK
Ice cold and already having tied his career high for turnovers in the first half, Malik Monk had already resigned to the fact that Saturday was not going to be his day.
"I thought I was going to be off the whole game because I wasn't making them in the first half," Monk said.
A three-point, five-turnover opening half was enough to make Monk think his funk was going to last all 40 minutes of a showdown with Florida for first place entering the final week of the Southeastern Conference regular season.
You'd think Monk would have learned not to ever count himself out.
"Yeah, I should (know better)," Monk said. "I really should. I just figured it out today."
That second half should convince him to think twice next time he questions himself.
In a season full of explosive performances, Monk had an outburst of unprecedented proportions with backcourt mate De'Aaron Fox sidelined with a knee injury. Leading No. 11/10 Kentucky (24-5, 14-2 SEC) to a 76-66 win over No. 13/12 Florida (23-6, 13-3 SEC), Monk scored 30 of his 33 points after halftime. His coach didn't know exactly how much Monk had gone off until postgame.
"Oh, he got 30 in a half?" John Calipari said. "No wonder when I got on him about a couple bad shots he looked at me like I was crazy. I didn't know he had 30 in a half."
Neither did the author of the performance, which was the highest-scoring half ever for a Calipari-coached player at Kentucky.
"I didn't know that until after the game," Monk said. "I was just playing. That's crazy."
It marked the fourth time this season Monk scored at least 30 points, making him the first Wildcat freshman to accomplish that feat, but he scored more each of the previous three times he did it. The way he did it this time, though, is what had Coach Cal so excited.
"What happened to Malik, we were on him to drive, to get fouled," Calipari said. "Don't drive to release and throw some crazy thing, just try to get fouled. … Florida's obviously a highly ranked team, they're tough physically, they had won nine in a row, they were confident. You're not going to beat them shooting 3s or fadeaways, you got to attack."
Attack Monk did.
He took seven 3s – making five of them – but Monk has attempted more 12 times this season. Only once, however, has Monk attempted more than the 11 free throws he did against the Gators on Saturday. He also committed only one turnover after halftime even though he and Bam Adebayo – who had 18 points and 15 rebounds – carried a massive offensive load.
"I was way more patient in the second half than I was in the first half," Monk said. "And I was, like you said, getting to the lane."
When Monk drives as he did in front of a crowd of 24,431 in Rupp Arena on Saturday, he becomes even more difficult to defend. 
"Malik Monk has an ability to get off anytime he wants," Florida head coach Mike White said. "He has incredible speed off the ball. They do a good job of setting screens, putting him in positions to be successful, and putting him in space. You have to crowd him. We were hanging all over him two or three times. Just hanging all over him. We were called for a couple of fouls, of course, fouling the jump shot. That's how aware you are of how good of a shooter he is. We're literally hanging on too much with contact.
"Then he has blow-by speed. He has an incredibly long first step and explosiveness. When he didn't score, he drew fouls on us. His 33 (points), if you add the amount of fouls that he drew – he was better even than 33."
In scoring 33, Monk outdid Florida's KeVaughn Allen, who had 24. The two Arkansas natives and friends played AAU ball together and still text every other day in Monk's estimation. Allen's North Little Rock team beat Monk's Bentonville twice in the state tournament and Allen again came out on top in Florida's 88-66 win over UK on Feb. 4, so this one felt good for Monk.
"Yeah, it was revenge," Monk said with a smile. "Sweet revenge."
Revenge isn't as important as the fight Monk and the Cats showed in taking down Florida. A trying first half might have caused them to fold, but UK battled back instead. And by the end of the game, Coach Cal was calling Monk over to the bench for a quick hug.
The message?
" 'That's how you play basketball,' " Monk recalled.