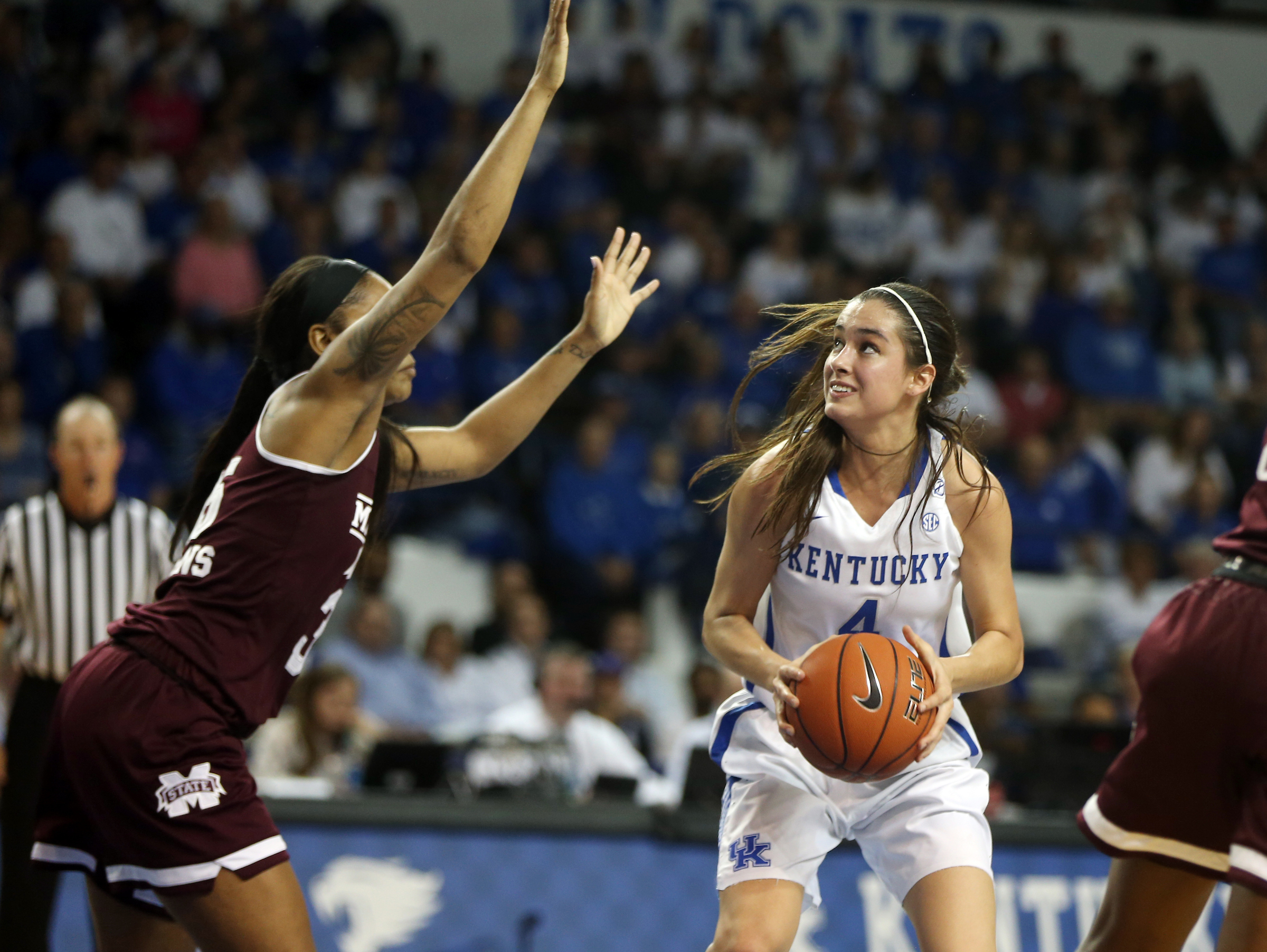 When the Kentucky women's basketball team faced South Carolina earlier this month, the Wildcats fell behind by 27 points in the third quarter. But rather than throw in the towel and let the then-fourth-ranked Gamecocks blow them out, the Wildcats responded. 
In fact, Kentucky would go on to outscore South Carolina 33-18 to close the game, which ended as a 75-63 Gamecocks' victory. Despite the loss, Kentucky head coach Matthew Mitchell was pleased with how his team responded.
"I was proud of them being able to reset their mindset," Mitchell said. "We really got discouraged and we were not playing with the type of focus that we needed to play with."
The Wildcats showed that same type of focus and determination on Thursday when they handed No. 3 Mississippi State just its second loss of the year, a 78-75 Kentucky victory in overtime. UK seniors Evelyn Akhator and Makayla Epps willed the Wildcats to the victory, scoring 28 of the team's final 30 points.
Carrying a large amount of momentum after the big win, the Wildcats get a second chance at South Carolina on Sunday (2 p.m., ESPNU). Mitchell knows that his team must bring the same type of energy and effort that they had in Thursday's win over MSU.
"We need a very good effort against South Carolina," the Kentucky head coach said on Friday. "We will have to give a great effort. I am sure that is what will be on our minds as we try to get prepared."
Kentucky has been at a height disadvantage against a number of teams this season, but it appears to be even greater against South Carolina. That's because the Gamecocks feature Alaina Coates and A'ja Wilson, perhaps the two best interior players in the SEC. Coates, a 6-4 senior, averages 13.4 points and 11.2 rebounds per game this season. And Wilson, a 6-5 junior, scores a team-high 16.9 points and grabs 7.2 rebounds per contest.
Mitchell knows that these two players force teams to do things differently.
"They are so big and physical and athletic," Mitchell said. "I think the thing that makes them so unique is the mobility of their size. Obviously with Coates and Wilson, that is a really unique combination of athletes that can move and have such a large presence in the paint. You really have to work for your offense and when you are on defense you have to play smart and play together."
For the Wildcats, three-point shooting could be a determining factor on Sunday. The Wildcats hit six-of-19 from behind the arc in the previous contest against the Gamecocks. Mitchell hopes that, on one night, the Wildcats can click on all cylinders, especially from three-point range.
"I don't think that we have been shooting the ball great from the 3," Mitchell said. "We have had some nights where we have shot 50 or 55 percent, but I think it is going to be one of those games where we would need something like that. I think to beat South Carolina time after time, you know one single 40 minutes game a bunch of things can happen, but I think a formula for success against them is hitting some perimeter shots."
Kentucky has been streaky in shooting the three-pointer this season. The Wildcats hit 12-of-25 against New Hampshire in November. On the flip side, the Wildcats failed to make a three, in nine attempts, against Middle Tennessee.
But seven seems to be the magic number for the Cats. When hitting at least seven three-pointers in a game this season, the Wildcats are 9-0. And Kentucky is 11-1 when hitting six or more shots from behind the arc.
If Kentucky is to beat another Top 10 team this week, the Wildcats will need to be hitting from behind the arc. And, according to Mitchell, his team's best game is still ahead of them. Sunday would be an ideal time for the Wildcats to have that kind of performance.