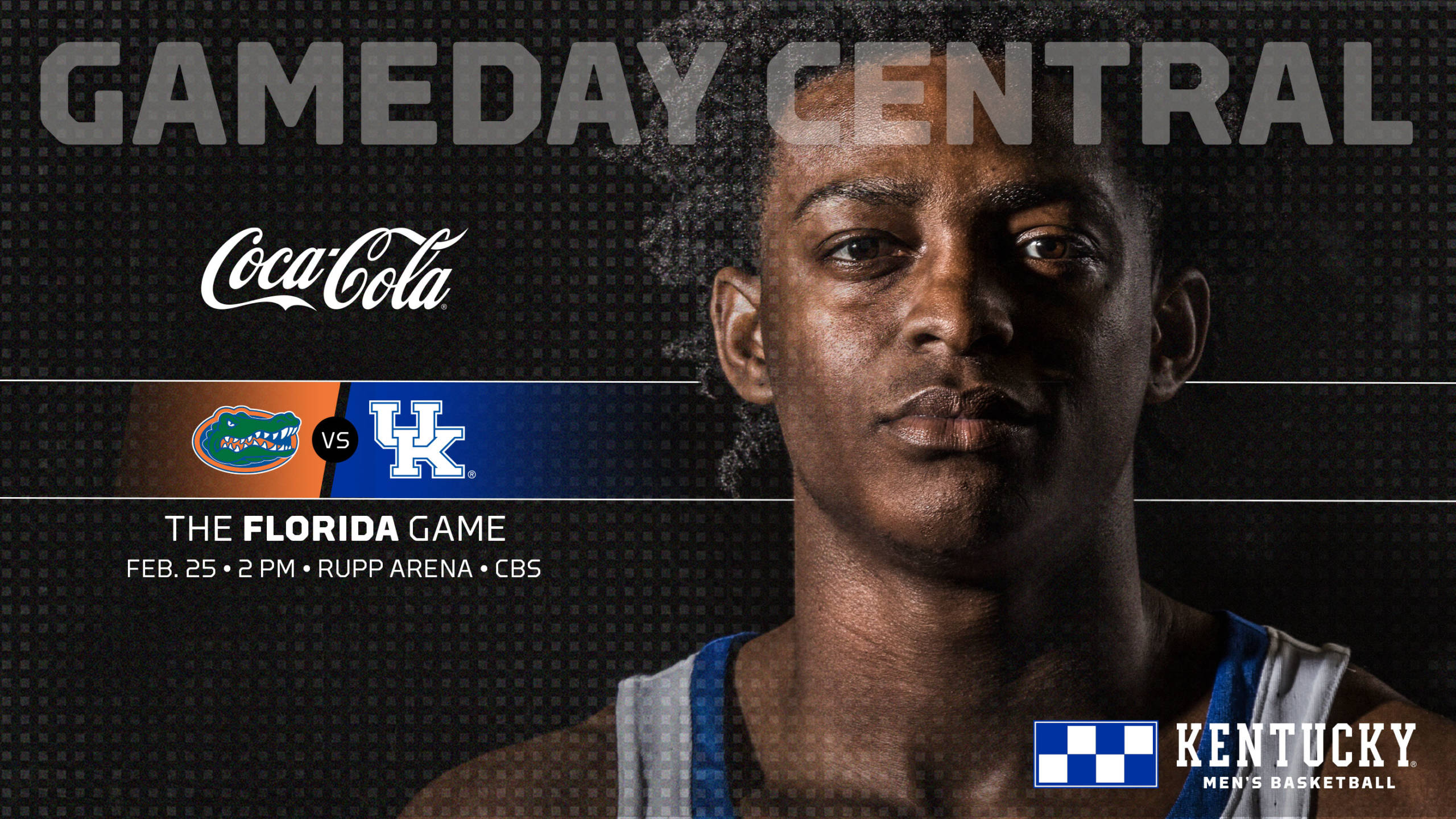 February 24, 2017 - 04:52 PM
Calipari Wants His Team to 'Have Fun' Again
The beginning of the season for Kentucky was a lot of fun. The Wildcats scored over 100 points in three straight games and were blowing out the competition along the way.
Kentucky vs. Florida

Sat., Feb. 25 – 2 p.m. ET
Rupp Arena
Lexington, Ky.
Game Notes: UK

| UF



Gameday App

Coverage

TV: CBS
Radio: UK Sports Network
Live Stream
Live Audio
Live Stats
Digital Gameday Guide
Text Updates

UK
2016-17 Team Stats
UF
23-5
Record
23-5
13-2
Conference Record
13-2
88.2
PPG
79.6
72.8
Opp PPG
65.9
.482
FG%
.454
.428
Opp FG%
.407
40.6
RPG
37.5
.354
3PT FG%
.365
.307
Opp 3PT FG%
.300
.694
FT%
.730
16.4
APG
13.0
6.3
SPG
7.9
5.6
BPG
5.0
The beginning of the Southeastern Conference season was much the same. UK won its first three conference games by 23, 42 and 26 points, respectively, and some wondered if the Wildcats would run the table in league play.
That's about when teams began to adjust the way they approached Kentucky. Instead of challenging the boards, many teams immediately retreated following shots in order to help prevent the speedy Cats from getting out on the break.
Lately, the games haven't been as much fun for UK. Following a 22-point drubbing at Florida, head coach John Calipari installed a reboot to try to get his team out of the four-game rut it had fallen into.
Now, the Wildcats, winners of five straight, face that same Gators squad again. The winner of Saturday's game at Rupp Arena (2 p.m. ET on CBS) will take over sole possession of first place in the SEC entering the final week of the regular season.
It's time to have some fun again.
"That's all we're talking about," Calipari said Friday in regards to having fun. "You gotta go out – and I'll say it again: The inconsistency makes it hard to have fun because sometimes that's demoralizing. One guy, you're like, 'What in the?' And I'm not saying for me; I'm saying if you're on the court. You need a team full of guys – they don't have to be great; they don't have to be at their best – but you have to be in that range of what you are as a player so we know what to expect. And I think we're getting closer to it."
The inconsistency isn't coming from the entire team, Calipari says, but rather just a couple guys. The key to playing more consistent is "let it go" and play more free.
As it is, the Wildcats have three games left in the regular season, followed by the NCAA Tournament. While the Wildcats would love to win the SEC regular-season and tournament titles, for Coach Cal the NCAA Tournament is the one that matters most, and until that tournament arrives there's no need for his team to be playing "antsy."
"Cal plays for the NCAA Tournament," freshman guard Malik Monk said. "He's told us that before. We're just fighting for the NCAA Tournament. If we lose, we care about it, but we gotta move to the next game and the next game is going to be there."
And as No. 11/10 Kentucky (23-5, 13-2 SEC) prepares to face No. 13/12 Florida (23-5, 13-2 SEC), Coach Cal knows that mindset will be imperative for his group.
"I told the guys yesterday: 'It's a big game if you win,' " Calipari said. "'It's a huge game if you win. If you don't, then it's the next game and we march on. It's not the end of the season. We have to play on.' I'm trying to get these guys focused on what we have to do."
The last time these two teams met Kentucky was outrebounded by 25, setting a new record for greatest rebounding deficit by a UK team in the Calipari era. Junior center John Egbunu had eight points and seven rebounds in 21 minutes in that game, but will miss Saturday's game and the remainder of the season with a torn ACL. 
In the Gators' two games without their leading rebounder they have still managed to outrebound Mississippi State and South Carolina by four boards in each game.
"They're still good," Calipari said. "Their guard play and what they were (hasn't changed). They're missing one big guy but the other guys, they – the games I watched, the two without him, I mean, they beat South Carolina and they beat them pretty handily."
Kentucky may also be without one of its star players, but that has not been determined yet. Freshman point guard De'Aaron Fox went down with a scary knee injury during the second half of Tuesday's win at Missouri when teammate Wenyen Gabriel fell on top of him. Fox briefly left the game before reentering and finishing with 13 points, five rebounds and four assists.
Calipari said Fox's status against Florida is a game-time decision and he did not practice Thursday. Fox came off the bench to score a team-high 19 points in the two team's first matchup, which was his first game back on the court after missing one game with an illness.
Regardless of whether Fox can play Saturday or not, Calipari said the game will be about how the Wildcats make adjustments. After not knowing how to play against the almost entirely new, young Wildcats at the beginning of the season, opponents have devised game plans on how to attack and defend against UK. It's now up to Kentucky to adjust.
One difference that should help Kentucky is that instead of every UK opponent playing with "house money," the games for many teams have an added importance with the NCAA Tournament looming. In Saturday's game, both teams have something to lose with SEC and NCAA tournament, which is something Kentucky has had to deal with all season long.
With the tables now even, Calipari wants his team to let it go and have fun again.
"You can't have all this other clutter hanging around that's slowing you down, that's keeping you from being aggressive, keeping you from playing with great energy," Coach Cal said. "You gotta wipe that stuff out and be ready to go."
Adebayo Powers Cats Past Missouri in Another Gritty Road Win
Bam Adebayo's fourth double-double of the season powered No. 11 Kentucky past Missouri on Tuesday, 72-62. The freshman scored 22 points and grabbed a career-high 15 rebounds in one of the best performances of the season for UK's big man.
Neither team led by more than two possessions in a low-scoring first half. Missouri took a 28-24 lead with 4:27 remaining in the half following a 7-0 run. John Calipari called a time out after a layup by Jordan Barnett capped the Tigers' run, and the Wildcats held a 31-30 halftime lead despite shooting 1 for 8 from the field to close the half.
Kentucky (23-5, 13-2) dominated the glass in the second half, outrebounding the Tigers 26-12, led by Adebayo, who had 10 second-half rebounds.
Missouri was in foul trouble all game as its frontcourt struggled with Kentucky's size and athleticism. The Wildcats made 19 of 28 free throws, while Missouri converted on 14 of 23 attempts. Missouri forwards Reed Nikko and Russell Woods had both fouled out with 4:30 remaining, forcing the Tigers to go small. Woods and Nikko were limited to 24 combined minutes due to foul trouble. De'Aaron Fox scored 13 points and Malik Monk added 11 despite shooting 4 for 12 from the field.
The game was tied at 52 with 7:45 remaining, before the Cats would score the next eight points — two buckets by Adebayo and a 3-pointer from Wenyen Gabriel to help pull away. Missouri would get no closer than five the rest of the way.
The Wildcats remain tied with No. 13 Florida for first place in the SEC. Kentucky improves to 6-2 on the road, tying the Gators for the most conference road victories.
Additional notes:
• Kentucky leads the series 10-0, including all three matchups in Columbia, Missouri
• UK shot 46.2 percent from the field. UK is 23-1 this season when shooting at least 42 percent
• Kentucky won the rebounding battle for the fifth straight game, 44-31. UK is 19-3 this season when outrebounding the opponent.
o Since losing the battle of the boards in the loss at Florida, UK has had an average rebounding margin better than plus-10 per game during the current five-game win streak
• UK's five-game winning streak is its longest since winning seven in a row from Dec. 29-Jan. 21
• Kentucky's 17 turnovers tied its season high. The other occurrences were the loss to Kansas and the win against South Carolina
• UK's two steals tied its season low (at Vanderbilt)
• UK improved to 142-5 when holding an opponent to 63 points or less under Calipari
• Monk reached double-figure scoring once again. He's been in double digts in all 28 games
• Adebayo is the first player with a 20-15 game for the Cats since Julius Randle had 23 points and 15 rebounds vs. UNC Asheville on Nov. 8, 2013
• Adebayo has pulled down seven or more rebounds in his last six games, and his four double-doubles is tied for the team lead
Down the Stretch They Come
With three games remaining in the regular season for the 2016-17 edition of the Kentucky Wildcats, John Calipari's squad is right in the hunt for its 48th Southeastern Conference regular-season championship. UK is currently tied with Florida for the lead, though the Gators currently own the head-to-head tiebreaker. The teams will meet again on Saturday in Rupp Arena.
The race is neck-and-neck as we enter the final two weeks of the season with five teams within four games of one another for the league crown. Here is how Kentucky has fared in similar situations over the last 30 seasons:
• 2015-16: Kentucky finished in a tie with Texas A&M and shared the crown. UK went 3-2 over its last five games
• 2012-13: Kentucky finished two games back of Florida. UK went 1-2 over the final three games with the win coming over Florida
• 2009-10: Kentucky won the league by two games over Vanderbilt thanks to a 14-2 overall conference record
• 2007-08: UK tied for second, two games behind Tennessee, going 2-1 over the final three games. The one loss? Tennessee
• 2004-05: UK finished first by two games over three teams with a 2-1 record to end the season
• 2003-04: Mississippi State edged Kentucky by one game despite UK going 6-0 to end the conference season
• 2000-01: Kentucky managed to win the tiebreaker over Florida for the league crown despite going 1-2 over the final three
• 1999-00: Kentucky won the tiebreaker for the league title with three other teams; a 3-0 finish aided the cause
• 1997-98: UK held on to a two-game lead over Ole Miss thanks to a 4-0 run to end the year
• 1996-97: Kentucky finished second by two games to South Carolina which included a loss to the Gamecocks in the final game
• 1994-95: UK edged out two teams by two games behind a five-game winning streak to end the season
• 1993-94: Arkansas won the conference by a two-game margin despite a 5-1 push late by the Wildcats
• 1992-93: Vanderbilt edged the Cats by one game despite a 3-0 mark to finish the year for UK
• 1991-92: Arkansas held on for a one-game lead for the title as a loss to Florida hurt the Cats with two games to go
• 1987-88: A 4-0 record to end the season propeled UK to a two-game lead for the league title