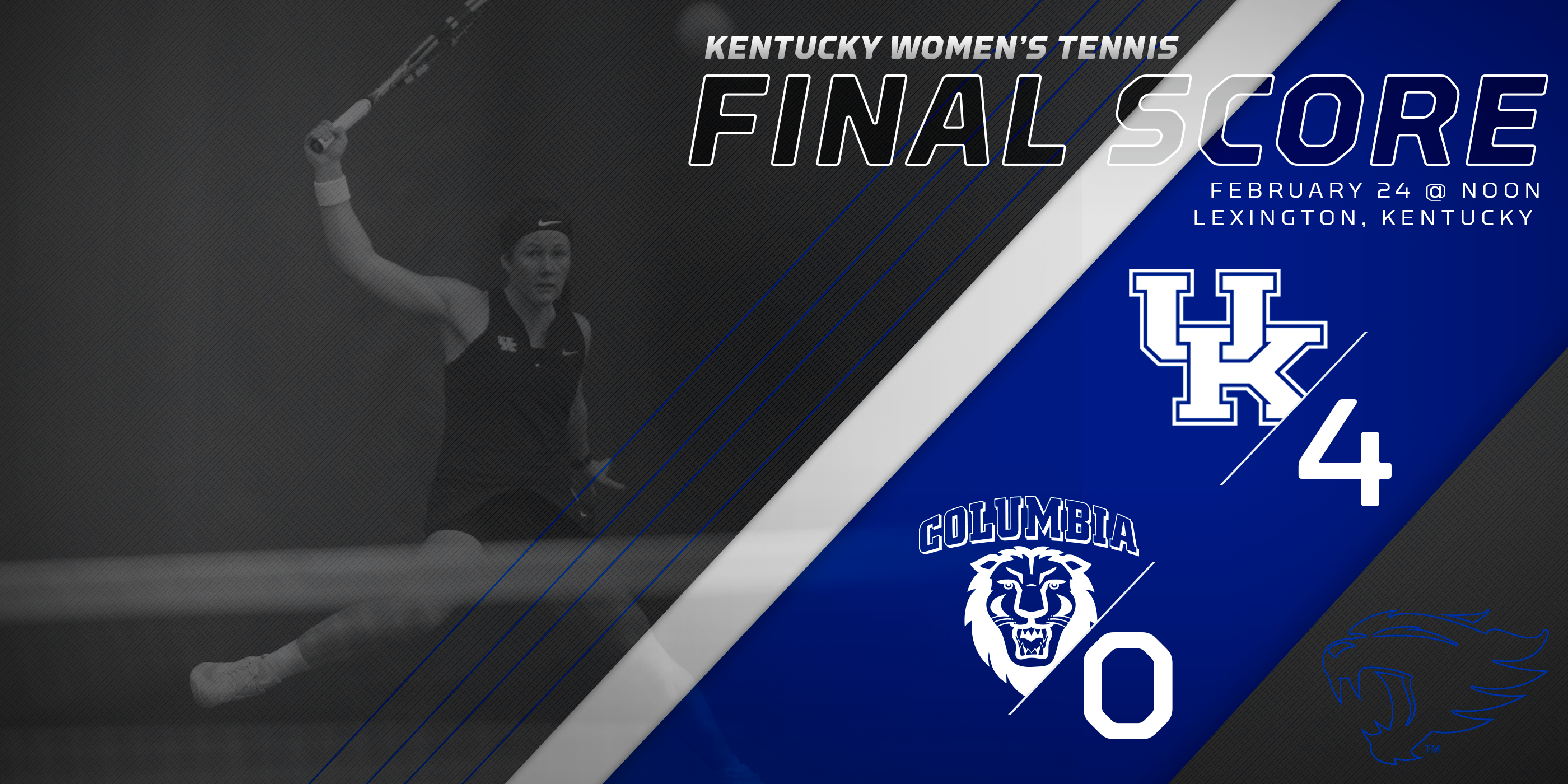 February 24, 2017 - 02:59 PM
Kentucky Picks Up Fourth-Straight Win, Defeats Columbia 4-0
LEXINGTON, Ky. – The Kentucky women's tennis team kept its win streak going Friday afternoon, downing Columbia 4-0 to win its fourth straight match. The Wildcats advance to 7-1 on the spring season, while the Lions fall to 1-7.
"It was a great match," said assistant coach Federico Sabogal. "We came up big in doubles today. I think the girls were hungry, decisive and very aggressive in doubles and we carried that energy into singles. The girls were committed to playing big in big moments. We played very well, very clean throughout the lineup. Glad we came up big with this win against a good Columbia team."
The Wildcats picked up a pair of wins in doubles to clinch the first point of the match with victories on courts one and three. First, Justina Mikulskyte and Emily Fanning teamed up to grab a 6-2 win over Columbia's Renee Ren and Sarah Hu. Shortly after, Kentucky's fifth-ranked duo of Mami Adachi and Aldila Sutjiadi posted a 6-3 defeat of Andrea Kevakian and Rima Asatrian. 
In singles, No. 13 Sutjiadi was the first to see success, earning a victory over Alexandra Solovyev in straight sets. To put the Wildcats up 3-0, Adachi took down Kevakian, 6-4, 6-3, on court four. Fanning then clinched the win for Kentucky with a hard-fought 7-5, 6-3 win against CU's Ali Pollack.
Kentucky will be back in action inside the Boone Tennis Center on Sunday afternoon at noon, playing its final nonconference match of the season against the Princeton Tigers. The Tigers are 5-4 in their spring season with a 1-2 record on the road.
"It's going to be another challenging match (Sunday)," said Sabogal. "Princeton is one of the best Ivy's right now. We have to keep doing what's been working for us: being aggressive in important moments, having high energy and keeping everyone locked in. But it's definitely going to be a great match before we hit the road at Georgia and Tennessee next week."
Agate
#43 Kentucky 4, Columbia 0
Hilary J. Boone Varsity Tennis Center – Lexington, Ky.
Feb. 24, 2017
Doubles (Order of Finish: 3-1)
1 – No. 5 Adachi/Sutjiadi (Kentucky) def. Kevakian/Asatrian (Columbia), 6-3
2 – Chumney/Parazinskaite (Kentucky) vs. Solovyev/Milstein (Columbia), 2-5, unfinished
3 – Fanning/Mikulskyte (Kentucky) def. Ren/Hu (Columbia), 6-2
Singles (Order of Finish: 1-3-4)
1 – No. 13 Sutjiadi (Kentucky) def. Solovyev (Columbia), 6-2, 6-1
2 – Parazinskaite (Kentucky) vs. Asatrian (Columbia), 7-6 (2), 5-1, unfinished
3 – Adachi (Kentucky) def. Kevakian (Columbia), 6-4, 6-3
4 – Fanning (Kentucky) def. Pollack (Columbia), 7-5, 6-3
5 – Justina Mikulskyte (Kentucky) vs. Ren (Columbia), 2-2, unfinished
6 – Chumney (Kentucky) vs. Hu (Columbia), 1-0, unfinished