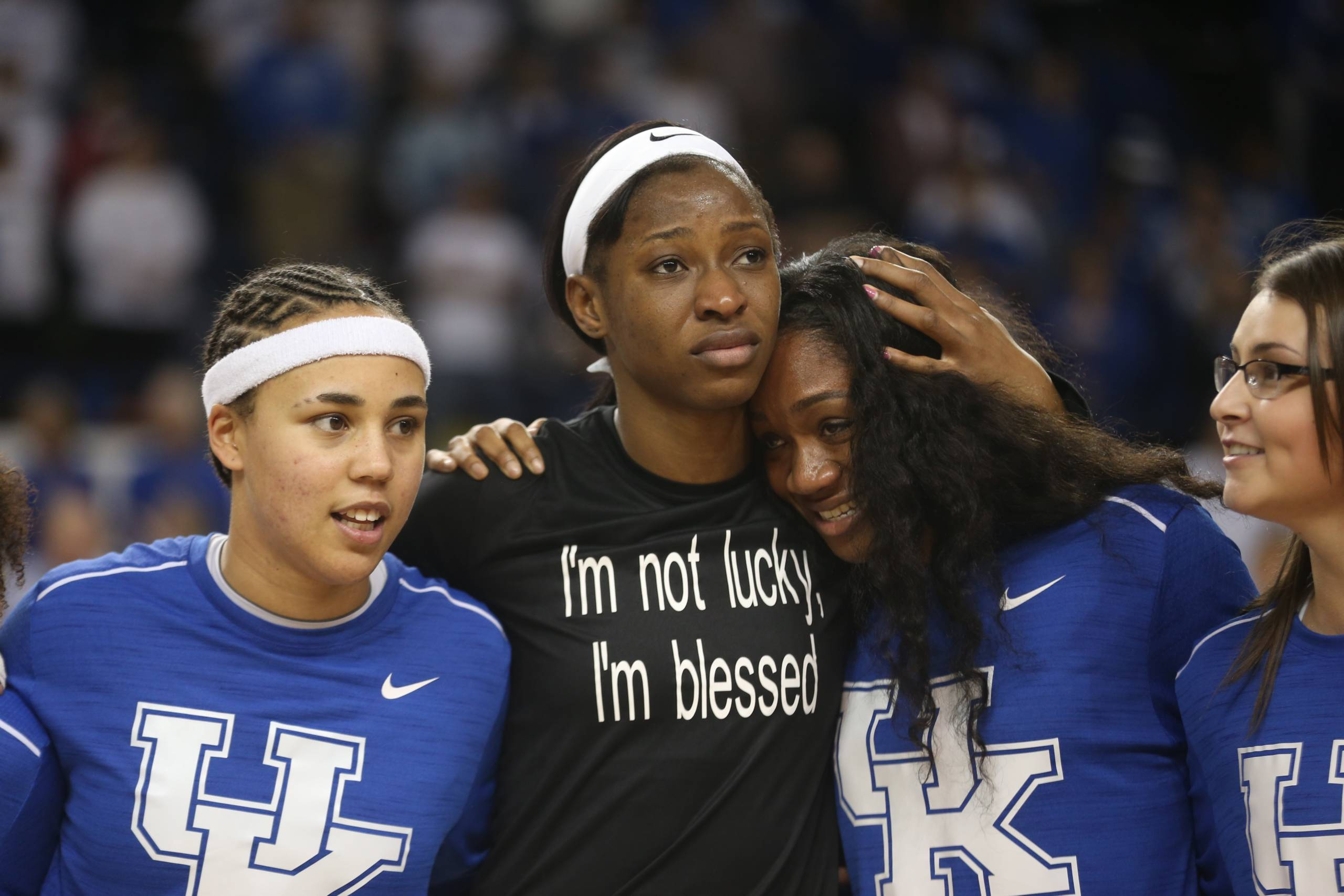 Makayla Epps and Evelyn Akhator have poured everything they have into Kentucky.
They deserved a reward like the one they got on their Senior Night.
"Well the win's a big one for a lot of reasons, but the one that matters most for me and for our team is we did it together and it's a great, great gift to our seniors," Matthew Mitchell said. "They were huge in the game."
Just as they have every moment of their careers, Epps and Akhator poured everything they had into Thursday's game. And on the shoulders of their two seniors, No. 22/RV UK (20-8, 11-4 Southeastern Conference) pulled off its biggest win of the season, taking down No. 3/2 Mississippi State (27-2, 13-1 SEC), 78-75 in a heart-stopping overtime affair.
"To get the win, it's a crazy feeling," Epps said. "My phone's buzzing. People are texting me left and right and we stunned them right there."
The final blow en route to the stunner – which, combined with other results, clinched a top-four seed and a double-bye for UK in the SEC Tournament – came from the opportunistic hands of Epps. In a play eerily reminiscent of a game winner she hit two years ago against the same Bulldog team, Epps crashed the offensive glass on a missed 3 by Makenzie Cann. Collecting the loose ball in a tie game, Epps banked in the go-ahead basket with eight seconds left.
"It was a great hustle play," Mitchell said. "Just kept playing, just kept battling and found a way to get it in the bucket. A lot of times when people see a shot missed, they're kind of loafing back or not going to the boards. She just hung in there, hung in there and it's a huge play in the game. I thought she and Evelyn really stepped up on Senior Night. It was pretty amazing."
Epps scored 22 points and was a steadying presence that helped UK crucially win the turnover battle, 22-9, and she was only topped in the scoring column by her classmate. Akhator had one of the best games of her career against one of the best teams in the country in scoring 27 points and grabbing 16 rebounds.
Her big night was no coincidence.
"We thought we had an advantage there if we could get the ball to her," Mitchell said. "So we worked hard in the last couple days to try to get in their mind what we needed to do to win. One of the keys for her was not to post up and sit on the block and try to play a power game with them."
Akhator used her quickness and athleticism rather than her strength on this night, continually driving to the basket in a dominant fourth quarter that saw her score 14 points. 
"Before the game, Coach Mitchell told us – the post players – they can't guard us," Akhator said. "And we did some plays where I had to take it off the dribble and I think they went into foul trouble early, so that gave me a plus to attack them off the dribble."
Epps and Akhator combined for 49 points to lead UK to its eighth straight 20-win season and eighth straight Senior Night win. There's not been a more special one than this though.
Less than a year ago, UK was in dire straits as a program, to hear outsiders tell it. A wave of defections left Mitchell with six scholarship players and a brand-new set of three assistants. 
"It was a very tough, confusing, difficult time," Mitchell said. "People were leaving right and there was a point where I didn't feel like I could get it stopped. When those six finally said, 'We are in,' we finally had a point where we could try to march back forward."
With Epps and Akhator leading the way and setting the tone, the Wildcats began that march.
"People counted us down and out when we went through all that turmoil last season after the season, kids were leaving left and right and people thought the six we had remaining, that we just couldn't get the job done," Epps said. "I kind of took that on the chin."
The Cats took that hit on the chin and turned into a chip on their shoulder. What the team that was left might have lacked in numbers, it made up for in toughness, togetherness and work ethic. It persevered through difficult nonconference and SEC schedules, picking up wins and never losing a collective will to improve.
Now, the Cats have their signature victory.
"To be here on a night where we had to hustle, fight, work, we won that game over the course over 106 practices," Mitchell said. "We've been practicing, working hard and so it means a whole lot. Thank God for giving us the strength to hang in here and play and win an important game down the stretch."
Important as it might be, it's not the end-all, be-all. UK still has a trip to another top-10 opponent in South Carolina on Sunday and the postseason to look forward to. 
That's for Friday though. For now, it's about those seniors.
"For tonight, I think for me where the best feeling for us is that Makayla and Evelyn will always have tonight," Mitchell said. "You only had one chance at it and now that they have it, you can't take that from them, ever. And to have that moment with them at half-court with just a jam-packed building – just thank the fans for coming and honoring those kids – that'll be one that we don't soon forget if we ever do. I don't think I ever will."