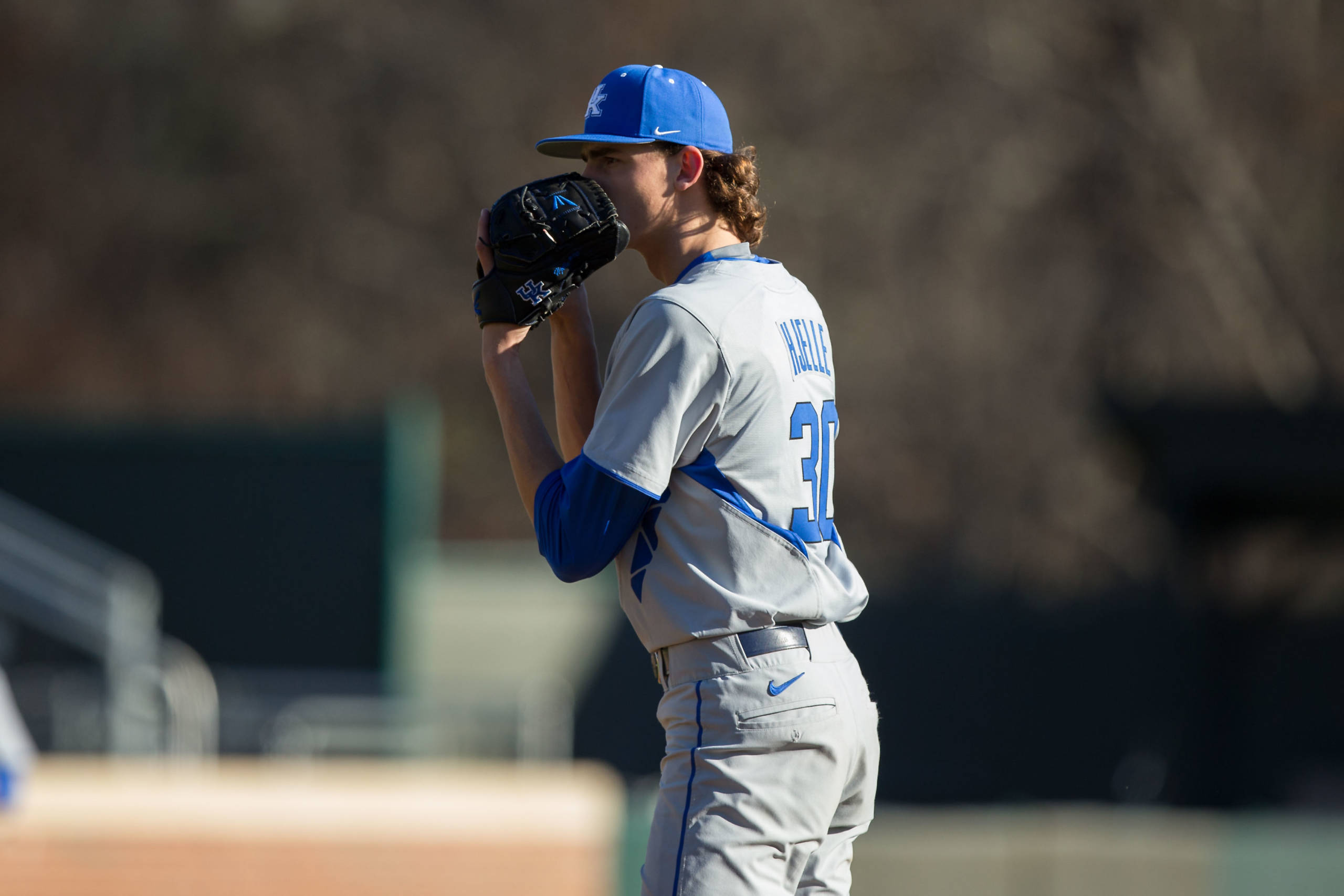 NORFOLK, Va. – Kentucky's swing through the Commonwealth of Virginia continues this weekend with a round-robin tournament at Old Dominion University in Norfolk. The Wildcats will face Saint Joseph's on Friday, host Old Dominion on Saturday and close with a game against Delaware on Sunday before returning to Lexington for their home opener next Tuesday against Eastern Kentucky.
The Cats (0-4) are still seeking their first victory on the young season but have been competitive throughout with the four losses coming by a total of five runs, including three consecutive one-run affairs. UK has outhit its opponent each of the past three games despite missing preseason All-America first baseman Evan White, who is being held out as a precaution with a minor injury.
Outfielder Zach Reks had a torrid opening weekend, reaching base in 10 of his first 11 plate appearances and is hitting .500 with three runs, an RBI, a double, three walks and two stolen bases. Second baseman Riley Mahan has homered in each of the past two games, while outfielder Marcus Carson is hitting .357 with a pair of doubles and two steals.
The Cats' pitching has been solid and sophomore righty Sean Hjelle, who had eight saves in 2016, will make his second start of the season against the Hawks.
First pitch on Friday is set for noon ET. The Cats will face host Old Dominion on Saturday at 4 p.m. and Delaware on Sunday at 11 a.m.
NUGGETS FROM NORFOLK
The Wildcats open the weekend against Saint Joseph's (PA) out of the Atlantic 10 Conference, which was swept at Pepperdine on opening weekend. After being shut out in the opener the Hawks got the bats going the final two games, hitting three home runs and scoring 10 runs. The starting pitchers lasted a total of 8.2 innings but the Hawks received terrific work from their bullpen.
Host Old Dominion will take on the Cats in Saturday's second game. The ODU program's reputation of producing powerful offenses was reinforced with an opening weekend that saw it score 40 runs (at least 11 each game) while hitting .379 with 15 extra-base hits against LIU-Brooklyn. Shortstop Zach Rutherford was a standout in last summer's Cape Cod League, preseason C-USA Player of the Year and is No. 31 on Baseball America's Top 100 prospects list.
The Cats will close the weekend with an early wake up call, taking on Delaware at 11 a.m. Sunday. The Blue Hens were competitive but lost four games to Pittsburgh (2), Ohio State and Kansas State in Florida last weekend. Senior lefty Kevin Milley (7.0 IP, 1 R, 5 K vs. Pittsburgh) will draw the start vs. UK.
PROBABLE STARTING PITCHERS
FRIDAY
UK – Sean Hjelle (So., RHP): 0-1, 5.40 ERA, 1 game, 1 start, 5.0 IP, 11 H, 3 R, 0 BB, 2 K
Saint Joseph's: Pat Vanderslice (Sr., RHP): 0-1, 12.00 ERA, 1 game, 1 start, 3.0 IP, 7 H, 4 R, 3 BB, 2 K
SATURDAY
UK – Zach Logue (Jr., LHP): 0-1, 6.23 ERA, 1 game, 1 start, 4.1 IP, 6 H, 3 R, 4 BB, 5 K
Old Dominion –  Morgan Maguire (So. RHP): 1-0, 3.60 ERA, 1 game, 1 start, 5.0 IP, 8 H, 2 R, 0 BB, 6 K
SUNDAY
UK – Justin Lewis (So., RHP): 0-1, 22.50 ERA, 1 game, 1 start, 2.0 IP, 4 H, 5 R, 3 BB, 1 K
Delaware – Kevin Milley (Sr., LHP: 0-0, 1.29 ERA, 1 game, 1 start, 7.0 IP, 5 H, 1 R, 2 BB, 5 K
GAME DETAILS
Date/Time: Friday, Feb. 24 (Noon); Saturday, Feb. 25 (4 p.m.); Sunday, Feb. 26 (11 a.m.) 
Location (Facility): Norfolk, Va. (Bud Metheny Complex) 
Radio: UK Radio Network; 98.5 FM-Lexington (Dick Gabriel); ukathletics.com
Broadcast: C-USA.tv ($)