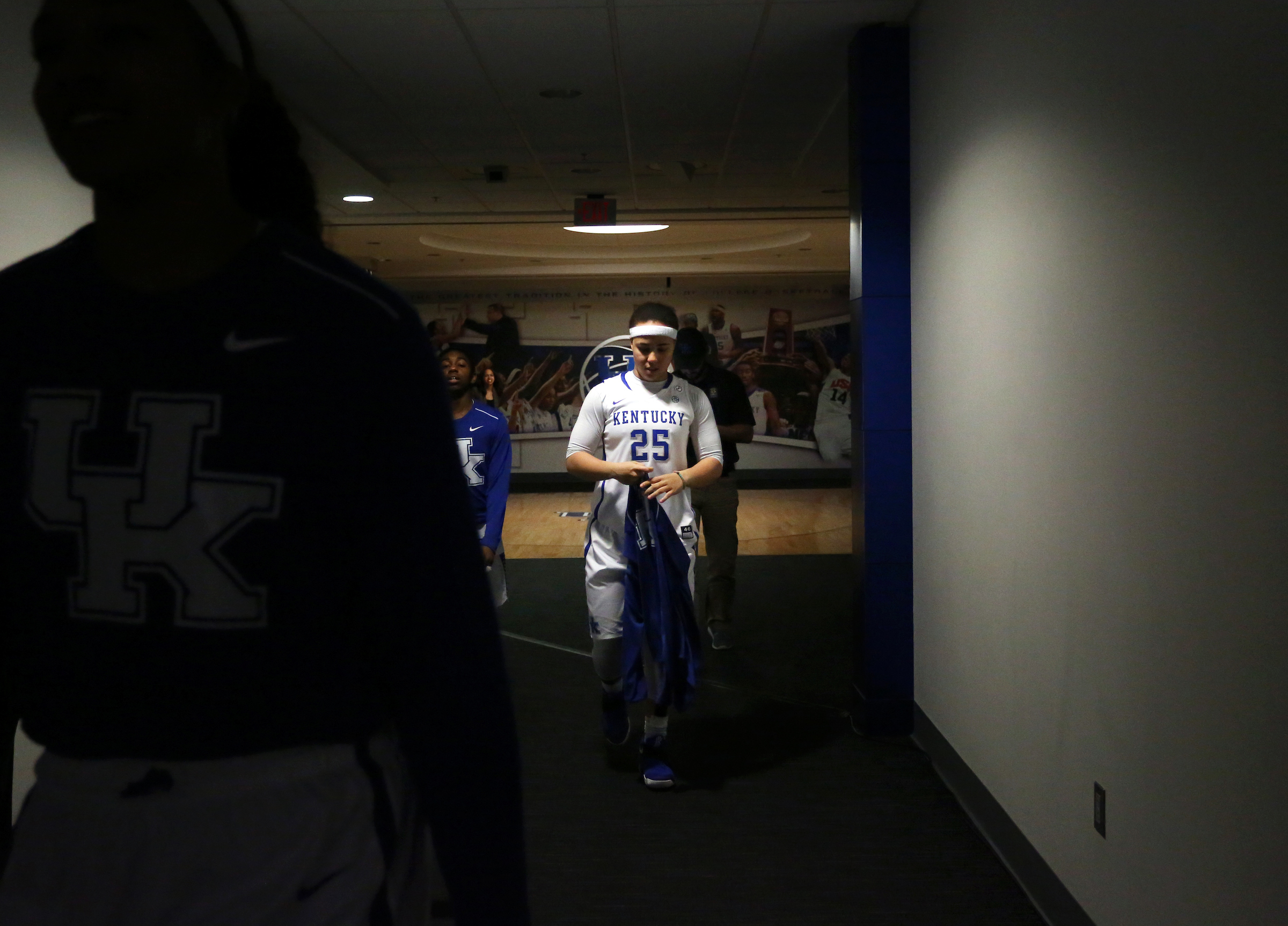 Makayla Epps had just played 35 minutes of a hard-fought Southeastern Conference affair on Sunday, the 18th game in a row in which she's been on the floor for at least 33 minutes.
She was drenched in sweat and her body was sore, feelings that would have sent almost anyone to the shower, treatment and bed to rest and recover.
Instead, she went to the concourse of Memorial Stadium where hundreds of adoring fans were waiting for her. Not a single one left without her autograph.
"You know, she has a beautiful spirit about her," Matthew Mitchell said. "She has a great heart for people. She, I think, takes that extra few seconds maybe to connect with a fan that might be the only interaction they ever have but she takes the time to connect with people because she cares and she has a caring heart."
Epps has the last name and the pedigree, her father Anthony a member of Kentucky's legendary 1996 national championship. She has the game to match. But if not for her spirit, there's no way Epps would have become the beloved player she is in her four years as a Wildcat.
"I don't think any of that would matter if she weren't the person that she is and have the heart that she has for people," Mitchell said. "I think that's the most important part of why people connect with her."
Now, that player is about to have her moment, her sendoff. Epps will go through Senior Night as the No. 22/RV Wildcats (19-8, 10-4 SEC) host No. 3/2 Mississippi State (27-1, 13-1 SEC) on Thursday at 7 p.m. in Memorial Coliseum.
"People have been asking me, 'Can you believe it? Are you sad? Are you happy?' " Epps said. "And I think my emotions are kind of everywhere in a sense. It's just crazy to think how fast four years have gone already for me both on and off the court and for Senior Day to finally be here, it's a great feeling."
It's a great feeling for Epps – already the fifth-leading scorer in UK women's basketball history – because she's truly made her four years count. The memories she's made, the relationships she's built and the legacy she's created as one of the best to ever play at UK prove that.
"People say time flies when you're having fun," Epps said. "So I guess I've been having a grand time while I've been here because it's flown by."
That's not to say it's all been smooth sailing.
On a personal level, Epps had an off-court incident two years into her career that cast her future as a Wildcat into doubt. But rather than giving in, she doubled down and poured everything she had into bettering herself.
"She has been shaped through the adversity she has faced and it's well documented the adversity she faced after her sophomore year," Mitchell said. "She had a choice whether to choose an easier path and go somewhere else where I am sure someone would have accepted her and her talent. I am sure she had numerous options had she chosen that path. Or she could stay here and face some opportunities to grow and to mature as a person and she chose that path and not only endured it but embraced it and flourished through that process. That is why she will always be special with me."
For the program, the next offseason would bring similarly trying times. A spate of departures – both by players and assistant coaches – had UK in the headlines for all the wrong reasons last spring and summer. Epps, again, didn't waiver in her commitment to her home-state school.
"Some kids just go to colleges because that was their best offer or their highest D-1 offer or whatever it is or whatever they're playing for, but I put that jersey on and it's not just about me and my dad or that little legacy we got going on," Epps said. "It's about, I was born and raised in Kentucky so this state really means something to me."
Now, the Cats are well positioned for March.
"I feel like we're shocking the world and showing people day in and day out," Epps said. "They might have counted us down and out at the end of April when we were losing a lot of players and people thought that we weren't going to succeed in the SEC or knock off teams that we knocked off in the nonconference, but we're doing everything that nobody said we would and I'm very proud of the team for that, very thankful for the players that tried out and wanted to be a part of this team even through all the turmoil."
As difficult as it might have been to weather that storm at the time, the Cats are reaping the rewards now. The group that came together in its wake is a special one.
"There's a whole lot of love, like I've told people before," Epps said. "This is probably the most loving and caring team I've been on all four years of my career here and you can just see that day in and day out. We work hard for each other and regardless of what anybody says about us, we know who we are, we know what we stand for and that's what we go out and try to prove every night on the court."
It's no coincidence that this team is loving and caring. It shares those traits with its senior leader.
"I think she goes out of her way at different times to maybe lift somebody up when they're struggling a bit or if the passions are running high and people are maybe a little bit on edge, she's got a good way of walking them back from there and settling and calming things down," Mitchell said. "So, you know, she's had a good feel for what she needed to do and you know, we haven't been perfect. She hasn't, I haven't, the team hasn't, but here we sit at the end of the season among the top teams in the country with a chance to be a good team at the end and that's what you're trying to do in basketball, play your best at the end. So, she's contributed greatly to that."
The close-knit Cats, thanks to their unwavering commitment to reaching their potential, have everything to play for as the season winds down. They're in sole possession of third place in the SEC, which would earn them a double-bye in the conference tournament. They survived a difficult schedule to have an opportunity at a top-16 NCAA Tournament seed, which would earn them the right to host the first two rounds.
Before they get there, though, comes a final week with matchups against the top two teams in the league: Mississippi State and No. 7/7 South Carolina. Epps wouldn't have it any other way.
"It's not going to be easy, but I feel like they gave it to the team that's going to handle it best, or is going to try to handle it as best as we can," Epps said. "… I'd rather play the two best teams in the league if I had to play any two teams in the league last."