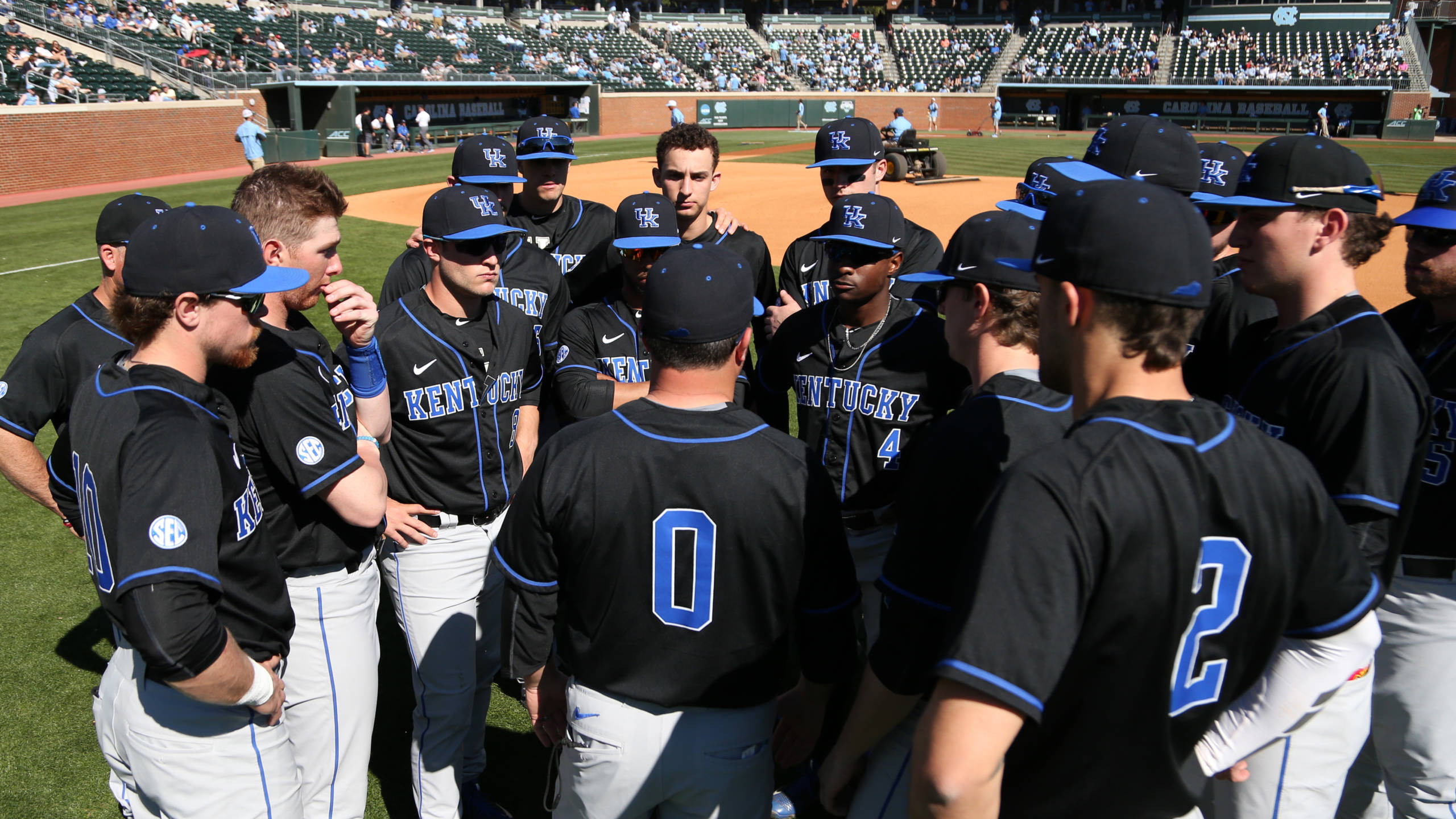 LEXINGTON, Ky. – Coming off a hard-fought series against a ranked North Carolina club Kentucky faces a quick turnaround in traveling to Liberty on Wednesday in Lynchburg, Va., before heading further east for a round-robin tournament at Old Dominion over the weekend.
The Cats (0-3) battled against the Tar Heels, putting the tying run at the plate in the ninth inning of all three games in Chapel Hill but ultimately could not find the timely hit they were seeking to get over the hump. Still, new head coach Nick Mingione was pleased with his team's competitiveness and fight against a program that has reached the College World Series six times in the past 10 years, especially with preseason All-American Evan White missing the final two games of the series.
Outfielder Zach Reks had a torrid opening weekend, reaching base in 10 of his first 11 plate appearances on his way to a .636 average with two runs, an RBI, a double, three walks and a stolen base. Catcher Kole Cottam, OF Marcus Carson, SS Connor Heady and 2B Riley Mahan each had their moments as well.
The Cats' pitching was solid but also hamstrung by 16 walks. Senior reliever Logan Salow was brilliant in relief of starter Justin Lewis on Sunday, going five scoreless innings to keep the game close. Reliever Zach Pop had two scoreless outings and hit as high as 98 mph on the radar gun.
First pitch  is set for 3 p.m. ET.
SCOUTING LIBERTY
Liberty had a strong opening weekend at the Charleston (S.C.) Crab House Challenge, going 2-1 to open the season. The Flames dropped a 10-2 decision to No. 16 Virginia on opening day but rebounded to defeat Kansas 6-1 and The Citadel 9-1 to close out the weekend.
Senior first baseman Sammy Taormina was sensational in earning Big South Conference Player of the Week honors. He batted .545 with three doubles, a triple, three walks, 2 runs and a .643 on-base percentage. He had two doubles against Virginia and followed up with a double and triple against Kansas. Freshman shortstop Cam Locklear began his collegiate career with a pair of home runs, while sophomore OF D.J. Artis hit .500 with three doubles. Although Virginia got to start Eric Grabowski on Friday (10 runs), the rest of the Flames' staff yielded just two runs in 21.1 innings pitched.
PROBABLE STARTING PITCHERS
UK – Zack Thompson (Fr., LHP): First appearance
Liberty – Evan Mitchell (Sr., RHP): 1-0, 1 game, 3.2 IP, 2 H, 0 R, 1 BB, 7 K
GAME DETAILS
Date/Time: Wednesday, Feb. 22 (3 p.m.) 
Location (Facility): Lynchburg, Va. (Liberty Baseball Stadium) 
Radio: UK Radio Network; 98.5 FM-Lexington (Dick Gabriel); ukathletics.com
Broadcast: WatchESPN